Things We Didn't See Coming Reader's Guide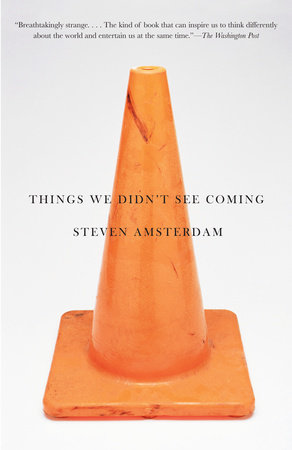 Things We Didn't See Coming Reader's Guide
READERS GUIDE
The questions, topics for discussion, and suggestions for further reading that follow are designed to enhance your group's discussion of Steven Amsterdam's acclaimed debut, 
Things We Didn't See Coming
. An unnamed narrator survives through thirty years of a strange-familiar future, navigating the varieties of expected apocalypse. With an assured voice that is both sensitive and wry, Amsterdam turns the struggle to the true surprises of life—love, trust, and family.
Introduction
Nominated for the 
Guardian 
First Book Award and winner of the
Age
 Book of the Year, 
Things We Didn't See Coming 
follows its narrator over three decades as he tries to survive in a world that becomes increasingly savage as cataclysmic events unfold. In the first story, "What We Know Now"—set on the eve of the millennium, when the world as we know it is still recognizable—we meet the then nine-year-old narrator fleeing the city with his parents, just ahead of a Y2K breakdown. The remaining stories capture the strange—sometimes heartbreaking, sometimes funny—circumstances he encounters in the no-longer-simple act of survival: trying to protect squatters against floods in a place where the rain never stops, being harassed (and possibly infected) by a man sick with a virulent flu, enduring a job interview with an unstable assessor, taking the gravely ill on adventure tours. But we see in each story that despite the violence and brutality of his days the narrator retains a hold on his essential humanity and humor. 
Dark and darkly comic, 
Things We Didn't See Coming 
is haunting, restrained, and beautifully crafted—a stunning debut.
Questions and Topics for Discussion
1. Each chapter involves a different kind of disaster or milestone of decline. How far into the future do the different chapters feel and why? Which events or societal shifts seem possible?
2. The only chapter set in the past, "What We Know Now" takes place on the eve of Y2K, with the narrator's father panicking about the grid collapsing. How does this starting point—about a disaster that didn't happen—change your reading of the apocalyptic changes that come in later chapters?
3. Things We Didn't See Coming has an unusual structure. Each chapter is set at least three years apart. Most conclude with the narrator finding himself in uncertain territory, with issues that seem to be resolved by the start of the next chapter. Are these linked short stories or is it a discontinuous narrative? How do the chronological gaps between the chapters shape your reading of the narrator's life? What questions do they leave unanswered?
4. The Guardian wrote "Amsterdam's tone is refreshingly unapocalyptic." What sort of counterpoint does the narrator's wry outlook provide to the severity of the setting?
5. Neither the narrator nor the book's terrain is ever specifically named. What does having an unnamed narrator do for a story like this? Where is this story set? Why?
6. While watching Robocop, the narrator comments, "the futuristic stuff is interesting because they got everything so wrong." (p. 122) Given that Things We Didn't See Coming is mostly set in the future, how does his comment relate? Does the book feel like a predictive text?
7. Recent novels that take place in dystopian settings, including Cormac McCarthy's The Road and Margaret Atwood's The Year of the Flood, similarly portray worlds of deprivation and social breakdown. In what way is Things We Didn't See Coming different from other contemporary books about the future?
8. "Land Management looks the other way as long as we clear out the stragglers. They keep us on horses to prevent us from carrying away too much of the take. They say it saves on fuel, but the way it is now they've got to provide me as well as my horse with enough meds to stay functional. A jeep would be cheaper and faster." (p. 50)  "I had just started in Verification, [Margo] had finished training to work in Grief, but both of us were helping out Rescue." (p. 95) Despite the continual chaos, government control and bureaucracy is evident throughout much of Things We Didn't See Coming. What aspects of its presence seem familiar? As the narrator works in several different government roles over the course of the book, how does his relationship to the system change?
9. Do the narrator and Margo have a "Chemical Basis for Love" (p. 99)? Is a "practical union" (p. 111) a good solution for them?
10. Health plays a significant role in the book. Illness impacts the grandmother, the narrator, as well as his tour group ("My niche is the last-hurrah set, folks with at least two major cancers or a primary ailment, but still sporty enough to manage a little adventure.") (p. 184). To what extent does it inform the decisions he makes?
11. It is sometimes said that inside every dystopian novel is a utopian novel trying to get out. If this is true, and they are two sides of one idea, why might dystopian novels be more prevalent at present? Several reviewers have spoken of a sense of hope throughout Things We Didn't See Coming. Where do you find it?


(For a complete list of available reading group guides, and to sign up for the Reading Group Center enewsletter, visit: www.readinggroupcenter.com.)
About this Author
A native New Yorker, Steven Amsterdam has been living in Melbourne, Australia, since 2003. He works as a palliative care nurse.
Things We Didn't See Coming
won the
Age
Book of the Year (Australia), and was longlisted for the
Guardian
First Book Award (UK) and the Prime Minister's Literary Awards (Australia).
Suggested Reading
Maragaret Atwood,
Oryx and Crake
; Jim Crace,
The Pesthouse
; Otto Friedrich,
The End of the World: A History
; P.D. James,
The Children of Men
; Naomi Klein,
The Shock Doctrine
:
The Rise of Disaster Capitalism
; Cormac McCarthy,
The Road
; Vladimir Nabokov,
Speak, Memory
; José Saramago,
Blindness
; George Saunders,
Pastoralia
.
Back to Top