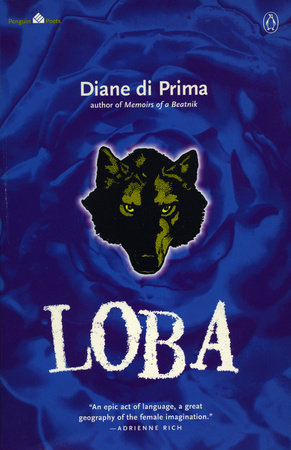 Loba
By Diane di Prima

By
Diane di Prima
By Diane di Prima

By
Diane di Prima
Best Seller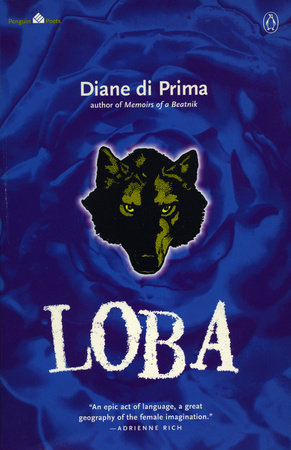 Aug 01, 1998 | ISBN 9780140587524
People Who Read
Loba

Also Read
Inspired by Your Browsing History
Table Of Contents
LobaAve

Book 1

Part 1

"If he did not come apart . . . "
"Who will describe the triumph . . ."
"And if she bends . . ."
"Is she city? . . . "
"Signals. Does she stream . . . "
"See how her tit drags on the ground."
"See the young, black, naked . . . "
"see how old woman's tits . . ."
"Hush, the old-young woman"
"If you do not come apart . . ."
Sketches of The Loba
"How he drew her down . . . "
The Loba Dances

Part 2
"The day lay like a pearl . . ."
"where did it"
Three More Sketches of the Loba
"It is still news to her . . ."
"Can you, friend, say . . ."
"Sometimes she slips sinuous . . ."
"When she hoots it makes"
"she strides in blue jeans . . ."
"And will you hunt the Loba?"
Lobo In Childbed
The Loba Sings To Her Cub
"How Do The Gods Manifest . . ."
Love Song of the Loba
The Loba Continues to Sing

Part 3
Some Shapes of the Loba
Her power is to open what is shut . . .
"she is the wind . . ."
"she is the scrub oak . . ."
"she lay"
Litany
The Poet Prays to the Loba
Madness of the Loba
Death & the Loba
"Is he in bondage? . . ."
"Belili Ishtar . . . "
The Loba Old

Part 4
"I am a shadow . . ."
Childhood of the Loba
Some Lies About the Loba
Four Poets Speak of Her
A Painting of the Loba
Dream: The Loba Reveals Herself
Loba As Eve
i am thou & thou art i
and where thou art i am
& in all things am i dispersed
& from wherever thou willst . . .
but in gathering me . . .

Part 5
"Helen on the wall"
Reedgatherers: The Loba North
Song Of The Dream-Wolves
Lilith: An Interlude
"She flies over partitions . . ."
"Whose mouth"
"Diamond, quartz, agate . . ."
"A handful of starchips thrown"
"The horned lady"
"Or is she soft"
"Or she takes yr shape . . ."
"Delicious the flesh she offers . . ."
"You roll, listing thru gummy sheets . . ."
"She sleeps on sheepskins . . ."
"all night long we"
"Oh Lil! You promised me secrets . . ."
"I'm biting at yr leash . . ."
"O taste the"
"crystal pyramid w/ diamond heart"
"She is not Helen . . ."
"Huntress. She in red sari"
Persephone
Iseult On The Ship
Song Of Heloise

Part 6
The Seven Joys of the Virgin
Annunciation
Visitation: Elizabeth & Mary
Nativity
Flight Into Egypt
The Ruses: A Coyote Tale
The Poet, Seeking Her
The Marriage At Cana
Juliana
Resurrection
Coronation

Part 7
"This wolf is black . . ."
The Loba Recovers The Memory Of A Mare
My Lady, We Are Being Hunted
Guardaviaz!
And She to Tristan
" O make Latona white . . ."
The Loba Addresses the Goddess
"In whose dream"
"Is it She in flame at heart"
The Loba, In May
The Critic Reviews Loba
The Loba Prepares An Amulet For Her Daughter
"But we can't"
Guinevere
"Antlered"

Part 8
Loba, To Apollo
Hymn: The Other Face
Reprise
for Cameron
"Light Made My Body To Live . . ."

Now Born in Uniqueness, Join the Common Quest
"and when we have won clear"
Lilith Of The Stars

Book II

Part 9

The Second Daughter: Li (Brightness)
Loba as Kore in the Labyrinth of Her Beauty
Beltain Note
Aula Lucis
"Endurance. What remains"
"And this is a clearing . . ."
Cougar Night Report
Tahuti Poems
"where he passes . . ."
"Tahuti. / Starfire . . ."
"Tahuti. / He-who-prefigures . . ."
"Tahuti. / Wielder of Image . . ."
"No lotus . . ."
"Tahuti, whose spells leap"
He Who Was Not Born from a Lotus
"Human fledgling"

Part 10
Sacred Geometry
"The bull"
She Who
The Loba Priestess As Bag Lady Utters Ragged Warnings

Deep Leap

Part 11
Another Part of Loba
"And Loba is Lovha . . ."
"Thus Love"
Crevasse
"From the wished universe"
"Stealth of thieves"
"thus there is"
"The sticky nature of"
"But in the longhouse"
"The body itself is the vector"
"To bring the whole from into silence"
What does it mean to rot?
A Note on the Above
"know the difference between . . ."
"the arms (branches"
of Loba
"the city . . ."
The Interloper
Loba: The Winds of Change

Part 12
Walpurgis
"The Loba Compares the Earthly & Heavenly Mothers
The Mask Is the Path Of The Star
(Dream of Emily Dickinson As Immaterial Surf Breaking)
Parthenos

Part 13
"The Memory of far things"
"chance arrangement . . ."
"She has not left me . . ."
Gwalchmai
Ursa
The Loba in Brooklyn
A Part Of The Thousand Ways To Say Goodbye
Sunwolf: Beltain
Hermetic Astronomy

Part 14
The Loba Longs For Remembrance In The Bardo
Eros / Animus
Her Dream
"Apparuit"
Inanna: The Epiphany
Theology Becomes the Body Politic

"Even w/ jewels on her eyes . . ."
Medusa Gazebo
The Loba in Flanders

"Is it"
Being In Love With Darkness
"Bears see only"
The Stars Shine For Us
Ishtar
Autour De

Part 15
Kali-Ma
"Because you love the burning grounds"
"You are the dancing youth . . ."
"My mother is mad . . ."
"Oh mind, you have lost the root"
"Make me mad, O Mother!"
"When will heart lotus bloom"
"O the unmatched beauty . . ."
"Mother Kali! Madwoman! . . ."
"Kali's greatness . . ."
"O Mother, put on a robe . . ."
"What woman dances on the battleground?"
"She is opposed to custom"
"Tara's name makes all prosperity vanish."
"I try to make an Image of illusion"
"She strides on the battlefield . . ."
"The Lady is fresh as jasmine"
"They call me drunkard . . ."
"I draw a circle about me"
"I was drawn to this world"
"The six systems of philosophy . . ."
"The days will pass . . ."

Part 16
Vision of the Hag, Devoured
Sabbat Revisited
Tsogyal
Imago Mundi
Point of Ripening: Lughnasa
Report To Aphrodite (Evening)
The girl had brought the weather with her
Ariadne As Starmaker
Persephone: Reprise
Back to Top