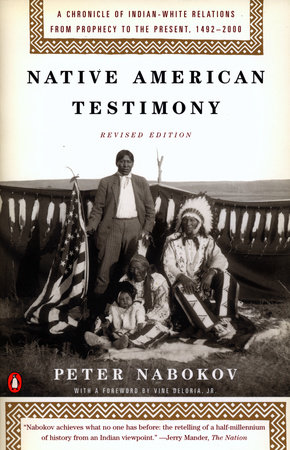 Native American Testimony
Chronicle Indian White Relations from Prophecy Present 19422000 (rev Edition)
By Peter Nabokov
Foreword by
Vina Deloria Jr.
By Peter Nabokov
Foreword by
Vina Deloria Jr.
Best Seller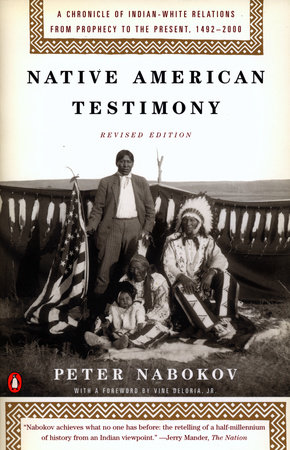 Dec 01, 1999
|
ISBN 9780140281590
Buy the Paperback:
YOU MAY ALSO LIKE
QUICK VIEW
The Death and Rebirth of the Seneca
Paperback
$15.20
QUICK VIEW
America in 1492
Paperback
$21.00
QUICK VIEW
North American Indians
Paperback
$18.00
QUICK VIEW
The Fires
Paperback
$16.00
QUICK VIEW
Distant Neighbors
Paperback
$19.95
QUICK VIEW
Peoples and Empires
Paperback
$17.00
QUICK VIEW
The War That Made America
Paperback
$20.00
QUICK VIEW
The Valley of the Fallen
Ebook
$4.99
QUICK VIEW
The Sikhs
Paperback
$19.00
QUICK VIEW
Facing Mount Kenya
Paperback
$11.96
Praise
"Nabokov achieves what no one has before: the retelling of a half-millennium of history from an Indian viewpoint."–Jerry Mander, The Nation

"A major contribution to documentation of the historical interface bewtween Indian and non-Indian."
-Joseph Epes Brown, author of The Sacred Pipe 
Table Of Contents
Foreword by Vine Deloria, Jr.
Introduction
Part One: First Encounter to Dispossession
Chapter 1. Premonitions and Prophecies
1. He Will Use Any Means to Get What He Wants (Dan Katchongva, Hopi)
2. White Rabbit Got Lotsa Everything (Lucy Young, Wintu)
3. Visitors from Heaven (Norval Morriseau, Ojibway)
4. Thunder's Dream Comes True (Black Hawk, Sauk)
5. Easy Life of the Gray-Eyed (James Paytiamo, Acoma Pueblo)
6. The Spider's Web (Black Elk, Oglala Sioux)
Chapter 2. Face to Face
1. Their Wondrous Works and Ways (Charles Alexander Eastman, Santee Sioux)
2. Before They Got Thick (Percy Bigmouth, Lipan Apache)
3. Silmoodawa Gives a Complete Performance (Anonymous, Micmac)
4. A Different Kind of Man (First Boy, Assiniboine)
5. I Hid Myself and Watched (Pretty Shield, Crow; Jaime, Navajo)
Chapter 3. Exchange Between Worlds
1. Thunder, Dizzying Liquid, and Cups that Do Not Grow (Waiokasit, Menominee)
2. Keep Your Presents (Curly Chief, Pawnee)
3. Give Us Good Goods (Anonymous, tribe unknown)
4. You Rot the Guts of Our Young Men (King Haglar, Catawba)
5. Some Strange Animal (Wolf Calf, Piegan)
6. Buttocks Bags and Green Coffee Bread (Anonymous, Jicarilla Apache)
7. The Bewitched Pale Man (Vital Thomas, Dogrib)
Chapter 4. Bearers of the Cross
1. Burn the Temples, Break Up the Bells (Pedro Naranjo, San Felipe Pueblo)
2. A Good Indian's Dilemma (Anonymous, Fox)
3. We Never Quarrel About Religion (Red Jacket, Iroquois)
4. Janitin is named Jesús (Janitin, Kamia)
5. The Freedom to Work (Pablo Tac, Luiseño)
6. A Shaman Obeys (Pedro Encinales, Salinan)
7. Always Give Blessings and Be Thankful (Jim Whitewolf, Kiowa Apache)
Chapter 5. Living Beside Each Other
1. Remove the Cause of Our Uneasiness (Wahunsonacock, Powhatan Confederacy
2. Mary Jemison Becomes an Iroquois (Mary Jemison, Iroquois)
3. Our Very Good Friend Kirk (The Old Snake et al., Shawnee)
4. The Frenchman Dreams Himself Home (Anonymous, Winnebago)
5. Incident at Boyer Creek (Anonymous, Omaha)
6. Our Stock of Food and Clothes (Aleck Paul, Chippewa)
7. If I Could See This Thing (George Bent, Southern Cheyenne)
Chapter 6. The Long Resistance
1. We Must Be United (Tecumseh, Shawnee)
2. Black Hawk Stands Alone (William Jones, Fox)
3. Blood Scattered Like Water (William Benson, Pomo)
4. Young Men, Go Out and Fight Them (Wooden Leg, Northern Cheyenne)
5. Geronimo Puts Down the Gun (Jason Betzinez, Southern Chiricahua Apache)
Chapter 7. The Treaty Trail
1. Let Us Examine the Facts (Corn Tassel, Cherokee)
2. Osceola Determined (Osceola et al., Seminole)
3. My Son, Stop Your Ears (Chief Joseph, Nez Percé)
4. We Are Not Children (Medicine Horse et al., Otoe)
5. Plenty Coups Travels to Washington (Plenty Coups, Crow)
Chapter 8. Exiles in Their Own Land
1. Plea from the Chickasaw (Levi Colbert et al, Chickasaw)
2. Tushpa Crosses the Mississippi (James Culbertson, Choctaw)
3. Corralling the Navajo (Chester Arthur, Navajo)
4. The Uprooted Winnebago (Little Hill, Winnebago)
5. Standing Bear's Odyssey (Standing Bear, Ponca)
Chapter 9. The Nation's Hoop is Broken and Scattered
1. The Buffalo Go (Old Lady Horse, Kiowa)
2. Take Care of Me (Wild Cat, Seminole)
3. I Am Alone (Cochise, Chiricahua Apache)
4. I Have Spoken (Crazy Horse, Oglala Sioux)
5. I Want to Look for My Children (Chief Joseph, Nez Percé)
6. No Dawn to the East (Anonymous, tribe unknown)
7. Gone Forever (Buffalo Bird Woman, Hidatsa)
8. This Awful Loneliness (Anonymous, Omaha)
9. A Wish (Flint Knife, Blackfoot)
Part Two: Reservation to Resurgence
Chapter 10. The Very Small Islands
1. Treated Better by Wolves (Struck By The Ree, Yankton Sioux; Passing Hail, Santee Sioux)
2. We Lost Everything (Herrero, Navajo)
3. The Way Agents Get Rich (Sarah Winnemucca, Paiute)
4. The Career of Ely Parker (Ely S. Parker, Seneca-Iroquois)
5. Annie Makes Her Choice (Annie Lowry, Paiute)
6. We Had Everything to Learn (Carl Sweezy, Arapaho)
Chapter 11. To Learn Another Way
1. Responsive and Resistant Students (Ellis B. Childers, Creek; Lone Wolf, Blackfoot)
2. He Is Not One of Us (Sun Elk, Taos Pueblo)
3. What Harm Is in Our Sun-dance? (Anonymous, Blackfoot)
4. We Will Dance (Anonymous, Kwakiutl)
5. Dr. Fewkes Plays Like a Child (Edmund Nequatewa, Hopi)
6. Judge Wooden Leg Keeps One Wife (Wooden Leg, Northern Cheyenne)
Chapter 12. The Flood Has Come
1. A House of Our Own (Joseph La Flesche et al., Omaha)
2. Luther's Father Stands Alone (Luther Standing Bear, Rosebud Sioux)
3. Half White and Half Indian (John Stands in Timber, Northern Cheyenne)
4. We Want to Tell You Something (Albert Yava, Hopi)
5. He-na-Tom, the Hoodwinker (Lucy Thompson, Yurok)
6. The Dead Did Not Return (Anonymous, Pine Ridge Sioux)
Chapter 13. Hearts on the Ground
1. Life on the Checkerboard (Ruth Muskrat Bronson, Cherokee)
2. Big Man's Rules and Laws (Alexander Posey, Creek)
3. The Outrage of Allotment (DeWitt Clinton Duncan, Cherokee)
4. Farming and Futility (Martin Charlot, Flathead-Salish)
5. The Hopi Push of War (Helen Sekaquaptewa, Hopi)
Chapter 14. A Twentieth-Century Indian Voice
1. The Best and the Brightest (Society of American Indians)
2. Laughing at Themselves (Anonymous)
3. From Wassaja to Montezuma (Carlos Montezuma, Yavapai-Apache)
4. Suddenly a Gate (Michael Posluns, Shuswap)
5. Following the Medicine (Anonymous, Washoe)
6. Scandal in Oklahoma (Gertrude Bonnin, Sioux et al.)
Chapter 15. Interlude of Hope
1. Hard Times in Sioux Country (John Fire Lame Deer, Sioux)
2. Neglect Along the Klamath (Robert Spott, Yurok)
3. The Twenties at San Juan (Alfonso Ortiz, San Juan Pueblo)
4. Commissioner Collier Is on Our Side (Antonio Luhan, Taos Pueblo)
5. Resisting the Indian New Deal (Rupert Costo, Cahuilla)
6. Debate Over IRA (Alfred DuBray, Sioux; Ramon Roubideaux, Sioux)
7. Reducing Navajo Sheep (The Blind Man's Daughter, Navajo)
Chapter 16. In and Out of the Mainstream
1. Counting Coup in World War Two (Joseph Medicine Crow, Crow)
2. A Code Talker Comes Home (Anonymous, Navajo)
3. The Menominees Are Terminated (DRUMS committee, Menominee)
4. On Relocation (Bennie Bearskin, Winnebago; Watt Spade, Cherokee)
5. Stopping Erosion (Anonymous, Navajo)
Chapter 17. Let's Raise Some Hell
1. The New Indian Wars (Laura McCloud, Tulalip)
2. Invading Alcatraz (Adam Fortunate Eagle, Red Lake Chippewa)
3. Discovery: The Beeah Tribe (Anonymous)
4. Birth of AIM (Vernon Bellecourt, Chippewa)
5. Confrontation or Negotiation (Gerald Vizenor, White Earth Chippewa)
Chapter 18. So Long as This Land Exists
1. Going Back (Little Star, tribe unknown)
2. Hopis and the Love Generation (Peter Nuvamsa, Sr., Hopi; Fred Coyote, Wailaki)
3. Eskimos and "The Act" (Fred Bigjim, Eskimo; and James Ito-Adler)
4. Dark Sky Over Black Mesa (Asa Bazhonoodah, Navajo)
5. Indian Children in Crisis (Anonymous, Oklahoma Indian; Anonymous, Hopi)
Chapter 19. It's Hard to Be Indian
1. What Am I (Anonymous)
2. Alone and Very Scared (Richard S. Cardinal, Chipewyan)
3. Notes from Indian Country (Tim Giago, Sioux)
4. Before and After Gambling (Jim Northrup, Ojibwe)
5. Sovereignty Revitalized (Donald L. Fixico, Creek-Seminole-Shawnee-Sac and Fox)
6. Restoring Life to the Dead (Rosemary Cambra, Muwekma)
7. First and Last Eskimos (Anonymous, Eskimo)
8. Resistance at Oka (Peter Blue Cloud, Mohawk)
9. Confronting Columbus Again (N. Scott Momaday, Kiowa)
Chapter 20. Towards a Native Millennium
1. Thorns in the Side (Leslie Logan)
2. History Repeating Itself (Jenine Dumont, Metis)
3. Old Names in Charge (Wilma Mankiller, Cherokee; Ben Nighthorse Campbell, Cheyenne)
4. Different Programs (Ben Bray, Creek)
5. Reuniting with Beauty (Rose Johnson/Tsosie, Navajo)
6. Speedboat or Canoe? (Watt Scraper, Cherokee)
7. An Eagle Nation (Carter Revard, Osage)
8. The End of the World (The Zuñi People; Anonymous, Apache)
Notes on sources
Illustration credits
Index
Get the latest updates about Peter Nabokov
And go from well-read to best read with book recs, deals and more in your inbox every week.
And go from well-read to best read with book recs, deals and more in your inbox every week.
Dismiss
Thanks!
Something awesome is on its way.
Back to Top
Become a Member
Start earning points for buying books! Just for joining you'll get personalized recommendations on your dashboard daily and features only for members.
Find Out More
Join Now
Sign In
Success!
Your account has been created. Upload book purchases, access your personalized book recommendations, and more from here.