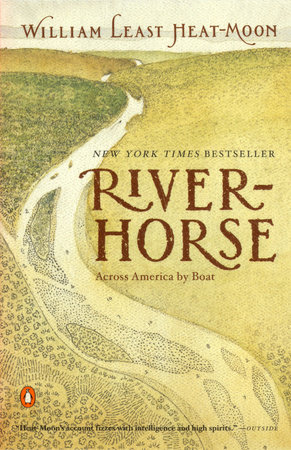 River-Horse
Across America by Boat
By William Least Heat-Moon

By
William Least Heat-Moon
Best Seller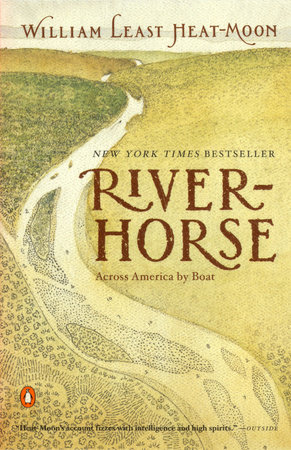 Apr 01, 2001 | ISBN 9780140298604
Buy the Paperback:
People Who Read
River-Horse

Also Read
Inspired by Your Browsing History
Praise
"Heat-Moon's exuberant erudition propels the reader with historical vignettes, ecological and geological detail, and often hilarious encounters with local eccentrics." —Time
"Heat-Moon's prose is clear, straight-forward and lively and his vision unclouded." —Chicago Sun-Times
Table Of Contents
My Lotic Mates
The Boat

I. The Hudson River
A Celestial Call to Board
Up Rivers without Sources
There Lurk the Skid Demon
A Drowned River
Where Mohicans Would Not Sleep
Snowmelt and a Nameless Creek

II. The Erie Canal
The Pull of a Continent
Released from the Necessity of Mundane Toil
Like Jonah, We Enter the Leviathan
Knoticals and Hangman's Rope
We Sleep with a Bad-Tempered Woman Tossed by Fever

III. The Lakes
Hoisting the Blue Peter
How the Sun Rose in the West to Set Me Straight

IV. The Allegheny River
An Ammonia Cocktail and a Sharp Onion-Knife
A Flight of Eagles, an Iron Bed, and So Forth
Unlimited Sprawl Area
Zing, Boom, Tararel!

V. The Ohio River
Proving the White Man a Liar
The Day Begins with a Goonieburger
Enamel Speaks
Along the Track of the Glaciers
From Humdrummery on down toward Tedium
A History of the Ohio in Three Words
A River Coughed Up from Hell
A Necessity of Topography and Heart
Nekked and Without No Posies
Eyeless Fish with Eight Tails
The Great Omphalos in Little Egypt

VI. The Mississippi River
A Night Without Light on a River Without Exits
The Ghost of the Mississippi
Of Swampsuckers and Samaritans
To the Tune of "Garry Owen" We Get Ready

VII. The Lower Missouri River
We Start Up the Great Missouri
I Attach My Life to the Roots of a Cottonwood
A Language with No Word for Flood
Looking the River in the Eye
Clustered Coincidences and Peach Pie
Gone with the Windings
Pilotis's Cosmic View Gets Bad News
The Dream Lines of Thomas Jefferson
A Water Snake across the Bow
Sacred Hoops and a Wheel of Cheddar

VIII. The Upper Missouri River
We Find the Fourth Missouri
The Phantom Ship of the Missouri Reeds
How to Steal Indian Land
A Conscientious Woman
Flux, Fixes, and Flumdiddle
Sitting Bull and the Broom of Heaven
How to Be a Hell of a Riverman
Yondering Up the Broomsticks
Chances of Aught to Naught
We Walk Under the Great River
Why Odysseus Didn't Discover America
Pilotis Concocts an Indian Name for God
Trickles, Dribbles, and Gurglets
My Life Becomes a Preposition
Little Gods and Small Catechisms
Eating Lightning
Imprecating the Wind
Into the Quincunx
Planning for Anything Less than Everything
Over the Ebullition
Ex Aqua Lux et Vis
Weaknesses in Mountains and Men
A Nightmare Alley
No Huzzahs in the Heart

IX. The Mountain Streams
We Meet Mister Eleven
Eating the Force that Drives Your Life
An Ark from God or a Miracle of Shoshones
A Shameless Festal Board

X. The Salmon River
Bungholes and Bodacious Bounces

XI. The Snake River
My Hermaphroditic Quest
Kissing a Triding Keepsake
Messing About in Boats

XII. The Columbia River
The Far Side of the River Cocytus
Place of the Dead
Theater of the Graveyard
A Badger Called Plan A
Robot of the River
A Taproom Fit for Raggedy Ann
Salt to Salt, Tide to Tide

An Afterword of Appreciation
If You Want to Help
Back to Top