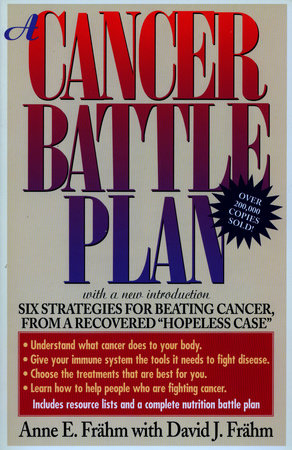 A Cancer Battle Plan
Six Strategies for Beating Cancer, from a Recovered "Hopeless Case"
By Anne E. Frahm and David J. Frähm

By
Anne E. Frahm

and

David J. Frähm




Best Seller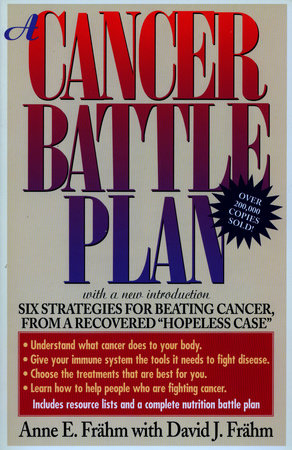 Paperback
Dec 29, 1997 | ISBN 9780874778939
Paperback

$16.00

Dec 29, 1997 | ISBN 9780874778939
Buy the Paperback:
People Who Read
A Cancer Battle Plan

Also Read
Inspired by Your Browsing History
Table Of Contents
Cancer Battle PlanAcknowledgments
Introduction
Introduction to the Second Edition

Chapter I
A War Story
One woman's battle for life

Chapter II
Principle One—Know Your Enemy
What is cancer? What causes it? What treatments make the most sense?

Chapter III
Principle Two—Cut Off Enemy Supply Lines
Detoxifying your body

Chapter IV
Principle Three—Rebuild Your Natural Defense System
Eating a "live foods" diet and exercising

Chapter V
Principle Four—Bring in Reinforcements
Making use of dietary supplements

Chapter VI
Principle Five—Maintain Morale
Bolstering your spirit while your flesh is weak

Chapter VII
Principle Six—Carefully Select Your Professional Help
Choosing a team of special advisors

Chapter VIII
Coming Alongside in the Battle
Encouraging cancer warriors and their helpers

Appendix A
C-Rations
Menus for a "live foods" diet

Appendix B
Supplies Checklist

Appendix C
Resource List
Notes

HealthQuarters Ministries

HealthQuarters Lodge
Back to Top