Under the Harrow Reader's Guide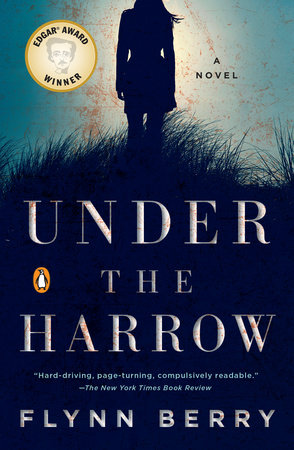 Under the Harrow Reader's Guide
READERS GUIDE
It's Friday afternoon when Nora's train departs from London's Paddington Station. She's headed to visit her sister, Rachel, who lives outside of Oxford in the small town of Marlow. With no other siblings or family besides their vagrant father, the two sisters are close and frequently spend their weekends together. But when Nora opens the front door, Rachel's dog, Fenno, hangs dead from the bannisters and the walls are streaked with blood.
Even after she finds Rachel's body and calls for an ambulance, Nora expects "Rachel to appear in the doorway. Her face confused and exhausted" (p. 8). Instead, a rush of paramedics and police swarm into the house while Nora sits outside in shock.
At the station, Detective Inspector Moretti asks if Rachel had any enemies. Nora imagines an alternative scenario in which Rachel escapes by killing her attacker. Then she recounts how, years earlier, Rachel had been badly beaten on her way home alone from a party. She was seventeen and had been drinking. The police "said they would be in touch if they identified a suspect, but of course they never did" (p. 48).
As Nora sheds her blood-soaked clothes, she wonders if this time will be any different. Her father is "an alcoholic. . . . He has a record" (p. 19). Along with Rachel's former fiancé, their father will certainly be a suspect. But Nora fears her sister's original attacker has finally returned to finish the job.
For years, Rachel and Nora combed the news, looking for stories about similar crimes. Then, five years before she was murdered, Rachel told Nora she was giving up. "She wanted to forget it ever happened" (p. 39).
A brochure from Victim Support explains how "life can fall apart after a murder" (p. 20). But more than Nora's daily life falls apart. As the police investigation probes deeper, Nora begins to question just how well she actually knew her sister. The two spoke frequently, but Nora learns that Rachel kept many secrets, including the fact that Fenno was a trained guard dog.
Overnight, Marlow has been transformed from quaint to sinister. A week earlier, a car accident claimed the life of a young local. Now, Rachel's murder has again plunged the town into mourning. No longer certain about the sister she thought she knew, Nora suspects everyone—including Rachel's next-door neighbor and the local priest—but she distrusts her own memories most of all.
Spare, elegant, and deeply suspenseful,
Under the Harrow
is a mesmerizing portrait of two sisters trying to find their way in a dangerous world. And Flynn Berry announces herself as a writer to watch with a debut poised to take its place in the crime pantheon alongside
Gone Girl
and
The Girl on the Train
.
Questions and Topics for Discussion
1. In the wake of Rachel's murder, Nora learns that her sister kept many secrets. If you were Nora, what would you feel was Rachel's biggest betrayal? If you were Rachel, why would you choose not to confide in Nora?
2. Might Rachel still be alive if she had married Stephen? Why didn't she? Why did Nora advise Rachel not to?
3. How does Nora's sense that Rachel was a more beautiful version of herself factor into their relationship?
4. What do you make of Rachel's decision to move to a town that's a virtual twin to the one where she grew up?
5. Despite having recently found her murdered sister's body, Nora becomes mesmerized by a French crime thriller. "Somehow, it's like an antidote" (p. 168). Why might she feel this way? What is the reason behind crime fiction's extraordinary appeal?
6. Did Rachel love her sister? Does learning that Rachel called Nora "a little bitch" (p. 173) change your opinion of her?
7. During the investigation, Nora learns that Liam, her former boyfriend, had cheated on her with Rachel. Is drunkenness an adequate excuse? Was Rachel deliberately trying to hurt Nora?
8. How did Rachel's obsession with her attacker affect Nora? Over the years, did Rachel convince herself that her attacker was actually a stranger?
9. Would you murder someone to protect or avenge a sibling? Would Nora have killed Keith if she'd had the opportunity?
10. If Rachel had told Nora that she murdered Callum, would Nora have kept her secret?
11. Did Callum deserve to die? Did Rachel's actions "save" Louise? After his death, would Rachel have been able to move on from her obsession with vengeance?
12. Does a victim's behavior or demeanor affect how you consider a crime?
About this Author
Flynn Berry
is a graduate of Brown University and the Michener Center. This is her first novel.
Back to Top