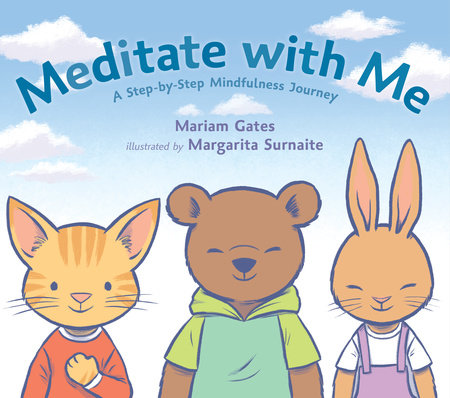 Meditate with Me
A Step-By-Step Mindfulness Journey
A Step-By-Step Mindfulness Journey
A Step-By-Step Mindfulness Journey
By Mariam Gates
Illustrated by Margarita Surnaite

By
Mariam Gates


Illustrated by

Margarita Surnaite



By Mariam Gates
Illustrated by Margarita Surnaite

By
Mariam Gates


Illustrated by

Margarita Surnaite



By Mariam Gates
Read by
Mariam Gates
By
Mariam Gates


Read by

Mariam Gates




Best Seller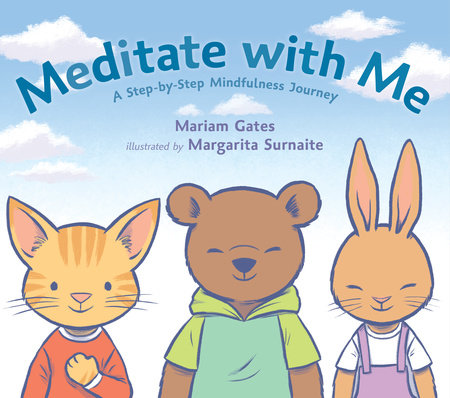 Aug 29, 2017 | ISBN 9780399186615
Buy the Audiobook Download:
Inspired by Your Browsing History
Also in Children's Picture Books
Praise
Praise for Meditate with Me

"A jewel-toned palette, sweet animal faces, and soothing landscapes—combined with a text infused with care—ensure that a child or adult can pick up any part of this book to take a needed break from stress. An impressive, thoughtful collaboration." —Kirkus

"A calming introduction to meditation." —School Library Journal 

"Mariam Gates presents the gifts of a powerful spiritual practice with irresistible charm and joy. Meditate with Me is a wonderful offering to parents and children alike, a gentle guidebook pointing the way to presence, mindfulness, and peace as we navigate life's ups and downs—day by day, moment by moment, and breath by breath."  —Katrina Kenison, author of Mitten Strings for God: Reflections for Mothers in a Hurry
 
"Mariam Gates's new book, Meditate with Me, is an essential resource for all children! If you want your kids to have more options than melt downs, tantrums, and reactivity, order Meditate with Me today, and give them not only a pretty picture book, but a resource to ground and to reflect on their choices for life. Her language, instruction, and illustrations make learning to resource from within accessible for kids. Parents: this book offers your children the skills of embodiment, deep breathing, and self-regulation, which are empowering and responsible tools for children to be able to access. —Dr. Melody Moore, Ph.D. founder of Embody Love Movement
 
 
"In the all-important effort to have our children learn, grow and love, Mariam Gates has done something extraordinary with her lovely book Meditate With Me. She has laid out a path that will guide parents, educators and children alike into a love affair with the inner world. There can be no greater contribution than to provide this kind of a tool for children to find happiness and joy." —Tommy Rosen, Yoga Teacher and Founder of Recovery 2.0

"Finally! I couldn't be more excited to see a meditation book geared for children that is as engaging and practical as it is endearing. This is a priceless opportunity for the whole family to experience meditation together. I could not recommend it more highly!" —Melanie Klein, Professor of Sociology and Women's Studies, co-editor of Yoga and Body Image: 25 Personal Stories about Beauty, Bravery + Loving Your Body, and co-founder of the Yoga and Body Image Coalition.
Back to Top