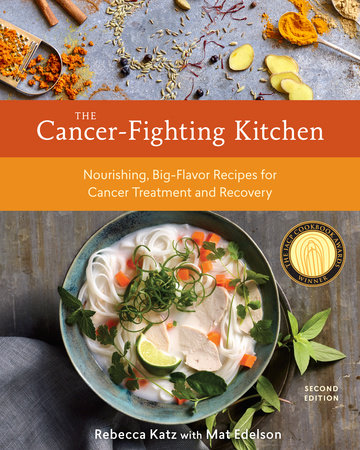 The Cancer-Fighting Kitchen, Second Edition
Nourishing, Big-Flavor Recipes for Cancer Treatment and Recovery [A Cookbook]
Nourishing, Big-Flavor Recipes for Cancer Treatment and Recovery [A Cookbook]
Best Seller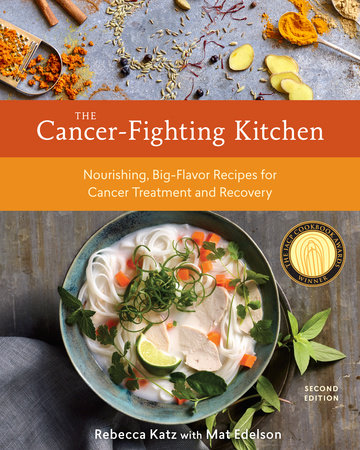 Feb 14, 2017
|
ISBN 9780399578717
YOU MAY ALSO LIKE
QUICK VIEW
I Quit Sugar
Paperback
$25.00
QUICK VIEW
Power Plates
Hardcover
$24.99
QUICK VIEW
Ketotarian
Paperback
$21.00
QUICK VIEW
The Homemade Vegan Pantry
Hardcover
$24.99
QUICK VIEW
Fix It with Food
Hardcover
$30.00
QUICK VIEW
Unbelievably Vegan
Hardcover
$29.99
QUICK VIEW
Clean Slate
Paperback
$26.00
QUICK VIEW
Food52 Vegan
Hardcover
$22.99
QUICK VIEW
Whole New You
Paperback
$22.00
QUICK VIEW
Bobby Flay Fit
Hardcover
$32.50
Praise
"Rebecca Katz has produced an invaluable resource. Instead of telling patients to 'just eat a balanced diet,' we can now show them how to control disease and optimize health with delicious, nourishing food from The Cancer-Fighting Kitchen. I recommend this book highly."
—Andrew Weil, MD
"Rebecca Katz brilliantly combines delicious recipes with nutritious ingredients to help promote and maintain a healthy lifestyle.  I have shared The Cancer -Fighting Kitchen with my patients and their loved ones, and also with colleagues, family and friends.  Anyone concerned about their own health and well-being, and that of their loved ones, should buy this book."
—Vered Sterns, MD, professor of oncology and co-director of the breast and ovarian cancer program at Kimmel Cancer Center at Johns Hopkins


PRAISE FOR THE FIRST EDITION:
"Cancer treatments such as surgery, chemotherapy and radiation can be almost as hard on the body as the disease itself, and detailed nutrition advice is usually not on the program. This informative guide to fighting cancer from the inside out…corrects that with a wealth of easy, immediate steps to speed up the healing process through diet. …Katz's experience with cancer patients and their long, often frustrating recovery lends authority to her wise, common-sense approach."
—Publishers Weekly, STARRED REVIEW
"If you or someone you love is battling this tough, tenacious illness, you'll want to use every tool The Cancer-Fighting Kitchen provides."
—Energy Times
"An amazing book…with flavorful recipes…simply delicious."
—Washington Post

"a must-have cookbook for learning how to cook and eat during treatment and after."
—Kairol Rosenthal, author of Everything Changes: The Insider's Guide to Cancer in Your 20s and 30s
"The Cancer-Fighting Kitchen is an incredibly rich and satisfying resource–it is a must for people living with and beyond cancer, and should be mandatory reading for all health care professionals. This great gift will have a profound impact on the health and well-being of all who partake!"
—Donald Abrams, MD, chief of hematology and oncology at San Francisco General Hospital, integrative oncologist at the UCSF Osher Center for Integrative Medicine, and coauthor of Integrative Oncology
"If food is medicine, Rebecca Katz is one of the great healers. The Cancer-Fighting Kitchen is a book for anyone who wants to eat as if their life matters."
—Rachel Naomi Remen, MD, author of Kitchen Table Wisdom and My Grandfather's Blessings
"There is no substitute for eating healthfully, especially when diagnosed with cancer. This wonderful resource makes nutritious foods easy to prepare, attractive to look at, and tasty to eat. It is the best I have seen."
—Joseph Pizzorno, ND, editor-in-chief of Integrative Medicine and coauthor of Encyclopedia of Natural Medicine and Natural Medicine for the Prevention and Treatment of Cancer
"A book to nourish loved ones. The Cancer-Fighting Kitchen: Nourishing, Big Flavor Recipes for Cancer Treatment and Recovery–This is a book I have added to my shelf and it will always be within reach. I think this book could be called many things–a mother's handbook to nourishing your loved ones or cooking to cure. I know my family and friends will benefit from my new favorite book the next time I need to cook something to make them feel better."
—Regina Charboneau for The Atlantic.com
Table Of Contents
Contents

Introduction 1

CHAPTER 1 
Cancer-Fighting Tool Kit 7
8 Side Effects
9 Recipes for Specific Side Effects
13 Menu Planning
18 Enhancing Flavor and Dealing with Taste Changes
20 FASS Fixes for Taste Bud Troubles
20 Learning Your Food Preferences
23 Discovering Your Culinary Preferences
23 The Power of Herbs and Spices
25 Optimizing Nutrition
28 Culinary Pharmacy
40 Receiving Support—and How Family and Friends Can Help

CHAPTER 2
Nourishing Soups and Broths 47
49 Magic Mineral Broth
50 Chicken Magic Mineral Broth
51 Pasture Beef Bone Broth
52 Italian White Bean Soup
53 Lemony Greek Chicken Soup
55 Chicken Vegetable Soup with Ginger Meatballs
56 Ma's Mushroom Barley Soup
57 Minestrone
58 Thai It Up Chicken Soup
61 Bella's Carrot, Orange, and Fennel Soup
62 Cooling Cucumber Avocado Soup
63 Rockin' Black Bean Soup
64 Curry Cauliflower Soup
66 Spiced Sweet Potato Soup
67 Summer's Best Zucchini Soup
69 Roasted Red Roma Tomato Soup
70 Velvety Red Lentil Dal
71 Creamy Broccoli and Potato Soup

CHAPTER 3
Vital Vegetables 73
75 Basil Broccoli
76 Baby Bok Choy with Yam and Ginger
77 Green Beans with Brazil Nuts and Basil
78 Emerald Greens with Orange
81 Gregg's Stuffed Acorn Squash with Quinoa, Cranberries, and Swiss Chard
83 Mashed Cinnamon Butternut Squash
84 Kale with Sweet Potatoes and Pecans
86 Kale with Carrots
87 Broccoli with Ginger and Garlic
89 Arugula with Edamame, Radish, and Avocado
90 Baked Sweet Potatoes with Assorted Toppings
92 Roasted Root Vegetables with Rosemary and Thyme
93 Stir-Fried Baby Bok Choy with Shiitake Mushrooms
95 Shredded Carrot and Beet Salad
96 Warm and Toasty Cumin Carrots
97 Warm Napa Cabbage Slaw

CHAPTER 4
Protein-Building Foods 99
100 Easy Eggs in a Cup
101 Simple Scrambled Eggs with Kale
102 Nana's Egg Salad
103 Poached Eggs with Basil Lemon Drizzle
104 Curried Chicken Salad
106 Chicken and Broccoli Stir-Fry with Cashews
107 Cozy Comfy Chicken and Rice
109 Orange Ginger Roasted Chicken
110 My Family's Favorite Chicken
111 Tuscan Farro and Bean Salad
112 Middle Eastern Chickpea Burgers
115 Lemon Mustard Salmon Salad 
116 Poached Salmon with Moroccan Pesto
119 Triple-Citrus Ginger Black Cod
120 Baked Citrus Halibut with Signora's Tomato Sauce
121 Turkey Patties with Apple and Arugula

CHAPTER 5
Anytime Foods 123
125 Anytime Bars
127 Beyond Just Good Cornbread
128 Best Oatmeal Ever
131 Edamame Avocado Dip with Wasabi
131 Cannellini Bean Dip with Kalamata Olives 
132 Navy Bean and Sun-Dried Tomato Dip
132 Black Bean Hummus
133 Curried Hummus
134 Creamy Polenta
135 Coconut Ginger Lime Rice with Cilantro
137 Maple-Glazed Walnuts
138 Spiced Toasted Almonds
139 Curried Kale Chips
141 Orange Pistachio Quinoa
142 Quinoa Porridge with Walnut Cream
143 Kathie Swift's "Ciao Bella" Chia Pudding
144 Mediterranean Lentil Salad
146 Forbidden Rice Salad
147 Simple Tuscan Farro
148 Rice Paper Moo-Shu Rolls
151 Curried Hummus and Vegetable Pinwheels

CHAPTER 6
Tonics and Elixirs 153
154 Turmeric and Cinnamon Masala Chai
156 Annemarie's Calming Kudzu Elixir
157 Commonweal's Most Nourishing and Healing Tea
158 Ginger Peppermint Green Tea
158 Green Tea Ginger Lemonade
159 Cinnamon Ginger Tea
159 Ginger Tea Spritzer
161 Mouthwatering Watermelon Granita
162 Cantaloupe Granita with Mint
165 Ginger Ale with Frozen Grapes
166 Peach Ginger Smoothie
168 Triple Berry Smoothie
169 Chocolate Banana Smoothie

CHAPTER 7
Dollops of Yum! 171
172 Apricot Pear Chutney
173 Tomato Mint Chutney
175 Basil Lemon Drizzle
176 Avocado Dressing
177 Avocado Cream
178 Cashew Cream
179 Pistachio Cream
180 Cilantro Lime Vinaigrette
181 Zesty Lemon Fennel Vinaigrette
182 Blueberry Compote
183 Dried Fruit Compote
184 Seasonal Stewed Fruit
185 Olive and Caper Relish
186 Moroccan Pesto
187 Parsley Basil Drizzle
188 Herbed and Spiced Yogurt
189 Signora's Tomato Sauce

CHAPTER 8
Sweet Bites 191
193 Almond Muffin Mania
195 Baked Apples Filled with Dates and Pecans
196 Chocolate Tapioca Pudding
197 Great Pumpkin Custard
198 Cardamom Maple Mini Macaroons
201 Coconut Rice Pudding
202 Chocolate Apricot Date Nut Truffles
205 Poached Pears with Saffron Broth
206 Strawberries with Mango Coconut "Sabayon" Sauce
209 Triple Ginger Snap Cookies with Pecans
Be the first to know!
And go from well-read to best read with book recs, deals and more in your inbox every week.
And go from well-read to best read with book recs, deals and more in your inbox every week.
Dismiss
Thanks!
Something awesome is on its way.
Back to Top
Become a Member
Start earning points for buying books! Just for joining you'll get personalized recommendations on your dashboard daily and features only for members.
Find Out More
Join Now
Sign In
Success!
Your account has been created. Upload book purchases, access your personalized book recommendations, and more from here.