Paris for One and Other Stories Reader's Guide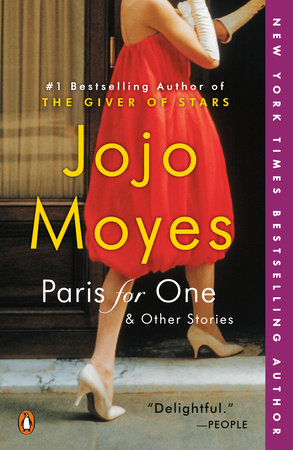 Paris for One and Other Stories Reader's Guide
READERS GUIDE
Introduction
An Introduction to Paris for One and Other Stories
"She lowers the window, taking in the sounds of the busy streets, the scent of perfume, coffee, and smoke, the breeze catching and lifting her hair. It is just as she'd pictured it. The buildings are tall, with long windows and little balconies—there are no office blocks. Every street corner seems to have a café with round tables and chairs outside. And as the taxi heads farther into the city, the women look more stylish and people are greeting each other with kisses as they stop on the pavement.
I'm actually here, she thinks"
("Paris for One," p. 13).
All her life, twenty-six-year old Nell Simmons has been a worrier, a careful planner whose day is rattled by something as simple as choosing a sandwich for lunch. When Nell finds herself stranded in a Paris hotel room by her no-show boyfriend—her plans for a romantic weekend in tatters—her first instinct is to jump on the next train home. But the cost, both in euros and in self-respect, makes her think twice. She can return to England, broke and brokenhearted, or she can rise to the challenge and face Paris on her own. Deciding to stay, she begins an exploration of the City of Light—and herself—in the process.
Soon Nell meets Fabien, a handsome waiter and would-be writer who is recovering from his own bad breakup. With Fabien as her guide, Nell finds herself dancing on bars, boating on the Seine, and zipping through the city on a moped. She begins to realize that within her shy self is the adventurous and openhearted woman she thought she could never be, and what began as a humiliating weekend alone has the potential to be the most romantic of her life.
Touching on the many themes that run through Jojo Moyes's first-ever short-story collection, "Paris for One," the title story, is about overcoming disappointment, discovering one's true self, and finding contentment along the way. In "A Bird in the Hand," a woman accidentally meets up with an old lover, and her regret about the end of their affair turns to relief over the life she narrowly escaped. "Crocodile Shoes" follows a woman as she spends the day wearing someone else's designer high heels, unlocking a confidence and sex appeal she didn't realize she had. Echoing the title story, in "Love in the Afternoon," a husband and wife struggle with their own romantic trip gone awry.
As in her beloved and bestselling novels,
Me Before You
and
After You
, Moyes's flair for creating vivid, relatable characters shines throughout this collection. She is equally able to paint the loving sacrifices of a cash-strapped family ("Last Year's Coat") and a hilarious jewelry robbery ("Holdups"), and her depiction of Nell and Fabien falling in love will melt readers' hearts. This balance of deeply-felt emotion and sparkling humor marks
Paris for One and Other Stories
as classic Jojo Moyes and makes it required reading for new and old fans alike.
Questions and Topics for Discussion
1. Which is your favorite story in the collection and why?
2. Do you recognize yourself in Nell or any of the other characters in Paris for One and Other Stories?
3. Fabian first feels a connection to Nell when they are both moved by the same painting at the Frida Kahlo exhibit. Have you ever responded to a work of art in such a visceral way?
4. Nell's girlfriends play a key role in her Paris weekend, in both good ways and bad. How does her relationship with Magda and the others shift after she returns?
5. On pp. 86–87, Fabien takes Nell to the Pont des Arts to see the love locks. Were you familiar with this Parisian tradition of attaching locks to the bridge? Why do people do it? Would you?
6. In the final line of "Paris for One," Nell says she "always did like a story with a happy ending" (p. 151). What do you imagine happens to Nell after the story ends?
7. In "Thirteen Days with John C," Miranda finds a stranger's cellphone and is seduced by the texts of a man she doesn't know. Although she is pretending to be someone else and in fact never meets John C, do you believe that what she did qualifies as cheating? Would her husband agree?
8. Why is Sara so unenthusiastic about being whisked away for the night in "Love in the Afternoon"? Why didn't Doug tell her he received the trip as a company bonus? In what way does the discovery change Sara's attitude?
9. The stories "Paris for One" and "Love in the Afternoon" both revolve around a romantic weekend trip. What is the most romantic vacation you've ever had?
10. On p. 40, Moyes includes a quotation from Samuel Beckett: "Try again. Fail again. Fail better." What does this mean? Have you had any moments in your life when this was applicable to you?
Back to Top