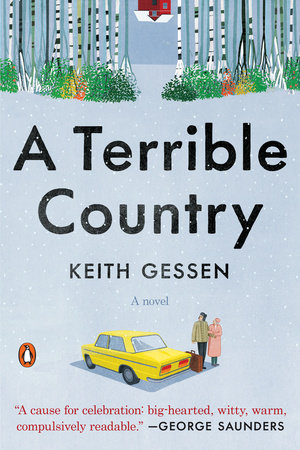 A Terrible Country
A Novel
A Novel
A Novel
Best Seller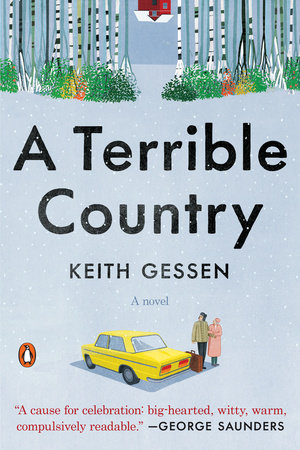 Jul 09, 2019
|
ISBN 9780735221338
Buy the Audiobook Download:
YOU MAY ALSO LIKE
QUICK VIEW
The Commitments
Paperback
$15.95
QUICK VIEW
A Pale View of Hills
Paperback
$16.00
QUICK VIEW
A House for Mr. Biswas
Paperback
$18.00
QUICK VIEW
Lights All Night Long
Paperback
$17.00
QUICK VIEW
When We Were Orphans
Paperback
$17.00
QUICK VIEW
Bridge of Sighs
Paperback
$18.00
QUICK VIEW
An Artist of the Floating World
Paperback
$17.00
QUICK VIEW
The Man Who Never Stopped Sleeping
Paperback
$17.00
QUICK VIEW
I the Supreme
Paperback
$17.95
QUICK VIEW
The Reader
Paperback
$17.00
Praise
"This earnest and wistful but serious book gets good, and then it gets very good. . . . [Gessen] writes incisively about many things here but especially about, as the old saw has it, how it is easier to fight for your principles than live up to them. . . . This artful and autumnal novel, published in high summer, is a gift for those who wish to receive it."
—Dwight Garner, The New York Times

"Excellent. . . . In its breadth and depth, its sweep, its ability to move us and philosophize . . . A Terrible Country is a smart, enjoyable, modern take on what we think of, admiringly, as 'the Russian novel'—in this case, a Russian novel that only an American could have written."
—Francine Prose, The New York Review of Books

"[A] lighthearted yet morally serious novel."
—Vadim Nikitin, The London Review of Books

"Hilarious, heartbreaking . . . A Terrible Country may be one of the best books you'll read this year. . . . One of the pleasures of the novel is listening to Andrei's hyper-intelligent, wry and ironic voice. . . . The other unforgettable character is Andrei's grandmother, an indomitable force of nature. Gessen's portrait of her is tender, and readers will be hard-pressed to find a more nuanced and poignant depiction of what it means to lose your memory. . . . Gessen's genius is in showing us how and why Russia is and isn't a terrible country. And how, in its ruthless devotion to market capitalism, the former socialist state bears a striking resemblance to our own."
—Ann Levin, Associated Press

"Hilarious. . . . To understand Russia, read A Terrible Country."
—Time

"[Andrei's] wry observations about Moscow's day-to-day—his tour through his own family history, his grandmother's stuck-in-time apartment, his struggle to join hockey games and party in nightclubs—are completely engrossing. It's portraiture, showing us a place we may think we know but don't . . . A Terrible Country is a splendid guidebook."
—Entertainment Weekly

"My own feelings towards this complexly ambivalent novel aren't complex or ambivalent in the least. I loved it and expect others will too."
—The Boston Globe

"A Terrible Country is filled with moments of levity. . . . Gessen has shown how literature, academia, and anti-capitalism—topics often pushed to the periphery of political debate—have in fact much to say about the dehumanizing effects of neoliberalism. Tolstoy, who by the end of his life opposed private property, renounced the copyright to his literary works, and started a school for peasants, would probably like it."
—Jennifer Wilson, The New Republic

"Laser-true and very funny . . . Gessen evokes not only convincingly, but indispensably, something exceedingly rare in modern American fiction; genuine male vulnerability. There's enough heart here to redeem every recent male novel that's aimed for it and found solipsism instead . . . You won't read a more observant book about the country that has now been America's bedeviling foil for almost a century."
—The New York Times Book Review

"A Terrible Country tells the reader a lot about contemporary Russia and, importantly, lifts the lid on domestic political resistance to Putin. But what makes this a moving and thought-provoking novel is Andrei's personal struggle to find his way in the world, his sense of obligation to his family, and his realization that his parents' emigration—the very thing that has afforded him opportunities—was 'the great tragedy of my grandmother's life.'"
—Max Liu, Financial Times

"Wily, seductive and deeply affecting. . . . Gessen brilliantly captures the daily rhythms, allures and challenges of Moscow life in 2008-2009. It's as personable a book as it is political. . . . A great book with a great heart."
—Michael Upchurch, The Seattle Times

"Funny and incisive. . . . Marvelous. . . . A Terrible Country is a contemplative and compassionate novel about what it means to return to a place that is no longer home, and a fiercely political book about what oppressive regimes do to societies. There are few writers that do either as well as Gessen does both."
—Minneapolis Star Tribune

"A fresh and often very funny perspective on contemporary Russia."
—San Francisco Chronicle

"A very funny, perceptive, exasperated, loving and timely portrait of a country that its author clearly knows well. . . . If the last two bizarre years have taught us anything, it's that Russia is never irrelevant. I wonder how many more drugged spies, bent elections and political murders it will take for the rest of the world to realise that, for existential reasons, it would be smart for us to pay it a little more consistent and nuanced attention. A Terrible Country would be an excellent and entertaining place to begin."
—The Guardian

"A Terrible Country . . . has a spare emotional force, as beautiful as it is paintful; [the novel] serves as a keen document of history past and present; builds in an unlikely way to the suspenseful climax of a taut (and very human) political thriller; and is the funniest work of fiction I've read this year."
—Christian Lorentzen, Vulture.com

"Taking such an intimate trip through the recent past of Putin's Russia is fascinating, made more so by the presence of Andrei's lively, sorrowful, unpredictable grandmother."
—Vanity Fair

"What is everyday life like under Putin's rule? Russian-born Gessen, founding editor of n+1 magazine, draws on his first-hand experiences to paint a vivid picture of Moscow circa 2008."
—Esquire's Best Books of 2018 So Far

"A Terrible Country positions complacency against resistance, and questions what 'home' really means."
—EW

"Like Gessen himself, Andrei ends up spending time back in Russia, a nation perhaps even more totalitarian than it was when his parents fled almost three decades earlier. He falls in with a group of anti-Putin socialists—a turnabout that, eventually, indicts the values of his adopted homeland."
—Boris Kachka, Vulture.com

"[A] funny and very perceptive portrait of a grandson, a grandmother and a complicated country."
—Jewish Weekly

"A complex portrait of a misunderstood nation. . . . Most of the book's pleasures are traditional ones, welcome reminders of how much an old-fashioned novel can do. It expands the sympathies of its readers, delicately explores the connection between historical experience and the everyday, and offers a picture of a whole social system and what it does to the people who inhabit it. . . . Gessen weaves together many people's stories, so that along the way we glean much about Soviet and post-Soviet life. . . . Gessen is as funny as ever."
—Lidija Haas, Bookforum
 
"An essential addition to the 'Before You Go to Russia, Read…' list."
—The Millions
 
"For those of us fond of Moscow's street scenes, the fine descriptions of Andrei's walks along the Garden Ring and his shopping trips and errands will draw out pangs of recognition. . . . The novel's best, sturdiest theme is that life is, if not attractive, then at least possible in that 'Terrible Country' of Russia."
—Christian Science Monitor
 
"A novel where Russia—a character so compelling that it could have sucked the air out of the room—is merely the landscape on which an even more compelling story plays out—about a human being, and his grandmother."
—Tablet

"[Keith Gessen] understands how unequally the profits of speaking on behalf of Russians are distributed, and how rarely Russians themselves end up the beneficiaries . . . A Terrible Country refuses . . . easy and individualized solutions: If Andrei alone is saved, that is no salvation at all."
—Gregory Afinogenov, The Nation

"Keith Gessen's dark, brilliant, drily hilarious new novel A Terrible Country, is about the experience of a modern American—an ex-pat, to be sure, but is there anything more modern and American that that? . . .  It is up to Andrei to navigate this country's specific terribleness; or, rather, it is up to Gessen to guide Andrei through the mundane tumult of his life, and Gessen does so with a clarity and grace (and no small amount of humor) that makes for the kind of book that lodges inside your consciousness long after you've finished it, so compelling and provocative are its ideas, so unforgettable its characters."
—Nylon

"A novel about life under neoliberalism. . . . A Terrible Country is not exactly a hopeful book about political protest, but neither is it a fatalistic one. Instead, it suggests what resistance might mean, not as a slogan, but as a life."
—Maggie Doherty, Harvard Magazine

"Sad, funny and altogether winning. . . . A compassionate, soulful read that avoids dourness by being surprisingly funny. A Terrible Country shows us that while you certainly can go home again, it often turns out to be a lousy idea."
—BookPage
 
"In Gessen's exceptional and trenchant novel, floundering 30-something professor Andrei Kaplan flees from New York to Russia, the country of his birth, to reassess his future and take care of his ailing grandmother. . . . Andrei's early attempts to reorient himself to post-Soviet Russian society bring about considerable insight and humor—getting rebuffed by a men's adult hockey league, getting pistol-whipped outside a nightclub—leading him back to watching old Russian films with his grandmother. . . . While poised to critique Putin's Russia, this sharp, stellar novel becomes, by virtue of Andrei's ultimate self-interest, a subtle and incisive indictment of the American character."
—Publishers Weekly, (starred & boxed review)

"With wit and humor, ­Gessen delivers a heartwarming novel about the multitudinous winding roads that lead us home."
—Library Journal (starred review)

"Gessen's first novel in a decade is both a piercing look at contemporary Russian society and a touching story of the struggle to find your place in the world."
—amNY

"Timely and engaging . . . Moscow-born Gessen displays an affecting sympathy for the smaller players on history's stage."
—Kirkus Reviews

"A cause for celebration: big-hearted, witty, warm, compulsively readable, earnest, funny, full of that kind of joyful sadness I associate with Russia and its writers. Gessen's particular gift is his ability to effortlessly and charmingly engage with big ideas—power, responsibility, despotism of various stripes, the question of what a country is supposed to do for the people who live in it—while still managing to tell a moving and entertaining human story. At a time when people are wondering whether art can rise to the current confusing political moment, this novel is a reassurance, from a wonderful and important writer."
—George Saunders, Man Booker Prize-winning author of Lincoln in the Bardo

"Keith Gessen is one of my favorite writers and A Terrible Country is even better than I hoped. By turns sad, funny, bewildering, revelatory, and then sad again, it recreates the historical-psychological experience of returning, for twenty-first-century reasons, to a country one's parents left in the twentieth century. It's at once an old-fashioned novel about the interplay between generational roles, family fates, and political ideology, and a kind of global detective mystery about neoliberalism (plus a secret map of Moscow in terms of pickup hockey). Gessen is a master journalist and essayist, as well as a storyteller with a scary grasp on the human heartstrings, and A Terrible Country unites the personal and political as only the best novels do."
—Elif Batuman, author of The Idiot and The Possessed
 
"A Terrible Country is an engaging and entertaining novel, full of humor and humility, and always after one thing—the truth of contemporary life. Gessen gives us the people of Moscow—businessmen, anarchists, grandmothers, dissidents, baristas, hockey goalies, prostitutes, and FSB agents—not as fanciful characters but with the full force of the real. His affectionate, clear-eyed portrait of one terrible country has plenty to teach us about our own."
—Chad Harbach, author of The Art of Fielding

"I loved A Terrible Country, and I loved Andrei, the smart, likable narrator, a struggling American academic with a deliciously wry observational intelligence. I'd follow Andrei's voice anywhere, but I was especially glad, at this moment, to go with him to post-Soviet Moscow. A fun, funny but sincere novel that explores with real integrity what it means to be an American ex-pat who can always leave, A Terrible Country is one of the most addictive and affecting books I've read in a while."
—Adelle Waldman, author of The Love Affairs of Nathaniel P.

"Like Primo Levi's masterpiece If Not Now, When?, A Terrible Country makes the emotional case for an unfamiliar politics. Its critique of the Russian mafia state is balanced by a deeply humanistic attention to common decency. I would not hesitate to recommend this novel to a busy person who otherwise refuses to touch fiction. The only up-to-the-minute, topical, relevant, and necessary novel of 2018 that never has to mention Trump."
—Nell Zink, author of The Wallcreeper and Mislaid

"Keith Gessen has written a poignant yet laugh-out-loud portrait of the new Russia of nightclubs, black Audis, and Wifi cafés, still haunted by an old Russia of kasha, hockey, and Soviet movies. A Terrible Country is a serious book that's a pleasure to read, full of love and sorrow."
—Caleb Crain, author of Necessary Errors

"For those of us who have grown up reading Russian literature, from Chekhov to Babel to Svetlana Alexievich, following this Americanized narrator through his return to contemporary Moscow offers an education and pure delight."
—Mona Simpson, author of Casebook and Anywhere but Here
Get the latest updates about Keith Gessen
And go from well-read to best read with book recs, deals and more in your inbox every week.
And go from well-read to best read with book recs, deals and more in your inbox every week.
Dismiss
Thanks!
Something awesome is on its way.
Back to Top
Become a Member
Start earning points for buying books! Just for joining you'll get personalized recommendations on your dashboard daily and features only for members.
Find Out More
Join Now
Sign In
Success!
Your account has been created. Upload book purchases, access your personalized book recommendations, and more from here.