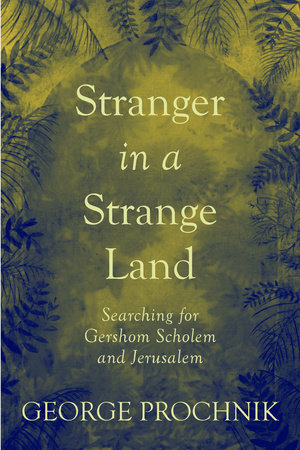 Stranger in a Strange Land
Searching for Gershom Scholem and Jerusalem
Searching for Gershom Scholem and Jerusalem
Best Seller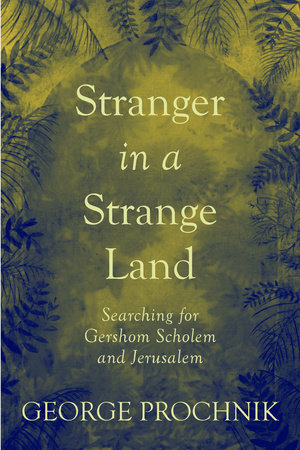 Mar 21, 2017
|
ISBN 9781590517765
YOU MAY ALSO LIKE
QUICK VIEW
QUICK VIEW
QUICK VIEW
The Rainbow People of God
Paperback
$19.00
QUICK VIEW
Beyond Belief
Paperback
$17.95
QUICK VIEW
QUICK VIEW
What Do Jews Believe?
Paperback
$17.00
QUICK VIEW
The Two-State Delusion
Paperback
$18.00
QUICK VIEW
Excellent Daughters
Paperback
$18.00
QUICK VIEW
The Genius of Judaism
Paperback
$18.00
QUICK VIEW
Notes on a Century
Ebook
$15.99
Praise
Praise for Stranger in a Strange Land
 
*SHORTLISTED FOR WINGATE PRIZE (UK)*

"A hunt through the crevices of one life in search of clues that might unlock the mysteries—intellectual, religious, political and psychological—of another…Prochnik sought out Jewish tradition precisely because he understood it as a wellspring of energy—sparks he could use to power up a life disconnected from an deeper source of meaning…the last 20 pages beam with light—a radiant justification of the preceding darkness that comes close to, well, perfect." —NEW YORK TIMES BOOK REIVEW

"Harold Bloom considered Scholem 'not less than a prophet,' declaring that for many contemporary Jewish intellectuals, 'the Kabbalah of Gershom Scholem is now more normative than normative Judaism itself.' And yet many people haven't heard of him. George Prochnik aims to change this with his book 'Stranger in a Strange Land: Searching for Gershom Scholem and Jerusalem.' Prochnik is the author of several books, most recently 'The Impossible Exile: Stefan Zweig at the End of the World,' which won the National Jewish Book Award in 2014. In 'Stranger in a Strange Land,' he again mixes biography and memoir, digging deep into Scholem's life and work while telling the story of his own relationship with Judaism and Jerusalem, the adopted city of both author and subject….[using] a colorful style…But it's the way Prochnik weaves memoir through this intellectual biography that shows how thoroughly the author's own life has twined with Scholem's ideas. Just as a mystic ascends from one palace to the next in Kabbalah cosmology, Scholem's life and work have led Prochnik from phase to phase of his own."—WASHINGTON POST

"Stranger in a Strange Land, by George Prochnik (Other). Gershom Scholem, the renowned historian and theologian, was instrumental in the formation of twentieth-century Zionism and played a crucial role in revitalizing Jewish mysticism. He was also a fractious man of "unrepentant multiplicity," and once fancied himself the Messiah. Entwining memoir with biography, Prochnik skillfully chronicles Scholem's intellectual and personal life, including his passionate friendship with Walter Benjamin; his 1923 emigration from Berlin to Jerusalem; and his ambivalent attitude toward the evolution of Zionism, which eventually, he believed, "triumphed itself to death." Prochnik's account of his own sojourn in Jerusalem illuminates the ongoing struggle to reconcile Zionist ideals with political realities and to envision possibilities for breaking "the spell of hopelessness" in a divided land." —NEW YORKER

"Prochnik (The Impossible Exile) effectively and movingly combines a nuanced biography of Gershom Scholem, who 'singlehandedly created an academic discipline [Jewish Mysticism] out of an obscure theological tradition [study of the Kabbalah],' with a warts-and-all autobiography that recounts Prochnik's search for meaning in his own life…This is a powerful must-read for anyone interested in how people of faith struggle to live in the real world." —PUBLISHERS WEEKLY STARRED REVIEW

"…George Prochnik has produced a book of remarkable erudition and emotional depth that plays the life and thinking of Gershom Scholem against his own. This is at once a compelling intellectual biography of the formidable Scholem and a piercing personal memoir. The two threads together tell a story of Jews in Israel in a way too often overlooked: not in sweeping terms of faith and nations and history, but in the more intimate terms of what people do to make their way in the world, and what they tell each other and themselves as they do it." —LOS ANGELES REVIEW OF BOOKS

"In the wake of so much political turmoil, we're hungry for books that diagnose our broken world: books that lay out a grand ethical program and claw back some hope for humanity…In Gershom Scholem, the historian who popularized the study of Kabbalistic and Messianic movements in Judaism, I've found a refreshing vision of revolutionary change and justice, stimulating the utopian imagination beyond the traditional touchstones of leftist thought…Stranger in a Strange Land, an excellent new biography of Scholem…If you're interested in reading more about Scholem, Prochnik's Stranger is the best place to start—it elegantly tracks Prochnik's experiences in modern Jerusalem against Scholem's life." —THE PARIS REVIEW

"Ardent, beautifully written book." —GUARDIAN

"George Prochnik blends history, philosophy, and memoir with exemplary panache in this fascinating account of an intellectual and spiritual journey. But he never loses sight of the essential questions: How are we to live? And in what kind of world?"
—Pankaj Mishra, author of Age of Anger: A History of the Present

"What a wonderful book this is: gripping, illuminating, beautifully constructed, and full of the communicative energy that comes from things long in gestation but written with fire and speed. It does so many things so well—the portrait of Scholem himself, the account of his work, the study of friendship that comes about through the sustained presence of Walter Benjamin, the evocations of Jerusalem and New York, above all the paralleling of Prochnik's own story with Scholem's. The extraordinary affinities between author and subject give the book an emotional intensity that complements its erudition and lends power to its final, audacious, inspiring claim on the reader's capacity for hope."
—James Lasdun, author of The Fall Guy
 
 "Melding biography and memoir, National Jewish Book Award winner Prochnik (The Impossible Exile: Stefan Zweig at the End of the World, 2014, etc.) examines the life and work of Gershom Scholem (1897-1982), philological archaeologist of the mystical roots of Judaism… Prochnik vividly renders his own journey to define his relationship to Judaism… [a] candid testament of two men passionately trying to revive and reimagine Judaism." —KIRKUS

"…an intriguing…dual-track biography of the author and the Jewish writer, philosopher, and mystic Gershom Scholem. Like Scholem, Prochnik (The Impossible Exile, 2014) has repeatedly been engaged in an intellectual and spiritual quest, searching for a balance between the physical and the ethereal and touching on the nature of Jewish identity. Prochnik alternates between his own experiences living in Israel in the 1990s and Scholem's life and intellectual evolution in the emerging Zionist state. Along with his deep emotional attachment to Israel, Prochnik was troubled by the dehumanizing aspects of the occupation of the West Bank and Gaza Strip. Scholem, born in Berlin, was a cultural rather than a political Zionist. He hoped for a binational state in Palestine, an idealistic aspiration frustrated by both Jewish and Arab nationalism…a stimulating examination of the struggles of both men to reconcile their idealism with reality." —BOOKLIST

"On this spiritual journey, writer Prochnik…traces the intellectual and mystical arc of Gershom Scholem, the German-born Israeli philosopher who advanced theories of Kabbalah and Jewish mysticism…complex and intricate…for readers drawn to Jewish mysticism and Jewish messianism and those interested in Prochnik's peregrinations in the footsteps of Scholem, Sabbatai Zevi, and Theodore Herzl." —LIBRARY JOURNAL

"…Prochnik is possessed of an agile, probing mind, and in his latest, he applies it to understanding the life of Gershom Sholem, intellectual mystic and friend to Walter Benjamin, devotee of the Kabbalah and devoted Zionist."—LITERARY HUB

"Books by Jewish writers on Jewish topics usually carry a heavy personal subtext…what does it mean to be a Jew—for me to be a Jew?… The genius of George Prochnik, in his new book Stranger in a Strange Land: Searching for Gershom Scholem in Jerusalem, is that he surfaces this subtext and makes it his explicit subject. The result is an immersive, passionate work that is really two books spliced together. The first is a quasi-biography of Gershom Scholem, the pioneering scholar of Jewish mysticism, whose life encompassed the greatest Jewish quandaries of the twentieth century. The second is a personal memoir, in which Prochnik describes his own experience of moving from America to Israel, where he lived and raised a family for more than a decade, and then moving back again. Sections of these two tales alternate, creating a meaningful counterpoint, for they are really variations on the same story. Prochnik loves Scholem—and this is clearly a book written out of love, not mere interest or duty—because he offers a role model for a soul in quest of an authentic way to be Jewish…Prochnik performs impressive feats of concise elucidation, taking the reader through Scholem's life, times, and work in under 500 pages…This book is worthy of the rich, ambivalent, complex, and compelling stories it has to tell; more than a work of history, it is a document of the living spirit of Judaism." –BARNES & NOBLE REVIEW

"In his previous book, George Prochnik gave us a moving portrait of Stefan Zweig, the Viennese Jew who wrote tenderly of the 'world of yesterday'—the liberal Europe that collapsed with apocalyptic consequences in the 1930s—and killed himself in his Brazilian exile rather than die in its flames. In his powerful new book, Prochnik offers us a portrait of a Berlin Jew, fifteen years Zweig's junior, who made a very different choice: to renounce the dream of a liberal Europe and remake himself, and his people, in Palestine. Gerhard Scholem, who would become the famous scholar of the Kabbalah Gershom Scholem, upheld a cultural version of Zionism, and spoke of the need for Arab–Jewish coexistence; yet over time he accommodated himself to the often brutal practices of the Jewish state, which turned Palestinians into strangers in their own land. In the late 1980s, as Palestinians in the Occupied Territories launched their first Intifada, Prochnik, an American Jew from the suburbs, settled in Jerusalem with his family, inspired by Scholem's vision of a renewed Jewish cultural vitality, only to discover that this vision lay in ruins, no match for the muscular, expansionist Zionism with which it had made a marriage of convenience. In Stranger in a Strange Land, Prochnik writes of Scholem's dream—and of his own—with a rare and affecting combination of authority and vulnerability. This is a deeply felt work of critique and elegy, a probing examination of the subject of our time: the temptations, and the dangers, of belonging."
—Adam Shatz, contributing editor at the London Review of Books
 
"Prochnik's book presents an uneasy political–mystical tour through Scholem's writing and his own Jerusalem, now lost forever. What makes it a unique and brilliant contribution to current debates about Palestine is that in his reading of Scholem, Prochnik finds simultaneously both the echoes of the forces—messianic, national, and colonial—that keep tearing the region apart, and also the kernel of something precious to be salvaged. From the abyss of our despair, Prochnik manages to do what so few others can: imagine a future of living together."
—Eyal Weizman, author of Hollow Land: Israel's Architecture of Occupation and director of the Centre for Research Architecture at Goldsmiths, University of London
 
"George Prochnik is a great practitioner of the art of auto-nonfiction, the writing of intellectual history in which a past life is quickened again by the keen presence of the author. Yet Prochnik never obtrudes; rather, his beautiful sentences guide us, gently but surely, through both the often-complex thinking of his subjects and the often-traumatic events of their lives. As in his biography of the mercurial Stefan Zweig, alienation is foregrounded in this account of the scholarly Gershom Scholem (who inscribed it in his adopted name, Gershom, meaning "stranger in a strange land"). But loss is lightened here by the Scholemian conviction that the Kabbalah, the mystical tradition of biblical interpretation of which he was the world expert, offers not only a key to the broken past but also a call to its healing. If the Kabbalah appeared to Scholem as an allegory of Jewish exile, Zionism was his way to bring this wandering to an end. As a young man Prochnik was fired by similar hopes, and in what he describes elsewhere as a 'shadow-arc' of his subject, he too emigrated to Jerusalem—only, like Scholem, to be disillusioned by the state politics he encountered there. Yet even that loss is lightened somewhat, for Prochnik came to discover what Scholem had also learned: how we are then mandated to 'live responsibly, inside history.' That ethical invitation is heard in every sentence of this inspiring book."
—Hal Foster, author of Bad New Days: Art, Criticism, Emergency
 
"Reading this utterly absorbing book, I felt like the stranger in the title, led by the hand through the complementary landscapes of two lives: Gershom Scholem's and the author's. Moving between them with deftness and artistry, Prochnik holds the reader's attention at every turn. In the process, he casts new light on Kabbalah and develops a critique of Zionism that is as thought-provoking as any I have read."
—Brian Klug, author of Being Jewish and Doing Justice: Bringing Argument to Life
 
"Gershom Scholem…a scholar of Judaism has become an inspiration to those yearning to find a religious center in their lives…Enter George Prochnik, born in 1961, the author of "The Impossible Exile: Stefan Zweig at the End of the World" (2014) and himself something of a specialist in exile." —WALL STREET JOURNAL
Get the latest updates about George Prochnik
And go from well-read to best read with book recs, deals and more in your inbox every week.
And go from well-read to best read with book recs, deals and more in your inbox every week.
Dismiss
Thanks!
Something awesome is on its way.
Back to Top
Become a Member
Start earning points for buying books! Just for joining you'll get personalized recommendations on your dashboard daily and features only for members.
Find Out More
Join Now
Sign In
Success!
Your account has been created. Upload book purchases, access your personalized book recommendations, and more from here.