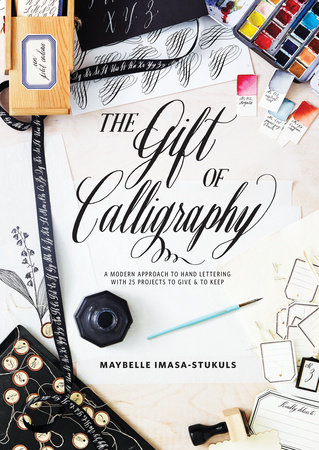 The Gift of Calligraphy
A Modern Approach to Hand Lettering with 25 Projects to Give and to Keep
A Modern Approach to Hand Lettering with 25 Projects to Give and to Keep
By Maybelle Imasa-Stukuls

By
Maybelle Imasa-Stukuls
By Maybelle Imasa-Stukuls

By
Maybelle Imasa-Stukuls
Best Seller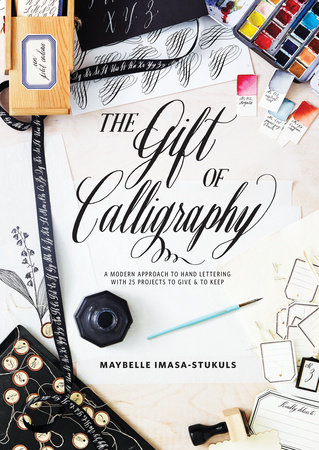 Hardcover
Sep 25, 2018 | ISBN 9780399579202
Hardcover

$25.00

Sep 25, 2018 | ISBN 9780399579202
Inspired by Your Browsing History
Praise
"As a former student of Maybelle's, I can attest to her unique and accessible approach to modern calligraphy: there is room for everyone. Whether you are brand new to calligraphy or you've already got some practice under your belt and want to take yourwork to the next level, The Gift of Calligraphy takes you from materials to technical tips, and from understanding traditional styles to experiments for developing your own unique look—all inan easy-to-follow, stunningly beautiful guide you'll want to come back to again and again."
—LISA CONGDON, fine artist, illustrator, and author of Broad Strokes and A Glorious Freedom

"Maybelle is a woman of passion, grace, and talent, but aboveall, she wants everyone to have access to beautiful hand lettering. She believes that when pen is on paper, it's a meditative gift andthe antidote to these modern times. No mark is ever seen as 'imperfect', no stroke is ever overly corrected; it's all about the flow and letting go."
—MEGAN MORTON, stylist and author of Home Love and It's Beautiful Here

"Maybelle has designed every project in this book with care and thoughtfulness, making them accessible and relevant to everyone—from the amateur to the expert calligrapher. In a modern world ofelectronic messages, Maybelle brings back a tactile craft that isperfect for giving to friends (or keeping for yourself). The Gift ofCalligraphy is a must-have for every crafter's library."
—JORDAN FERNEY, founder of Oh Happy Day!
Back to Top