Friends Like Us Reader's Guide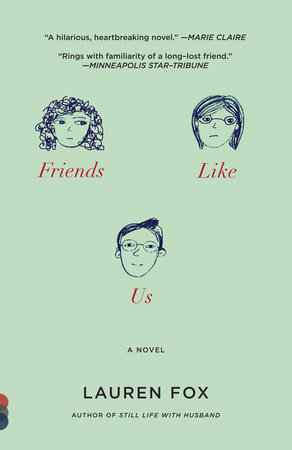 Friends Like Us Reader's Guide
READERS GUIDE
The questions, discussion topics, and reading list that follow are intended to enhance your reading group's discussion of
Friends Like Us,
the hilarious and touching new novel by Lauren Fox, author of the acclaimed
Still Life with Husband
.
Introduction
"Funny and bittersweet…Fox…steers her characters toward a surprisingly realistic and complex conclusion. A thoughtful, delicate book." —
Publishers Weekly
With her critically acclaimed debut novel,
Still Life with Husband,
Lauren Fox established herself as a wise and achingly funny chronicler of domestic life and was hailed as "a delightful new voice in American fiction, a voice that instantly recalls the wry, knowing prose of Lorrie Moore" (Michiko Kakutani,
The New York Times
). Fox's new novel glitters with these pleasures—fearless wordplay, humor, and nuance—and asks us the question at the heart of every friendship: What would you give up for a friend's happiness?  
For Willa Jacobs, seeing her best friend, Jane Weston, is like looking in a mirror on a really good day. Strangers assume they are sisters, a comparison Willa secretly enjoys. They share an apartment, clothing, and groceries, eking out rent with part-time jobs. Willa writes advertising copy, dreaming up inspirational messages for tea bags ("The path to enlightenment is steep" and "Oolong!
Farewell!"), while Jane cleans houses and writes poetry about it, rhyming "dust" with "lust," and "clog of hair" with "fog of despair." Together Willa and Jane are a fortress of private jokes and shared opinions, with a friendship so close there's hardly room for anyone else. But when Ben, Willa's oldest friend, reappears and falls in love with Jane, Willa wonders: Can she let her two best friends find happiness with each other if it means leaving her behind?
Questions and Topics for Discussion
1. What is this novel about: love, friendship, and what else?
2. Though the book deals with serious subjects, it's often wildly funny. How does Fox use humor to tell the story?
3. Who is the better friend, Jane or Willa?
4. Much is made of how similar Willa and Jane are. How does this affect their behavior, toward each other and toward the outside world?
5. Who does Willa love more, Jane or Ben? How can you tell?
6. Who does Ben love more, Willa or Jane? How can you tell?
7. Both Seth and Ben have been inconsistent presences in Willa's life. What else do they have in common?
8. How do Willa's and Jane's parents' marriages shape their outlook?
9. On page 54, Stan says to Willa, "Love can be ruthless." How does this prove true? Are there any relationships in the novel that are free of ruthlessness?
10. Willa says that the one thing she's learned from her brother is that "opportunities for forgiveness are unlimited" (page 57). How does this belief influence Willa's actions later in the novel?
11. What might Jane and Ben have done differently, to respect Willa's feelings? What role did their behavior have in what ultimately happens?
12. How does Jane's kissing Dougie affect Willa?
13. Each character in the novel has episodes of extreme selfishness. Whose affects the others most deeply?
14. Reread the prologue. Now that you know what's happened, how does your interpretation change? What "other options" is Jane referring to?
15. By the end of the novel, how has Willa grown? In what ways has she changed?
16. What purpose does the epilogue serve? At the very end, Willa says, "I understood that the ease of knowing you will love someone forever is always shadowed by the inkling that you might not: that even such a sweetness could end." What does she mean?
17. Does the novel have a happy ending? How do you envision the end of Willa and Ben's relationship?
About this Author
Lauren Fox is the author of
Still Life with Husband
. She earned her MFA from the University of Minnesota in 1998, and her work has appeared in
The New York Times,
Marie Claire,
Seventeen,
Glamour,
and
Salon
. She lives in Milwaukee with her husband and two daughters.
Suggested Reading
Once Upon a Time, There Was You
by Elizabeth Berg;
Truth & Beauty: A Friendship
by Ann Patchett;
The Marriage Plot
by Jeffrey Eugenides;
A Wedding in December
by Anita Shreve;
Best Friends Forever
by Jennifer Weiner.
Back to Top