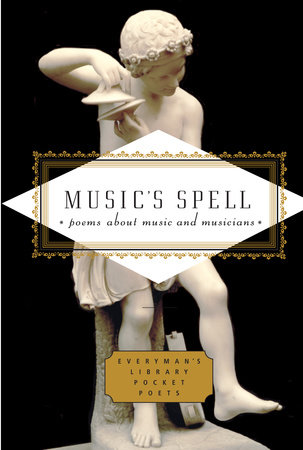 Music's Spell
Edited by
Emily Fragos
Edited by
Emily Fragos
Best Seller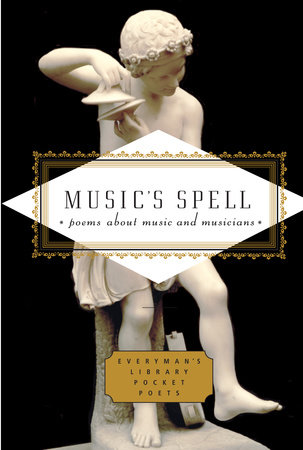 Mar 31, 2009
|
ISBN 9780307270924
Buy the Hardcover:
YOU MAY ALSO LIKE
QUICK VIEW
The Penguin Book of the Sonnet
Paperback
$25.00
QUICK VIEW
God's Trombones
Paperback
$15.00
QUICK VIEW
Circles on the Water
Paperback
$22.50
QUICK VIEW
The Prelude
Paperback
$21.95
QUICK VIEW
Collected Poems
Hardcover
$40.00
QUICK VIEW
Selected Poems
Paperback
$15.00
QUICK VIEW
Good Poems
Paperback
$25.00
QUICK VIEW
The Book of Ephraim
Paperback
$18.00
QUICK VIEW
The Living Fire
Paperback
$21.00
QUICK VIEW
Early Poems
Paperback
$14.00
Table Of Contents
Foreword

THE POWER OF MUSIC
William Shakespeare From The Tempest
William Congreve From The Mourning Bride
Rainer Maria Rilke To Music
Walt Whitman "That music always round me"
Percy Bysshe Shelley Two Fragments:
Music And Sweet Poetry
To Music
John Dryden From A Song for St Cecilia's Day
William Butler Yeats A Crazed Girl
Walter De La Mare Music
Amy Lowell Music
Robert Herrick To Music, to Becalm His Fever
Samuel Taylor Coleridge From The Rime of the Ancient Mariner
Elizabeth Bishop Sonnet
John Milton From At a Solemn Musick
Robert Herrick To Musick
Walt Whitman A Song of Joys
Samuel Taylor Coleridge From Dejection: An Ode
Ben Jonson "Slow, slow, fresh fount"
Czeslaw Milosz In Music
George Herbert Church-Musick
Henry Vaughan The Morning Watch
Elizabeth Barrett Browning Perplexed Music
Thomas Nabbes From Microcosmus
Alexander Pope From Ode on St Cecilia's Day
Homer From The Odyssey
Emily Dickinson "The fascinating chill that music leaves"
Alfred, Lord Tennyson From The Lotus-Eaters
William Wordsworth Sonnet: Inside of King's College Chapel, Cambridge
Robert Herrick Soft Music
William Blake "Piping down the valleys wild"
Lord Byron From Don Juan
Jalaluddin Rumi Where Everything is Music
William Shakespeare From The Merchant of Venice


MUSIC AND LOVE
Langston Hughes Juke Box Love Song
Percy Bysshe Shelley To –
William Shakespeare From Twelfth Night
Thomas Campion "Follow your saint, follow with accents sweet"
Paul Laurence Dunbar An Old Memory
Tomas Tranströmer C Major
Eugenio Montale "Your hand was trying the keyboard"
Conrad Aiken Music I Heard
William Shakespeare "Music to hear, why hear'st thou music sadly?"
Dante Gabriel Rossetti Song and Music
Thomas Carew Celia Singing
William Shakespeare From The Taming of the Shrew
Conrad Aiken From The House of Dust: A Symphony
Thomas Hardy The Fiddler
Richard Lovelace Gratiana, Dancing and Singing
Philip Sidney From Verses
Wildred Owen Music
Richard Barnfield To His Friend Master R. L., in Praise of Music and Poetry
Andrew Marvell The Fair Singer
William Shakespeare "How oft when thou, my music, music play'st"
Lord Byron From Childe Harold's Pilgrimage


POP, ROCK
Denis Johnson Heat
Allen Ginsberg First Party at Ken Kesey's with Hell's Angels
Thom Gunn Painkillers
Joyce Carol Oates Waiting on Elvis, 1956
Cornelius Eady The Supremes
David Wojahn Woody Guthrie Visited By Bob Dylan: Brooklyn State Hospital, New York, 1961
Zbigniew Herbert Mr Cogito and Pop
Robert Phillips The Death of Janis Joplin
Paul Muldoon From Sleeve Notes


JAZZ, BLUES
Marie Ponsot Strong, Off Route 209
Ntozake Shange Mood Indigo
Sterling D. Plump Eleven
Kamau Braithwaite Trane
Gregory Corso For Miles
Rita Dove Canary
Langston Hughes The Weary Blues
Yusef Komunyakaa Woman, I Got the Blues
Robert Hayden Homage to the Empress of the Blues
Charles Simic Bed Music


COMPOSERS
W. H. Auden The Composer
Charles Baudelaire Music
Wallace Stevens Mozart, 1935
Jaroslav Seifert Bach Concerto
Emily Fragos The Scarlatti Sun
Mary Oliver Robert Schumann
Tomas Tranströmer Allegro
Alexander Pope From The Dunciad
Gerard Manley Hopkins Henry Purcell
Anna Akhmatova Music
Tomas Tranströmer An Artist in the North
Adam Zagajewski Seventeen
Frank O'Hara On Rachmaninoff's Birthday
Amy Lowell From Chopin
Sidney Lanier From To Richard Wagner
Emma Lazarus From Chopin
Frank O'Hara Poulenc


THE OPUS
Benjamin Ivry A Prayer Against Strauss' "Salomé," 1900
Oscar Wilde Sonnet on Hearing the Dies Irae Sung in the Sistine Chapel
Colette Inez Listening To Dvořák's Serenade in E
Adrienne Rich The Ninth Symphony of Beethoven Understood at Last as a Sexual Message
Amy Lowell From Stravinsky's Three Pieces "Grotesques," for String Quartet
Thomas Hardy Lines: To a Movement in Mozart's E-Flat Symphony
W. S. Gilbert From The Major-General's Song
Jan Zwicky Brahms' Clarinet Quintet in B Minor, Op. 115
Sara Teasdale A Minuet of Mozart's
James Merrill The Victor Dog
Sidney Lanier From The Symphony
Emily Fragos Bach Fugue
Oscar Wilde The Harlot's House


INSTRUMENTS
Walt Whitman From The Mystic Trumpeter
Hafiz "When the violin"
Adam Zagajewski Cello
D. H. Lawrence Piano
Sean Singer The Clarinet
Federico García Lorca The Guitar
Edgar Allan Poe From The Bells
Emily Brontë "Harp of wild and dream like strain"
Henry Purcell/?Nahum Tate From Come Ye Songs of Art
Samuel Taylor Coleridge From The Aeolian Harp
Thomas Wyatt "Blame not my lute"
André Chénier The Flute
Rabindranath Tagore From Fruit-Gathering
Amy Lowell From The Cremona Violin
Walt Whitman "The tongues of violins!"
Alfred, Lord Tennyson From The Princess
Georg Trakl Trumpets
Zbigniew Herbert Violin
Harp
Harpsichord
Christopher Smart From Julilate Agno
Walt Whitman Beat! Beat! Drums!
John Milton From Il Penseroso
Walt Whitman "I heard you solemn-sweet pipes of the organ"
W. S. Merwin To the Sorrow String
William Shakespeare From Hamlet


VOICE
Thomas Campion Laura
Constantine Cavafy Singer
Wislawa Szymborska Coloratura
James Merrill From The Ring Cycle
Walt Whitman Italian Music in Dakota
Amy Lowell From An Opera House
Walt Whitman From Proud Music of the Storm
Robert Herrick Upon Julia's Voice
William Wordsworth The Solitary Reaper
Thomas Campion "When to her lute Corinna sings"
Vachel Lindsay How a Little Girl Sang
Owen Feltham Upon a Rare Voice
Lord Byron From Don Juan
Seamus Heaney The Singer's House
Samuel Taylor Coleridge On a Volunteer Singer


LESSONS, PRACTICE
Louise Bogan Musician
Adam Zagajewski Death of a Pianist
David Wagoner The Singing Lesson
Billy Collins Piano Lessons
Joshua Sylvester Variable
Dante Gabriel Rossetti Ballata
W. S. Merwin The Notes
Carole Oles To a Daughter at Fourteen Forsaking the Violin


MUSIC AT THE CLOSE
W. B. Yeats The Players Ask for a Blessing on the Psalteries and on Themsleves
William Shakespeare From Richard II
John Donne From Hymne to God My God, in My Sicknesse
Samuel Johnson An Epitaph Upon the Celebrated Claudy Philips, Musician, Who Died Very Poor
Rainer Maria Rilke (Music)
William Shakespeare From The Tempest
Thomas Hardy In a Museum
Chang-Wou-Kien The Pavilion of Music
Rainer Maria Rilke From The Sonnets to Orpheus
John Keats From Ode on a Grecian Urn
Charles Stuart Calverly From Changed
Alfred, Lord Tennyson From Idylls of the King
John Keats From To Autumn
Osip Mandelstam "Leaves scarcely breathing"
Rainer Maria Rilke "The sublime is a departure"

Index of Authors
Acknowledgments

And go from well-read to best read with book recs, deals and more in your inbox every week.
And go from well-read to best read with book recs, deals and more in your inbox every week.
Dismiss
Thanks!
Something awesome is on its way.
Back to Top
Become a Member
Start earning points for buying books! Just for joining you'll get personalized recommendations on your dashboard daily and features only for members.
Find Out More
Join Now
Sign In
Success!
Your account has been created. Upload book purchases, access your personalized book recommendations, and more from here.