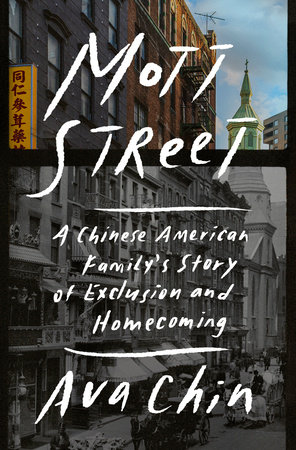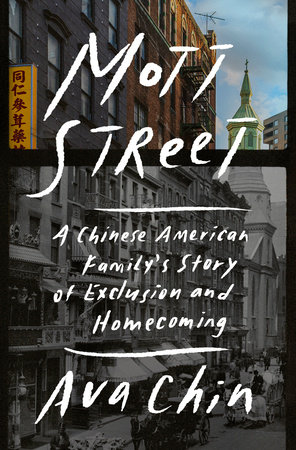 Apr 25, 2023
|
ISBN 9780525557371
Buy the Audiobook Download:
YOU MAY ALSO LIKE
QUICK VIEW
Empress Dowager Cixi
Paperback
$23.00
QUICK VIEW
Big Sister, Little Sister, Red Sister
Paperback
$17.00
QUICK VIEW
George Marshall
Paperback
$22.00
QUICK VIEW
Apollo's Angels
Paperback
$23.00
QUICK VIEW
The Sassoons
Hardcover
$35.00
QUICK VIEW
Too Close to the Sun
Paperback
$18.00
QUICK VIEW
Seven Years in Tibet
Paperback
$17.00
QUICK VIEW
QUICK VIEW
Gandhi: The Years That Changed the World, 1914-1948
Paperback
$22.00
QUICK VIEW
Praise
"A deeply empathetic and important book, one that renders visible the hidden achievements and sufferings of her family members—and insists that the wounding history of exclusion be seen clearly as well." —Julia Flynn Siler, Wall Street Journal

"Chin probes the plight of four generations of her ancestors with the tenacity of a historian, the fine brush of an accomplished artist, and the sensitivity of one who openly communicates with the dead . . . guided by curiosity and courage . . . one of the unexpected gifts is that we hear Chin's voice throughout . . . in her spine-tingling interactions with the spirits of those who have passed . . . magic." —Megan Vered, Los Angeles Review of Books

"An expansive family history encompassing perilous journeys, sensational crimes and social change . . . Sensitive, ambitious, well-reported . . . It has a great deal to say about the Chinese experience in this country: the perilous journeys here, the racism that forced many into menial railroad and laundry jobs, and the draconian Chinese exclusion laws that for six decades (1882-1943) halted most legal immigration and blocked Chinese people from citizenship. The story has a certain pageantry. It flexes to absorb world wars, cholera epidemics, the San Francisco earthquake (the loss of official documents in flattened buildings was a boon to many Chinese immigrants), sensational crimes, foot binding and the rise of urban tongs . . . She and her vibrant family have come so far, but a lot of the old bruises are still right there on the surface." —Dwight Garner, The New York Times Book Review

"Bravura . . . Chin writes with a Proustian flourish about scrumptious foodscapes, and her new book—a valentine to four generations of her Asian American ancestors—plays to her strengths . . . Evocative . . . melding of different voices—a kind of free indirect style—works without drawing undue attention to itself as a composite form. There's an immediacy to Chin's description . . . [her ancestors] voices have been lovingly preserved in these pages." —Rhoda Feng, The Washington Post

"The book shines a harsh and unforgiving light on this country's legacy of racist policies, exemplified by the Chinese Exclusion Act of 1882, which banned Chinese immigration for over 60 years and denied Chinese American residents the right to become U.S. citizens . . . an important read for those interested in learning about the origins of some of today's most hard-line immigration policy proposals in America." —Leland Cheuk, San Francisco Chronicle

"The Angela's Ashes for Chinese Americas." —Miwa Messer, Poured Over Podcast

"Ava Chin, the only child of a single mother in Queens, decided to embark on a quest to learn her family history, which necessitated wading through the Chinese Exclusion Act of 1882, which banned Chinese laborers from immigrating to the U.S. for six decades. Chin's in-depth research and family detective work led her to a building on Mott Street—and a new understanding of herself and her family." —Zibby Owens, Good Morning America
 
"In the pages of Mott Street, Chin masterfully braids together the roots of her own family tree with the history of Chinese marginalization in America—specifically, the Chinese Exclusion Act of 1882, which was only repealed during World War II, forcing migrants like her family members to forge new identities." —TIME Magazine, "14 New Books You Should Read in April"
 
"My favorite memoirs are the ones that tell a big story through a personal lens. Chin does this beautifully in Mott Street . . . It's a visceral, vital book that exposes some of America's most shameful history, while uplifting the people who resisted and thrived despite it." —Book Riot, "8 Fascinating New Nonfiction Books to Read in April 2023"

"A remarkable story . . . Mott Street is the focal point of an extraordinary tale of an extended family that throws itself into making life in America work." —Gavin Newsham, New York Post

"Exceptional . . . Enhanced with rare photographs and documents, Chin achieves on the page what wasn't possible in her own actual life: to entwine her parentage into a single enduring story of abiding resilience and indelible inspiration." —Terry Hong, Shelf Awareness (starred review)

"Stunning . . . Deeply researched and superbly told, this sweeping saga is sure to become required reading for those seeking to understand America's past and present. Readers will be rapt." —Publishers Weekly (starred review)

"Chinese American writer searches for roots not easily uncovered . . . In this elegantly written, probing narrative, Chin adds weight and substance to those near caricatures, an act of filial homage that ends with the arresting image of 'the mothers of Mott Street' revivified . . . A lively memoir that limns a long family history and helps us understand the troubled history of our nation." —Kirkus (starred review)

"A beautifully written ode to Chin's family that explores the history of a nation through the eyes of those whose stories of strength, rage, and passion were often suppressed from the historical record . . . important and relevant, and her memoir gives readers a better understanding of immigrants' pasts and presents in the U.S. and an idea of how to move forward." —Library Journal

"This richly narrated family history starts in Chinatown, then amplifies the broader experience of Chinese Americans across two centuries of hardship and opportunity . . . Chin draws upon oral narratives, archival research, photographs, location visits, and intuition to convey her ancestors' feelings. Chin expresses familial affection and reveals an ugly anti-Chinese sentiment that unfortunately 'has made a roaring comeback in our time.'" —Booklist

"Ava Chin accomplishes an astonishing feat: by tracing five generations of her own Chinese American ancestors, she also traces the story of Chinese exclusion, illuminating an often-ignored part of our national past. Mott Street is a vibrant and moving family story, but it's also essential reading for understanding not just Chinese American history, but American history—and the American present." —Celeste Ng, #1 bestselling author of Our Missing Hearts and Little Fires Everywhere

"Ava Chin's quest to learn the story of her family uncovers another story: the American government's almost century-long discriminatory treatment of Chinese immigrants and their children—a shameful episode in our history, and one that should be more widely known. Anti-Asian racism did not begin with Covid. Mott Street is written with feeling, with anger, and compassion. It's a book from the heart." —Louis Menand, Pulitzer Prize-winning author of The Free World

"Ava Chin's fierce intelligence and gorgeous writing gives us an exciting and essential social history of three generations of Chinese New Yorkers that expands our understanding of American life. This important and much needed work will enrich our common conversation and how we know ourselves." —Sarah Schulman, author of Let the Record Show

"Mott Street should be required reading. Tracing the lineage of her own family, Ava Chin commits to the written record a foundational piece of American history that has been erased for too long. Thoroughly researched and powerfully told, Mott Street examines the legacy of Exclusion and what it means—for a nation, for a family, and for a human." —Qian Julie Wang, New York Times Bestselling author of Beautiful Country 
 
"Ava Chin entered a six-story building in New York's Chinatown and found a portal—one that led not only to both sides of her sprawling and turbulent family history, but to a visceral understanding of the Chinese-American experience in all its glory and pain. Mott Street is a masterful distillation of decades of research and storytelling, written with love, sorrow, and rage." —Janice P. Nimura, New York Times Bestselling author of The Doctors Blackwell

"Ava Chin blazes a path through the fictions made necessary by the Chinese Exclusion Act to a gorgeously intimate story of her own family across generations and a powerful indictment of the ways this country's past xenophobia reverberates in the present. She discovers that many of her ancestors' histories flow through a single building on Mott Street, a place that simultaneously grounds and unleashes the spirit of their collective story. A beautiful and necessary book." —Maud Newton, author of Ancestor Trouble
 
"Ava Chin has created a stunning work of genealogy that traces her family's legacy in America back from present day Mott Street in New York City to the early days of Chinese Exclusion in California. It is a tender and loving portrait of her ancestors, depicting their joys and struggles as they built both the nation's infrastructure and spaces of resistance and belonging for those excluded from the nation. More than a family history, Mott Street is a history of a people's survival and a history of America.​" —Grace M. Cho, author Tastes Like War
 
"Ava Chin has taken the stories she was told and the hurts that came her way in childhood and transformed them into an historically researched portrayal of two families in a new country that wanted their labor but not their citizenship. Chin reveals the pain that overcomes her as she learns her past but she proceeds by drawing strength from feeling her ancestors all around her in their building in Manhattan's Mott Street. The essence of this story is a yearning to understand the past and to discover what Chin can make of her glorious yet underusing inheritance in her present life as an author, professor, and parent. Mott Street is a masterpiece that opens up a unique history into a consideration of what came before that offers inspiration for all readers." —Alice Elliott Dark, author of Fellowship Point

"Sweeping yet intimate, Mott Street is a lyrical, gripping account of survival, resilience and resistance. Through tireless research, Ava Chin uncovers the stories of her family that might have been lost to history. Deeply moving and unforgettable." —Vanessa Hua, Forbidden City


Table Of Contents
Part I
1970s-Present
1. The Elbow of Mott Street
2. The Crown Prince of Chinatown / Chin Family
3. Such Treasures / Wong-Ng-Doshim Family

Part II
1880-1906
4. Dek Foon / Ng-Doshim Family
5. Dek Foon / Ng-Doshim Family
6. Chin On / Chin Family
7. Elva Lisk / Ng-Doshim Family
8. Dek Foon & Chin On / Ng-Doshim & Chin Families

Part III
1906-1914
9. Shim & Chun / Ng-Doshim Family
10. Shim & Chun / Ng-Doshim Family
11. Yulan & Chin On / Chin Family
12. Angel Island / Chin Family

Part IV
1915 – Present
13. Mothers of Mott Street / Ng-Doshim Family Apt. 31 & Chin Family Apt. 23
14. The Flu of 1918 / Ng-Doshim Family Apt. 31 & Chin Family Apt. 23
15. Paper Families / Wong Family, Ng-Doshim Family Apt. 31 & Chin Family Apts. 22 and 23
16. A Homecoming / Chin, Ng-Doshim & Wong Families Apts. 22 and 23
17. 37 Mott Street

Acknowledgments
Bibliography
Index
Get the latest updates about Ava Chin
And go from well-read to best read with book recs, deals and more in your inbox every week.
And go from well-read to best read with book recs, deals and more in your inbox every week.
Dismiss
Thanks!
Something awesome is on its way.
Back to Top
Become a Member
Start earning points for buying books! Just for joining you'll get personalized recommendations on your dashboard daily and features only for members.
Find Out More
Join Now
Sign In
Success!
Your account has been created. Upload book purchases, access your personalized book recommendations, and more from here.