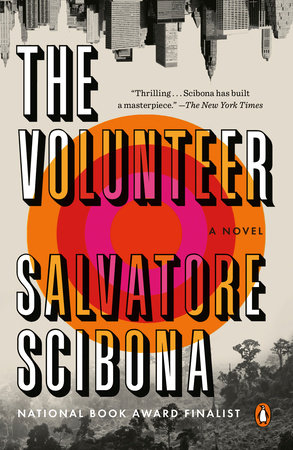 The Volunteer
A Novel
A Novel
A Novel
Best Seller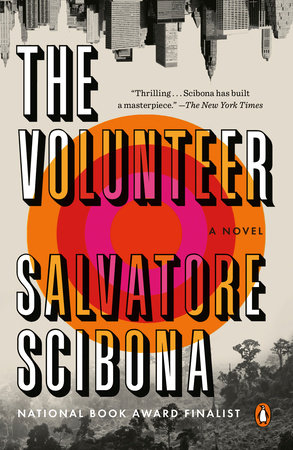 Mar 03, 2020
|
ISBN 9780525558545
Buy the Audiobook Download:
YOU MAY ALSO LIKE
QUICK VIEW
The Patriots
Paperback
$18.00
QUICK VIEW
The Street Sweeper
Paperback
$18.00
QUICK VIEW
QUICK VIEW
In Paradise
Paperback
$16.00
QUICK VIEW
QUICK VIEW
A Long Way from Home
Paperback
$16.95
QUICK VIEW
The Beauty of Humanity Movement
Paperback
$17.00
QUICK VIEW
Prudence
Paperback
$16.00
QUICK VIEW
The Girl in the Blue Beret
Paperback
$17.00
QUICK VIEW
Three Comrades
Paperback
$18.00
Praise
"I was blown away by Salvatore Scibona's The Volunteer, which might be the first book I've ever read whose beginning made me cry. It starts with a tiny, desperate boy found at the Hamburg airport speaking an unknown language, and leads us from Latvia to Vietnam, New Mexico and Cambodia, through lifetimes and family myths, memories, upheavals and betrayals of mind and body." — Téa Obreht, author of The Tiger's Wife and Inland

"One of the most thrilling things about The Volunteer is a refusal not just of this novelistic trend of smallness, but also of our own craven, personal brand-driven cultural moment. This novel's question is not how a person might become himself through "finding," but how he might lose everything, and, through losing, gain an honest apprehension of the world . . . Scibona is a savage coiner of similes, one who'll cut sublimity with bathos to snatch a reader's breath away: "In the night, he went out to piss, and the stars were like a kitchen mess across a dark floor." There are also roving, lyrical long shots of Queens streets that, in their grit and dazzle, recall the boyhood Bronx of Don DeLillo's Underworld. Like DeLillo in that book, Scibona wreaks an epic from the lives of ordinary, supposedly negligible men. His lens zooms in and out of streets, rooms, consciousnesses. It becomes kaleidoscopic during those moments in which, with sickening inexorability, a life can go wrong. . . Scibona has built a masterpiece." — New York Times Book Review

"The rewards are enormous. This is a spectacular work of fiction . . . The Volunteer lingers in the memory, a thrilling work bursting with a love of the English language and compassion for poor, broken humanity." — San Francisco Chronicle

"Scibona weaves a powerful multigenerational story about the disturbing journey of a family caught in the crosshairs of history." — The Wall Street Journal 

"A searing record of war and the lies people live by, The Volunteer is also a map of an alternative America . . . Along the way Mr Scibona explores the process of forgetting, the longing to be singled out for love and the price of saying 'no' when you want to say 'yes'. He is as adept at conjuring memorable images and sensations as in conveying his themes: a wind rolling off a bay and smelling of molasses, an empty mailbox filled only with sunlight. Despite all the destruction and despair, in this novel hope emerges as the wildest high."  — The Economist 

"Outstanding, expansive new novel . . . The Volunteer is epic every way . . . Like King Lear, that great exploration of "unaccommodated man," The Volunteer dramatizes the beauty and terror of self-undoing — and the role love might play in reconstituting a life . . . The Volunteer will be described as a great historical novel, and it is . . . But The Volunteer reads most powerfully as an exploration of the nature and problem of selfhood. In this grand novel, the grandest topic is the 'sense of loneliness that [is] the soul's inborn affliction' — and the things we do to salve such pain."— The Boston Globe

"Scibona can also take us into the broken heart of a child lost in a foreign airport, the shattering chaos of a night assault during the Vietnam War and the quiet intensity of a working-class New York neighborhood. Throughout, his ear-perfect dialogue percolates. Still, the moments of ecstasy are what most distinguish this book, one that trots the globe yet misses nothing . . . The war chapters and their aftermath, in a simmering, polyglot city, seem to me the peak of Scibona's accomplishment. They stand with the Vietnam reporting of Michael Herr, in "Dispatches," and the Bronx depictions of Don DeLillo's "Underworld." Indeed, DeLillo's magnum opus makes a good model for this novel, likewise chasing connection across eras and oceans . . .The Volunteer can never be one thing only, upbeat or down. It's teeming, brilliantly." — The Washington Post

"It is a war story unlike any other war story, a story of fathers and sons, of family (both biological and manufactured) and of generations of betrayal and abandonment . . . in Scibona's hands, where the simplest things (nature, pride, a white t-shirt, the taste of water from one's home place) become mythic and strange, almost magical, imbued with meanings beyond the plain fact of their existence . . . all of it — all of it — is just so ridiculously beautiful. So bright and sharp, as though Scibona is able to hold even the most mundane of human moments perfectly in his head, see them from every angle, sniff out the waves of cause and effect that radiate from them . . . The way Scibona writes, there are few moments that don't feel enlivened with something … more. Something extra. Some secret power of history, family or fate thrumming away unseen behind the curtains of the world, driving events. Some force that everyone who's paying attention can sense but not see, that drives a chain of bad decisions and selfish acts that echo down through generations of families.  And between all that — in the moments where the world is just the world and the people in it are no more or less than anyone else — there is still this pitch-perfect dialogue, this joy of language and description, this tension between the inner world and the outer that makes every page hum. Scibona is a remarkable writer and The Volunteer is a remarkable book. Not just for fans of war stories or family stories or generational epics or tales of children lost in airports, but for anyone who loves words and the way they fit together — the way 10 of them can set a scene and 100 can sketch a life. Heavy as it is, there's a buoyancy to its voices that makes it compulsively readable, a dogged survival instinct that makes even its darkest moments bearable. The characters get under your skin. They climb into your head and live there long after you close the covers, and you will take their joys and miseries to bed with you for a long time after." — Jason Sheehan, NPR.org

"Scibona's second novel sings with this type of mutable, potentially explosive detail, with events powered by tiny moments sprinkled across vast landscapes . . . It is not just the ebb and flow of family dynamics that make their mark on four generations in The Volunteer — both the weight of history and the influence of institutional power are also felt in the family's losses." – Santa Fe New Mexican

"Masterful." — Ploughshare
 
"The Volunteer possesses an intensity of purpose and takes in a broad sweep of time . . . Through Scibona's masterful storytelling, modest, vulnerable characters—vividly imagined—are transformed into cherished and tragic souls able to seize benevolence and love as they try to make sense of an often senseless world. Scibona's immersive, intense, and somber novel, its language eloquent and moving, deserves and requires a close reading . . . The Volunteer is a stirring examination into the meaning of family, identity, belonging, and sacrifice, and the effects of institutional power at its most horrifying." — Kenyon Review

"Like the late Robert Stone, Scibona exhibits a command of language and demonstrates a knack for dramatizing the tidal pull of history on individual destiny.  The novel accrues real power as its vividly imagined characters try to make sense of an often senseless world. This is a bold, rewarding novel." — Publishers Weekly, starred review

"Scibona's lyrical yet muscular prose anchors this majestic work as he probes deep philosophical questions about family, identity, belonging, and sacrifice . . . Scibona's greatest strength is his ability to inhabit each character with profound psychological depth to explore their guilt, doubt, and humanity. This novel rewards close reading and deserves wide readership."— Booklist, starred review

"Scibona delivers an enigmatic story that hinges on secrecy and uncertainty. . . As with his first novel, with which it has thematic similarities, Scibona's story takes in a broad sweep of time, looking into the future to foresee an end that may not be so terrible but that is just as certain . . .the narrative is marked by distinctive lyricism and striking images . . . original and memorable."— Kirkus Reviews 

"Salvatore Scibona is gravely, terminally, a born writer—a high artist and exquisite craftsman. Yes his sentences are perfect but not merely; a surplus of dark and tender wisdom, who knows its source, makes his language—and the world—glow with meaning."  —Rachel Kushner, author of The Mars Room

"Salvatore Scibona couldn't write poorly if he tried. The Volunteer is a wonder right from page one, lovely in its language and aching in its insights. Denis Johnson's Tree of Smoke is a blood relative but this novel is a triumph all Scibona's own." —Victor LaValle, author of The Changeling
 
"This magnificent and deeply moving novel by Salvatore Scibona, one of our most masterful writers, has at its heart the simple and compelling tale of a small boy abandoned in a foreign airport and a mysterious 'volunteer' who all his life, without knowing it, is trying to find him. In stunningly inventive prose, Scibona models the world through which these two beautifully drawn lost souls stumble—an infinitely-interconnected and repeating fractal of airplane routes and inscrutable tongues, of arbitrary hubs and meaningless destinations, of escapes and hideouts, of swarming megalopoli improbably wired to pitiful ghost towns such as only America can hide in its empty middle. All this under the crosshatched shadow of the military, for Scibona's portrait of the way we live now is also, necessarily, a novel about war. The Volunteer is so brave, tough and admirable you are on his side before you recognize what you are looking at. He is the good soldier, the man who fights America's wars." —Jaimy Gordon, National Book Award-winning author of Lord of Misrule
 
"Salvatore Scibona is a virtuoso and The Volunteer is a majestic, magnificent, frankly epic work of art. Characters with the most modest, vulnerable lives transform from 'nobodies' into full, precious human souls, steeped in pathos, tragedy, and a seemingly unstoppable heritage of particularly American violence. What tenderness and love they manage to wrest from their lives becomes nothing less than heroic and starkly, luminously beautiful." —Paul Harding, Pulitzer Prize-winning author of Tinkers
Get the latest updates about Salvatore Scibona
And go from well-read to best read with book recs, deals and more in your inbox every week.
And go from well-read to best read with book recs, deals and more in your inbox every week.
Dismiss
Thanks!
Something awesome is on its way.
Back to Top
Become a Member
Start earning points for buying books! Just for joining you'll get personalized recommendations on your dashboard daily and features only for members.
Find Out More
Join Now
Sign In
Success!
Your account has been created. Upload book purchases, access your personalized book recommendations, and more from here.