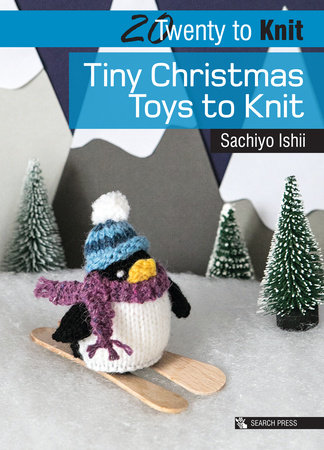 20 to Knit: Tiny Christmas Toys to Knit
By Sachiyo Ishii

By
Sachiyo Ishii
Best Seller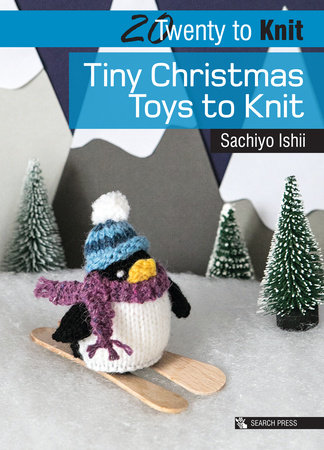 Paperback
Jun 26, 2018 | ISBN 9781782215363
Paperback

$9.95

Jun 26, 2018 | ISBN 9781782215363
*This title is not eligible for purchase to earn points nor for redemption with your code in the
Reader Rewards
program
Buy the Paperback:
Inspired by Your Browsing History
Praise
UNDERGROUND CRAFTER – Nov 2018

Twenty to Knit: Tiny Christmas Toys to Knit by Sachiyo Ishii is a knitting pattern collection of 20 adorable little projects that measure from 2.25" (5.5 cm) through 7" (18 cm) in length. Sachiyo opens the book with an introduction where she shares her delight in making little Christmas toys for decoration and gifting. She mentions that the toys can easily be adjusted in size by using thicker or thinner yarns with appropriately sized needles. The samples in this book are primarily made in DK/light worsted/8-ply yarn (#3 or light yarn in the U.S.).
The book moves on to Knitting Know-How, which includes information about yarn, needles, and other tools; sewing pieces together; and basic knitting and embroidery stitches used in the projects. This section also includes a list of knitting abbreviations.
Each pattern includes instructions for each piece written in pattern abbreviations and a "To make up" section with assembly instructions. The patterns also include a full page picture and at least one additional, smaller detail picture.
Tiny Christmas Toys to Knit assumes that you have knowledge of knitting basics, though there is some guidance on terminology (like the differences between garter and stockinette stitches) provided in the Knitting Know-How section. The book is small – at about the size of a folded piece of letter paper, it's very portable. Like the other books in this series, it's designed to make it easy to knit on the go. If you're an advanced beginner or intermediate knitter and enjoy knitting toys and especially Christmas projects, you will find many cute projects included.

JESSIE at HOME – Oct 2018
Tiny Christmas Toys to Knit is a great way to get ready for Christmas. Whether you are looking to decorate your home or for quick gifts, this is the book for you. There are 20 quick and easy knitted toys for you to create all made with DK weight yarn. Sachiyo Ishii has come up with 20 adorable designs to brighten up your holiday season. Sachiyo starts with an introduction, and a knitting know-how section. I would say that these patterns are suitable for a beginner to intermediate knitter (depending on the pattern) or above. All the patterns are made in rows and then seamed as needed. These creations are a great use for you small amounts of yarn. Most can be made in an evening or two.
Back to Top