Monkey Hunting Reader's Guide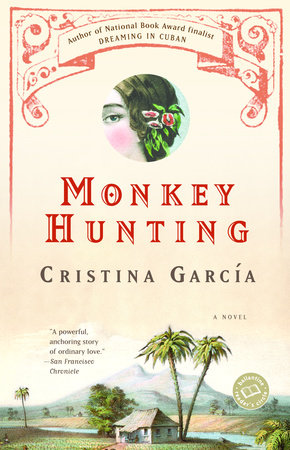 Monkey Hunting Reader's Guide
READERS GUIDE
The introduction, discussion questions, author biography, and suggested reading list that follow are designed to enhance your group's discussion of
Monkey Hunting
, the extraordinary new novel from Cristina García.
Introduction
When floods force Chen Pan to leave his farm in rural China and search for work in the city, he begins a journey that will take him to places and experiences he could not possibly have imagined. After a night of gambling and opium, Chen Pan foolishly signs on for a job harvesting sugarcane, and soon enough finds himself cramped in the dank holds of a slave ship bound for Cuba.
So begins Cristina García's cross-generational, cross-cultural tale of slavery, love, war, revolution, and the deep connections of family that persist over time and space. Jumping from China to Cuba to New York and Vietnam,
Monkey Hunting
covers a wide terrain and time span. Readers follow not only Chen Pan's remarkable change of fortunes in 1860s Havana, his daring escape from his owners, his successful life as a shopkeeper, and his marriage to a mulatto former slave, Lucrecia, but also his granddaughter's fate in Mao's cultural revolution, and his great-great-grandson's harrowing experiences in the Vietnam War. Against a rich historical backdrop, the main characters' personal lives, their hopes and fears, their struggles to maintain their identities in a rapidly changing and dangerous world are presented with all the nuance and imaginative bravado readers have come to expect from the author of
Dreaming in Cuban
and
The Agüero Sisters
.
Questions and Topics for Discussion
1. What drives Chen Pan to leave China? What is he
pursuing?
2. How do the characters, particularly Chen Pan and
Lucrecia, navigate questions of identity and race?
What about Domingo? Does he end up trapped by his
identity?
3. What role does the fantastic play in the novel?
How do the various characters—Chinese, Cuban,
African—embrace it?
4. Why does Chen Pan buy Lucrecia? Does his buying
of her make him more or less sympathetic?
5. Why does Chen Pan go off to war to defend Cuba?
What are his feelings toward his fellow Chinese?
6. Why does Domingo go off to war? Discuss the
ironies of his being an Afro-Cuban-Chinese man fighting
for the U.S. against the North Vietnamese.
7. Compare and contrast how the fallout from the
Cuban Revolution and the Chinese Cultural Revolution
affects the characters' lives.
8. Do you see an analogous colonialist relationship
vis-à-vis Cuba and the U.S. and Vietnam and China?
9. What effects do the shifts in character, setting, and
time period have on your experiencing and understanding
the novel?
10. Why does Chen Pan tell his grandson to always
choose the difficult path? (Page 193.)
11. Does Chen Pan ever assimilate into the Cuban
culture? In what way is he a part of it? In what ways
does he remain an outsider?
12. Compare and contrast the ways that Chen Pan,
Pipo Chen, and Domingo ultimately are betrayed by
the promises of other homelands, and how they reconcile
themselves to this betrayal.
13. The author seems to be challenging fixed notions
of identity. How is this shown throughout the novel?
How have your thoughts regarding identity been
changed?
14. The women Chen Pan and Domingo love are
extremely disadvantaged in their relation to the men,
one being a slave, the other a prostitute. Discuss this.
15. How is sex depicted in the novel?
16. The middle part of the novel is titled, "Traveling
through the Flesh." What does that signify, particularly
in the relationship between Chen Pan and
Domingo?
17. Do Chen Pan and Domingo change significantly
as a result of their life experiences? If so, how?
18. What happens to Chen Pan in the end? What
gives him immortality?
About this Author
Cristina García was born in Havana and grew up in New York City. She is the author of
Dreaming in Cuban
, which was nominated for a National Book Award, and
The Agüero Sisters
. Both novels have been widely translated. Ms. García has been a Guggenheim Fellow, a Hodder Fellow at Princeton University, and the recipient of a Whiting Writers' Award. She lives in Santa Monica with her daughter, Pilar.
From the Hardcover edition.
Suggested Reading
Isabel Allende,
The House of Spirits
; Julia Alvarez,
In the Time of the Butterflies
; Christopher P. Baker,
Mi Moto Fidel: Motorcycling Through Castro's Cuba
; Junot Diaz,
Drown
; Dai Sijie,
Balzac and the Little Chinese Seamstress
; Ha Jin,
Waiting
; Gabriel García Márquez,
One Hundred Years of Solitude
; Christopher Hunt,
Waiting for Fidel
; Esmeralda Santiago,
When I Was Puerto Rican
; Antonio Skarmeta,
Burning Patience
; Amy Tan,
The Joy Luck Club
.
Back to Top