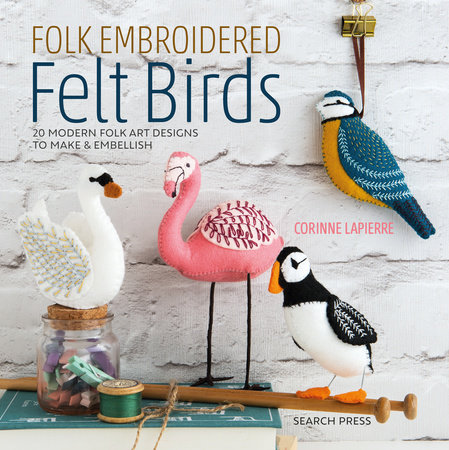 Folk Embroidered Felt Birds
20 Modern Folk Art Designs to Make & Embellish
By Corinne Lapierre

By
Corinne Lapierre
Best Seller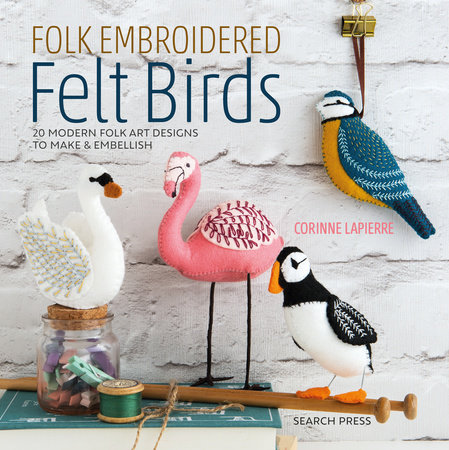 Paperback
Apr 02, 2019 | ISBN 9781782216988
Paperback

$15.95

Apr 02, 2019 | ISBN 9781782216988
*This title is not eligible for purchase to earn points nor for redemption with your code in the
Reader Rewards
program
Buy the Paperback:
Inspired by Your Browsing History
Praise
From Mary Corbet's Needle n Thread March 8, 2019:
Folk Embroidered Felt Birds is a new book packed full of – you guessed it! – folk embroidered felt birds!
And they're delightful! If you love birds (I love birds) and you like the look of folk embroidery, and you like working with felt to make three dimensional objects, then you need to add this book to your library.
It's one of those books that just makes me happy when I flip through it.
Folk Embroidered Felt Birds is a project book. The projects are small, three-dimensional birds made from felt, stuffed and embroidered.
The cover is the seller for me. I know, I know! Don't judge a book by its cover and all that. But really – a flamingo AND a puffin? With those legs? And those feet?
I see this book being perfect for those who like to make. The birds are perfect for whimsical ornaments and delightful gifts. What a great way to pass on a bit of cheer to a friend on a birthday – or out of the blue for no reason at all!
Like any good project book, Folk Embroidered Felt Birds begins with a section on materials. There's nothing too out of the ordinary here – felt (the author recommends a wool / viscose blend); embroidery floss; wire (for legs), filling, ribbon, sequins, wire tape, and other very regular stuff.
Every aspect of instruction is presented in very clear, step-by-step photos with text. The text is succinct quite minimal; it's very precise and easy to follow.
And of course, there's a selection of embroidery stitch instructions with step-by-step photos as well.
And then – the projects! For each project, you'll find a list of tools and supplies required to make the bird, along with a list of the templates to use from the back of the book. The templates in the back of the book are clean line drawings of the different bird parts, that you trace and cut out for patterns. Along with the materials and templates lists, you'll find a page of instructions that take you through constructing the bird, referring to the techniques covered at the beginning of the book.
The projects in the book are all darling! And the instructions are excellent and very accessible. If you enjoy making things and you like birds, folk art, and felt, this book would be right up your alley! I'm pretty sure it will put a smile on your face!
Back to Top