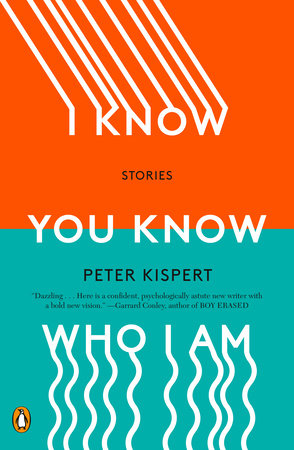 I Know You Know Who I Am
Stories
Stories
Stories
By Peter Kispert

By
Peter Kispert
By Peter Kispert

By
Peter Kispert
By Peter Kispert
Read by
Michael Crouch
By
Peter Kispert


Read by

Michael Crouch




Best Seller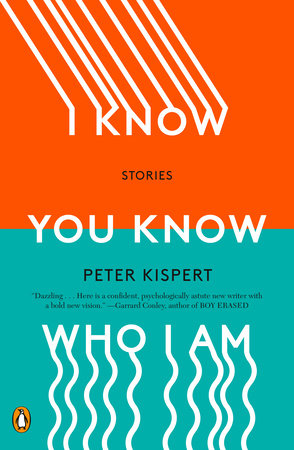 Feb 11, 2020 | ISBN 9780143134282
Buy the Audiobook Download:
Inspired by Your Browsing History
Praise
"Piercing… this lively and provocative work crisply reflects the challenges of modern love." —Publishers Weekly

"The collection wows with its insight, its daring, and its breadth of talent." 
—Elle.com, "12 Best Books of 2020 So Far" 

"Kispert's stories have remarkable range, but are all anchored by lithe and lucid prose compelling the reader to become complicit in these very human dramas." 
—OprahMag.com

"Striking… [I Know You Know Who I Am is] about how one slips into dishonesty in relationships and in coming to terms with oneself, the stories reveal through these lies, the truth about us all." —Salon

"Kispert blends sharp characterization with intriguing premises throughout this memorable collection." —Kirkus (starred)

"Kispert's short fiction is a performative lie that reveals truth to readers in subtle, surprising ways that literary fiction lovers will devour… [these] stories dig deep, and they're far from forgettable." —Booklist (starred)

"[A] wryly scathing debut." —O, The Oprah Magazine

"This debut collection has a wisdom and a tapestry of language far beyond the author's years. Loosely linked unreliable narrators remind us that we might find religion in the most unlikely places — such as the space between a truth and a lie." —Jodi Picoult, #1 New York Times bestselling author of A Spark of Light and Small Great Things

"Engrossing, unsettling, full of characters in search of their place in the world, I Know You Know Who I Am reminds me in the best possible way of the debut collections of Mary Gaitskill and Adam Haslett, in tone and talent and the promise of what will come next." —David Ebershoff, New York Times bestselling author of The Danish Girl and The 19th Wife

"This book is a beautiful Russian Nesting Doll: to try, to know, to understand. In these pages, intimacy is often a weapon, a drug, and a salve. Astonishingly tense and terrifically crafted, Kispert's collection is not only a work of art, it's a work of true tenderness." —Kristen Arnett, New York Times bestselling author of Mostly Dead Things
 
"Sometimes you read a collection and you wonder how a mere mortal wrote it because the language is so pure, the depth of emotion so profound… A tour de force: read this book." —Nick White, author of How to Survive a Summer and Sweet & Low

"Cuts right to the bone with startling observation: we obfuscate because to be seen, truly seen, is to risk everything. And yet, this remarkably assured collection leaves it all on the page with startling honesty for us – the reader – to see." —Steven Rowley, bestselling author of Lily and the Octopus and The Editor

"If I could give the characters in Peter Kispert's expansive, funny, and moving collection the forgiveness and recognition they seek, I would do so whole-heartedly. These unforgettable stories look head on at the spectacles we make of our lives and the impossibility of turning away from them." —Danielle Lazarin, author of Back Talk
 
"Lashed by years and bound by love, the liars in this incredible debut punish themselves as their compulsions and betrayals tremble across time. Cut crosswise, their lives show these pathologies at work, just as hard and irradiating, superheated and sad, as the prose in which they're rendered. Above all, it is Kispert's immense talent that we come to understand, and even love, who they are." —Patrick Nathan, author of Some Hell

"A darkly hilarious, astute collection that comes to us at the perfect time, where the truth and intimacy feel more elusive than ever." —John Paul Brammer, creator of the advice column ¡Hola Papi! 

Back to Top