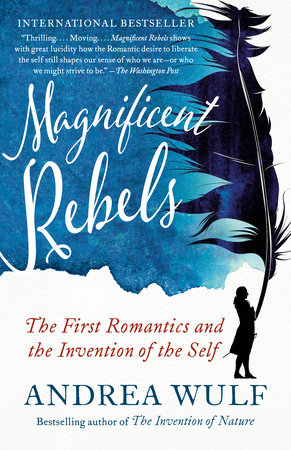 Magnificent Rebels
Best Seller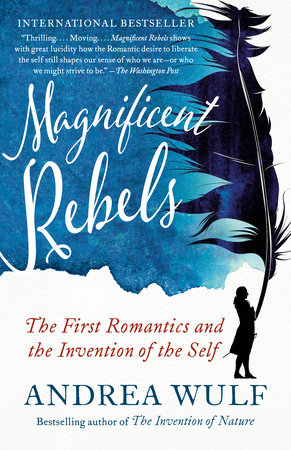 Oct 10, 2023
|
ISBN 9781984897992
Buy the Audiobook Download:
YOU MAY ALSO LIKE
QUICK VIEW
A Distant Mirror
Paperback
$22.00
QUICK VIEW
The Blazing World
Hardcover
$38.00
QUICK VIEW
QUICK VIEW
Amsterdam
Paperback
$18.00
QUICK VIEW
Eichmann in Jerusalem
Paperback
$18.00
QUICK VIEW
The Sinner and the Saint
Hardcover
$30.00
QUICK VIEW
Crucible of War
Paperback
$27.00
QUICK VIEW
Napoleon
Paperback
$25.00
QUICK VIEW
The Anatomy of Fascism
Paperback
$18.00
QUICK VIEW
Eleanor of Aquitaine
Paperback
$18.00
Praise
A New Yorker Essential Read • A BEST BOOK OF THE YEAR: The New York Times • The New Yorker • The Washington Post • The Chicago Tribune • The Times (UK) • Telegraph • Times Literary Supplement • The New Statesman • The Spectator • Financial Times • An Economist Best Book on Culture and Ideas

"An engrossing chronicle of the early German Romantics … Wulf, who has a novelistic eye for the telling detail, provides a riveting account of how raptures gave way to ruptures." —New York Review of Books

"[Wulf] spins a lively yarn. . . . A century ago Anglophone intellectuals were more aware of German ideas than they are today. Ms Wulf is to be thanked for bringing some neglected thinkers vividly to life." —The Economist

"Her real subjects are the relationships among these writers—their friendships and feuds, love affairs and professional rivalries, about which she writes vividly and well." —New Republic

"Magnificent Rebels is a buoyant work of intellectual history. . . . Wulf's story, as the movie ads used to say, has everything. . . . [A] fine and thorough book." —The New Yorker

"Engaging and often profound. . . . [Magnificent Rebels] presents a thrilling picture of university life. . . . Wulf paints a moving collective portrait of these intellectuals as they struggled to embody their revolutionary ideals. . . . Wulf also shows how important were the women in this intellectual circle, who lived out their own experiments in liberation. . . . At its most ambitious, Magnificent Rebels concerns the relationships between philosophy and politics, thought and action. It explores the tension between the inwardness of Romantic philosophy and the ethical or political aspirations of its practitioners, nearly all of whom supported the French Revolution. . . . Despite the complex arguments developed by its main characters, the book vividly conveys the drama of ideas. It captures the unique pleasures of communal thinking … as well as the suffering and the sense of betrayal that mark a community's dissolution. There is plenty of erotic drama here too, since the rebellion Wulf describes was sexual as much as anything. For the Romantics, as we see in detail, free thinking and free love were inseparable, and the personal consequences were often excruciating. . . . Magnificent Rebels shows with great lucidity how the Romantic desire to liberate the self still shapes our sense of who we are — or who we might strive to be."
—The Washington Post

"[An] exuberant narrative. . . . This 'Jena Set' undoubtedly saw themselves as magnificent rebels — gloriously free spirits bent on centering the self, in all of its sublime subjectivity, and throwing off the shackles of a stultifying, mechanistic order. . . . There are a number of colorful characters in this book who compete for our attention. . . . Wulf offers vibrant portraits of them all. . . . As Wulf's nimble storytelling vividly shows, part of what made the Romantics so fascinating and maddening was their refusal to be pinned down."
—The New York Times

"[Wulf] finds kindred spirits in the proudly independent, unconventional prodigies of Jena. . . . A collective biography of talented and productive men and women who worked brilliantly together, apart, and in opposition."
—The American Scholar

"This compelling account of 'the first Romantics' is very welcome, and long overdue. . . . The book is beautifully produced, with contemporary maps, engravings, and portraits of its stellar cast. . . . Andrea Wulf's group biography of 'the Jena Set' is an impeccable piece of writing, putting the many lives into context both intellectually and in their personal relations, with an emphasis on the lives of the women. . . . Wulf's narrative ends with a clear and cogent account of the influence of the work of these pioneering Romantics on American and European thought and literature. . . . Magnificent Rebels is one of those rare books that is truly an intellectual landmark, expanding the reader's literary knowledge by introducing a fascinating new context."
—Irish Obeserver (UK)

"Exhilarating. . . . This is indeed an electrifying book, in its illuminated portraits, its dynamic narrative and its sparking ideas. Wulf writes clear, flowing prose, which is a pleasure to read. It's informed by scholarship without being bogged down by jargon." 
—The Guardian (UK)

"A vivid portrait of the German coterie who launched Romanticism. . . . Ambitious, engaging, and effusive. . . . Wulf is excellent at this kind of descriptive prose, evoking the sights and sounds of the city with an almost classical enargia. We feel the excitement of living through the period alongside her vivid characters. . . . Wulf's book reads as much like a novel as a novel as an intellectual biography. . . . [Magnificent Rebels] is a considerable achievement."
—Times Literary Supplement (UK) 

"Wonderful. . . . In a gripping account of what she calls the 'Jena Set' (which was intellectually and emotionally as complex as the Bloomsbury Group), Wulf brings the dramatis personae compellingly to life."
—Financial Times (UK)
 
"With narrative verve buttressed by scrupulous research, Andrea Wulf has tracked this history [of the Jena Set] in unfailingly lucid fashion. . . . Avoiding metaphysical warrens and blind alleys, Wulf keeps a firm grasp on this broader historical context as well as the narrower intellectual controversies, but her primary interest is the personal interaction of a set of supremely intelligent men and women whose intense friendships and feuds, collaborations and affairs, can aptly be compared to that of the Bloomsbury Group or the Parisian modernists. . . . [Wulf's] book has an irresistible panache marvelously appropriate to the story of these high-pitched personalities, and it is rich in telling anecdotes." 
—Daily Telegraph (UK)

"Magnificent Rebels is a magnificent book: a revelation which could easily become an obsession."
—The Spectator (UK)
 
"Delightful and invigorating . . . a worthy successor to [Wulf's] acclaimed study of [Alexander] Von Humboldt, The Invention of Nature. . . . Magnificent Rebels is a triumph of unseen toil, hardly suspected by the reader, in the midst of the sociable whirl of the main narrative. But all the time you realise Wulf has been sweating away out of sight, in the dim caverns of archives and the flickering, unvisited galleries of notes and appendices. Triumphantly, the book is not touched with one speck of archival dust, nor does it sag with any sign of exhaustion in the academic salt mines. The reader is simply presented with bright jewels of anecdote."
—The Times (UK)
 
"Magnificent Rebels is a thrilling intellectual history that reads more like a racy but intelligent novel or even a very superior soap opera where the characters are almost all oddballs, but geniuses. . . . The little town of Jena blazed with a youthful, daring and intellectual creativity rarely matched elsewhere and Magnificent Rebels captures this brilliantly."
—The Sunday Times (UK)

"An extensively researched, gorgeously written, vibrant, multifaceted, and richly elucidative portrait of a group that 'changed our world.'"
—Booklist *starred review*

"A spirited re-creation of the world of the German founders of the post-Enlightenment movement. . . . An illuminating exploration of the life of the mind and the sometimes-fraught production of art."
—Kirkus Reviews *starred review*

"An engrossing group biography of the late-18th-century German intellectuals whose 'obsession with the free self' initiated the Romantic movement and led to the modern conception of self-determination. . . . [Wulf] explains heady philosophical concepts in clear prose. . . . The result is a colorful and page-turning intellectual history."
—Publishers Weekly

"The Jena Set was a late-eighteenth-century group of philosophers, artists, and thinkers so earthquakingly brilliant that we feel the tremors their ideas set off under our feet today. Nobody but Andrea Wulf, with her exquisite grasp of ideas and personalities, with her meticulous, sensitive, and acutely observed prose, could make the reader feel as if they were in the room with the great personalities of the age, bearing witness to their insights and their vanities and rages. Her storytelling had me immediately in her thrall."
—Lauren Groff, New York Times best-selling author of Matrix

"Magnificent Rebels thrums with all the redhot frenzy, wild passion, and radical ideas of a free new world created out of poetry, sex, music, and romanticism! Wulf's superb group biography of the German Romantics is elegantly written, deeply researched, and totally gripping." 
—Simon Sebag Montefiore, New York Times best-selling author of The Romanovs

"Truly extraordinary … An intellectual history, group portrait, and elegy to Romanticism, which at points reads like a prizewinning novel. You feel you're there in turn-of-the-nineteenth-century Germany, experiencing the debates, disputations, and deep emotional interconnections between the most profound philosophers and greatest writers of the era as they grapple with the birth of the modern."
—Andrew Roberts, New York Times best-selling author of Napoleon: A Life

"A magnificent book, fascinating in its focus and breathtaking in its scope and sweep. . . . Magnificent Rebels is a work of formidable scholarship worn lightly; of complex intellectual history told evocatively, absorbingly, compellingly. Wulf's superb prose draws us deeply into the lives and minds of this remarkable circle of people, who together explored the breathtaking possibilities — and tremendous risks — of free will, individual creativity and liberty."
—Robert Macfarlane, New York Times best-selling author of Underland

"Andrea Wulf is that rare historian who makes the past feel present and turns distant lives into gripping stories of the human heart. Without doubt, Magnificent Rebels is the best book I've read all year. It is an absolute masterpiece: mesmerizing, heartbreaking and incredibly timely, it is an important reminder that the desire to be true to oneself transcends time and borders."
—Amanda Foreman, New York Times best-selling author of A World on Fire

"After her triumphant open-air biography of the explorer Alexander Humboldt who traversed half the globe, Andrea Wulf brings that same passionate gaze to bear upon a single, tiny, late-eighteenth-century university town in Germany. The result is a big, thrilling and constantly surprising book – an extraordinarily intimate and down to earth group biography. Wulf's astonishingly vivid and bustling narrative, moves swiftly from lecture halls and libraries to kitchens and bedrooms, producing an amazing polyphony of youthful ideas and impassioned voices. . . . Brilliantly orchestrating a mass of original letters, diaries, and archival documents, Wulf revives a whole world of intense friendships, shifting intellectual alliances, furious philosophical arguments, inspirational suppers (including the cooking), theatrical first nights, seductive carriage journeys, hypnotic candlelit lectures and, of course, non-stop love affairs and betrayals (including the ecstatic love-making and equally ecstatic rows) … It is a glorious piece of work, both thought-provoking and magical, and I loved it." —Richard Holmes, New York Times best-selling author of The Age of Wonder

"Magnificent Rebels is a beautiful group biography, celebrating the lives and loves of Germany's most brilliant minds: Goethe, Schiller, Fichte, Novalis, Schlegel, Schelling and Hegel. At the centre of their group in the small university town of Jena was a free-spirited, thrice married, single-mother named Caroline Michaelis-Böhmer-Schlegel-Schelling. She carried her father's and husbands' names but her life was entirely her own. Caroline is Andrea Wulf's soulmate. This is a perfect pairing of author and subject – a joyful, life-affirming, freedom-loving tour de force." 
—Ruth Scurr, author of Napoleon: A Life Told in Gardens and Shadows

Get the latest updates about Andrea Wulf
And go from well-read to best read with book recs, deals and more in your inbox every week.
And go from well-read to best read with book recs, deals and more in your inbox every week.
Dismiss
Thanks!
Something awesome is on its way.
Back to Top
Become a Member
Start earning points for buying books! Just for joining you'll get personalized recommendations on your dashboard daily and features only for members.
Find Out More
Join Now
Sign In
Success!
Your account has been created. Upload book purchases, access your personalized book recommendations, and more from here.