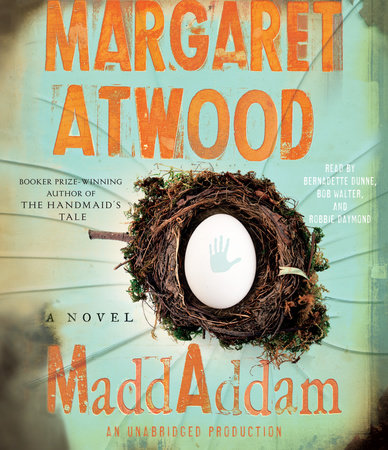 READERS GUIDE
Introduction
Bringing together
Oryx and Crake
and
The Year of the Flood
, this thrilling conclusion to Margaret Atwood's speculative fiction trilogy points toward the ultimate endurance of community, and love.
Months after the Waterless Flood pandemic has wiped out most of humanity, Toby and Ren have rescued their friend Amanda from the vicious Painballers. They return to the MaddAddamite cob house, newly fortified against man and giant pigoon alike. Accompanying them are the Crakers, the gentle, quasi-human species engineered by the brilliant but deceased Crake. Their reluctant prophet, Snowman-the-Jimmy, is recovering from a debilitating fever, so it's left to Toby to preach the Craker theology, with Crake as Creator. She must also deal with cultural misunderstandings, terrible coffee, and her jealousy over her lover, Zeb.
Zeb has been searching for Adam One, founder of the God's Gardeners, the pacifist green religion from which Zeb broke years ago to lead the MaddAddamites in active resistance against the destructive CorpSeCorps. But now, under threat of a Painballer attack, the MaddAddamites must fight back with the aid of their newfound allies, some of whom have four trotters. At the center of
MaddAddam
is the story of Zeb's dark and twisted past, which contains a lost brother, a hidden murder, a bear, and a bizarre act of revenge.
Combining adventure, humor, romance, superb storytelling, and an imagination at once dazzlingly inventive and grounded in a recognizable world,
MaddAddam
is vintage Margaret Atwood—a moving and dramatic conclusion to her internationally celebrated dystopian trilogy.
Questions and Topics for Discussion
1. Why are Adam and Zeb so different? Or are they more similar than they first seem?
2. The MaddAddamites set about building a basic community for themselves, one that meets the need for food, clothing, shelter, and an energy source. If you were in this position, would you do things differently? Should children be taught elementary survival skills?
3. What comment, if any, do you think Margaret Atwood is making about environmentalism in this book, through organizations like Bearlift? Or does Bearlift suffer simply from the human flaws that appear in all organizations, no matter how well-meaning?
4. The Internet has an almost physical presence in MaddAddam—the "lilypads," the game Intestinal Parasites. Do you think this is where the Internet is heading? Is it becoming a "real" entity of its own?
5. Is Toby right to trust Zeb? Do you think his feelings for Toby are genuine?
6. Toby teaches Blackbeard to write. Is that a good thing or a bad thing? What consequences do you think this will have for the Crakers and their new world?
7. Margaret Atwood's trilogy often portrays humans and our future grimly, but it is also both funny and profane. Is Atwood's gallows humor effective?
8. What parallels do you see between the events of MaddAddam and recent events in our real world? Are Atwood's three dystopian books exaggerated or could they really be our future?
9. Despite having  seemed violent and disposed to eat humans, the Pigoons ultimately display more compassion than many of the humans in MaddAddam. Is that because the Pigoons are animals, or is it because of the implanted human tissue in their brains?
10. The Crakers seek stories from Jimmy and Toby to explain the world around them. What do these stories say about how myths are formed? Is the desire for religion innate within us? What do you think MaddAddam is saying about our need for gods and how religions are created?
11. How important is language in shaping and changing history and rumour into myth? Discuss the way gods form in Toby's monologues to the Crakers—including the one named for a swear word?
12. Religion and our need for belief is a key concern in MaddAddam. What does the Church of PetrOleum say about Atwood's view of religion? Has religion become a commodity?
13. How do you think the hybrid babies will turn out? Will they be more human or Craker, and which would be best for the future of Earth?
14. Is Atwood's view of humanity ultimately negative? Is there hope at the end of MaddAddam, and if there is, where does it come from?
About this Author
MARGARET ATWOOD, whose work has been published in thirty-five countries, is the author of more than forty books of fiction, poetry, and critical essays. In addition to
The Handmaid's Tale
, her novels include
Cat's Eye
, short-listed for the Booker Prize;
Alias Grace
, which won the Giller Prize in Canada and the Premio Mondello in Italy;
The Blind Assassin
, winner of the 2000 Booker Prize;
Oryx and Crake
, short-listed for the 2003 Man Booker Prize; and her most recent,
The Year of the Flood
. She is the recipient of the
Los Angeles Times
Innovator's Award, and lives in Toronto with the writer Graeme Gibson.
Back to Top