The Blind Assassin Reader's Guide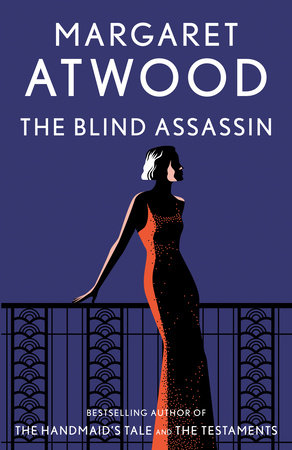 The Blind Assassin Reader's Guide
READERS GUIDE
The introduction, discussion questions, author biography, and suggestions for further reading that follow are designed to enhance your reading group's discussion of Margaret Atwood's
The Blind Assassin
, winner of the Booker Prize and the International Association of Crime Writers Dashiell Hammett Award.
Introduction
Iris Chase Griffen is nearing the end of her life and is determined to set down her version of the stories and scandals that have long swirled around her and her family. In a narrative that spans the twentieth century, Iris describes a childhood of wealth and privilege darkened by her mother's early death and her father's alcoholism and ultimately destroyed when the economic and political turmoil of the Depression forces her father to close the family's once-thriving factories. She tells of her marriage to Richard Griffen, a greedy, ambitious industrialist whose promise to save Iris and her young, vulnerable sister, Laura, turns out to be a snare of lies and treachery; and of her decision, spurred by grief and guilt after Laura's suicide, to publish a manuscript that catapults Laura to posthumous fame and condemns Iris to a life of lonely isolation.
Alternating with Iris's reminiscences and wry commentary on her current situation are passages from Laura's scandalous novel,
The Blind Assassin
, about an upper-class married woman and her lover, a hack writer and a political radical, who spins a science fiction tale (also entitled
The Blind Assassin
) during their clandestine meetings. Newspaper reports on events in the characters' personal lives–from Norval Chase's desperately hopeful speech at the last company picnic to Iris's posh wedding to Richard Griffen's mysterious death–as well as accounts of actual historical events add yet another dimension to the novel, coloring, deepening, and sometimes contradicting the readers' perceptions.
With breathtaking grace and authority, Atwood moves from richly detailed, multigenerational family saga to pitch-perfect, '30s-style science fiction to bittersweet memoir. The result is a work of extraordinary power, an exploration not only of imagined lives past, present, and future, but of the art and artifice of storytelling itself. Intricately constructed,
The Blind Assassin
crosses boundaries of genre and style in a tour de force of creative daring.
Questions and Topics for Discussion
1. Laura and Iris spend their childhood in Avilion, "a merchant's palace," and, like princesses in a fairy tale, are virtually untouched by the outside world. What other elements reinforce the fairy-tale-like quality of their lives? What role does Alex Thomas play within this context? Does Iris's depiction of her life as an old woman also draw on the conventions of fairy tales?
2. How accurate is Iris's declaration, "Long ago I made a choice between classicism and romanticism. I prefer to be upright and contained–an urn in daylight" [p. 43]? How was this "choice" affected by the distinctions Iris and Laura's parents made between the two girls when they were children? What incidents show that Iris has ambiguous feelings about the roles she and Laura assume as children? What signs are there that Iris has a romantic side she keeps hidden from the adults? What cost does this exact?
3. Throughout her life, Laura is considered a special, unusual person, more sensitive than most. How does Laura exploit the impression she makes on other people? Are her motives and intentions always as innocent as people assume? Iris says, "[Laura's] cruelties were accidental– by-products of whatever lofty notions may have been going through her head" [p. 301]. How does the language Iris uses shed light on the complicated emotions Laura stirs up in her?
4. Regarding her father's role in arranging her marriage, Iris writes, "He was only doing what would have been considered–was considered, then–the responsible thing. He was doing the best he knew how" [p. 227]. In light of Norval's character and his previous treatment of Iris, is this explanation too facile? Was he motivated by reasons Iris doesn't allow herself to acknowledge?
5. Is Iris purely a pawn in a plan conceived by the men, or does she have reasons of her own for agreeing to marry Richard? In what ways does the marriage fulfill Iris's conception of herself and her approach to life?
6. Iris comes under the influence of three very different women in the course of the novel: Reenie, Callie Fitzsimmons, and Winifred Griffen Prior. How does each of these women affect Iris's view of herself–and of womanhood in general? How do their lives and attitudes represent the social environment and class structure of the times?
7. Several childhood experiences foreshadow Laura's ultimate fate, including her plunge into the river [p. 151] and her accusation that Mr. Erskine sexually molested her [p. 165]. What do these incidents indicate about Laura's personality? To what extent is she shaped by circumstances beyond her control?
8. Is Iris responsible for Laura's death? At what points could she have changed the course of events?
9. How do the newspaper articles advance the unfolding of the plot? Do they serve as an objective record of the events in the characters' lives?
10. How does the science fiction story constructed by the unnamed lovers mirror the story of the lovers themselves and the circumstances surrounding their affair? In what ways does it parallel events in Iris's life, both as a child and as an adult?
11. Atwood has said that the form of The Blind Assassin was influenced by early twentieth-century collages, in which newspaper excerpts were glued onto canvas and then painted around and over–thus framing two ways of representing reality, each of which contradicted the other but also complemented it. How many "kinds" of writing are in The Blind Assassin, washroom graffiti included? What purpose does each form of writing serve?
12. The era of the Great Depression was also an age of extreme fashion-consciousness among the wealthy. What role do clothes play in The Blind Assassin, in both the historical and the contemporary sections of the book? What do they reveal about the characters, and what do they conceal?
13. What are the various meanings of the title The Blind Assassin? Which characters act as blind assassins by uncomprehendingly causing the demise of other characters?
14. How do the multiple levels of The Blind Assassin interact with one another? Do they unfold in concert, shedding light on one another, or is the relationship among them only apparent at the end of the book? What does the use of this narrative technique reveal about Atwood's methods of storytelling?
15. If you have read other books by Atwood (particularly The Handmaid's Tale and Cat's Eye), how does The Blind Assassin echo and extend themes she has previously explored? What new themes are developed?
About this Author
Margaret Atwood
is the author of more than twenty-five books, including fiction, poetry, and essays. Her most recent works include the bestselling novels
Alias Grace
and
The Robber Bride
and the collections
Wilderness Tips
and
Good Bones and Simple Murders
. She lives in Toronto, Canada.
Suggested Reading
Anita Brookner,
Hotel du Lac
; A.S. Byatt,
Possession
and
Babel Tower
; Robertson Davies, The Deptford Trilogy and The Cornish Trilogy; Margaret Laurence,
The Stone Angel
; Penelope Lively,
Moon Tiger
; Alistair MacLeod,
No Great Mischief
; Susan Minot,
Evening
; Philip Roth,
I Married a Communist
; Richard Russo,
Empire Falls
; Carol Shields,
The Stone Diaries
; Anne Tyler,
Back When We Were Grownups
.
Back to Top