Agent Sonya Reader's Guide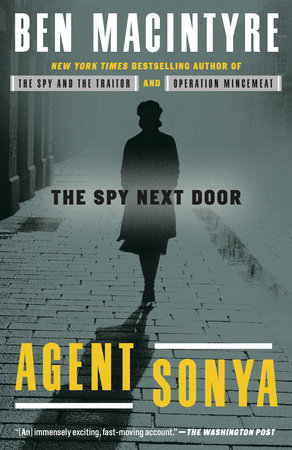 Agent Sonya Reader's Guide
READERS GUIDE
QUESTIONS AND ANSWERS
1. Before reading Agent Sonya, how much did you know about Ursula Kuczynski, communism, and the Cold War era? Which historical aspects of the book surprised you the most? Did you learn new details about this period in history?
2. Why do you think Ursula was drawn to and became a champion of the communist cause?
3. How does this story reflect the great ideological clash of the twentieth century—between communism, fascism, and Western democracy?
4. Why do you think Ursula became and stayed a spy for so many years, despite all the risks and challenges? What was she drawn to most? Can you imagine ever doing what she did?
5. What is Ursula's most commendable quality? Her least? Is she someone you would want to have known?
6. There were many important supporting characters (and spies) in this book—who will you remember most and why?
7. What did you think about Ursula's husbands and lovers? How did they each support her? What did you think about their own life decisions?
8. What role did sexism play in potentially enabling Ursula to operate undetected throughout her career?
9. Is there a scene (or scenes) in Agent Sonya that will stay with you? What will you remember most about this book? Do you plan to read more about the Cold War?
10. What role do the different settings play? Do you think similar events or espionage could have occurred in any other era?
11. What were your impressions of the author's voice and style? What specific themes did Ben Macintyre emphasize most throughout the book?
12. What did you like or dislike about the book that hasn't been discussed already?
13. If this book were to be made into a movie, whom would you cast for the main roles?
14. What other books by Ben Macintyre have you read? Which have you enjoyed most?
Back to Top