The Year of the Flood Reader's Guide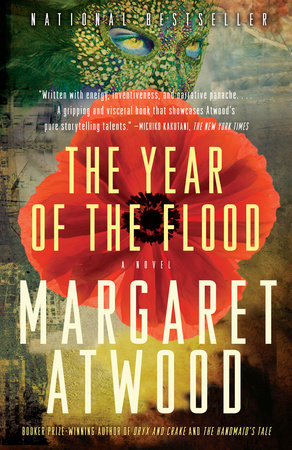 The Year of the Flood Reader's Guide
READERS GUIDE
"Futuristic, chilling and wonderfully original….A strange and beautiful work, this masterful narrative proves that Atwood can do anything as a novelist." –Bookpage, Top Pick for Book Clubs
In this long-awaited new novel, Margaret Atwood brilliantly envisions what could happen if we continue on the dangerous path of disrespect for the environment-and for one another. The questions and topics that follow are designed to enhance your reading experience and to generate lively discussion.
Introduction
Set in the visionary future of Atwood's acclaimed
Oryx and Crake
,
The Year of the Flood
is at once a moving tale of lasting friendship and a landmark work of speculative fiction. In this second book of the MaddAddam trilogy, the long-feared waterless flood has occurred, altering Earth as we know it and obliterating most human life. Among the survivors are Ren, a young trapeze dancer locked inside the high-end sex club Scales and Tails, and Toby, who is barricaded inside a luxurious spa. Amid shadowy, corrupt ruling powers and new, gene-spliced life forms, Ren and Toby will have to decide on their next move, but they can't stay locked away.
Questions and Topics for Discussion
1. How does the friendship between Amanda and Ren grow, despite their differences and the restrictions they face? They meet as children. Who was your greatest ally when you were that age? What do you think of Ren's treatment of Bernice?
2. What survival skills do the novel's female characters possess? Do they find security or vulnerability at Scales and Tales, the AnooYoo Spa, and within the community of Gardeners? What strength does Pilar find in nature, while Lucerne is drawn to artificial beauty?
3. How do Adam One's motivations compare to Zeb's? In their world, what advantages do men have? Are they really "advantages"?
4. Discuss Toby's parents and their fate. What does their story illustrate about the dangers of an unregulated and corrupt drug industry? What motivates Toby to become a healer?
5. How does Adam One's explanation of creation and the fall of humanity compare to more standard Judeo-Christian ideas? What does he offer his followers, beyond an understanding of the planet and the creatures that inhabit it?
6. Discuss the father figures in Ren's life: her stepfather, Zeb; her biological father, Frank; and eventually Mordis. What did they teach her about being a woman? How did they shape her expectations of Jimmy?
7. As a refugee from Texas, Amanda is an outsider, facing constant risk. Would you have harbored her? Why is Ren so impressed by her?
8. What is the result of a penal system like Painball? How does it influence the citizens' attitude toward crime?
9. Should Toby have honored Pilar's deathbed wish that she become an Eve? How did the lessons in beekeeping serve Toby in other ways as well?
10. Crake's BlyssPlus pill offers many false promises. What are they, and what was Crake really striving for (chapter 73)? If human beings are the greatest problem for the natural world, could they also provide solutions less drastic than Crake's? How?
11. In what ways do the novel's three voices—Toby's, Ren's, and Adam One's—complement one another? What unique perspective is offered in each narration?
12. Explore the lyrics from The God's Gardeners Oral Hymnbook. What do they say about the Gardener theology and the nature of their faith? Adam One does not always tell the truth to his congregation. Is well-meant lying ever acceptable?
13. Margaret Atwood's fiction often displays "gallows humor." Can a thing be dire and funny at the same time? Must we laugh or die?
14. The Year of the Flood covers the same time period as Oryx and Crake, and contains a number of the same characters — ("Snowman," a student at the Martha Graham Academy and "the last man on earth") and Glenn ("Crake," who studied at the Watson-Crick Institute), as well as Bernice, Jimmy's hostile college room-mate, Amanda, a live-in artist girlfriend, Ren ("Brenda,") whom he remembers briefly in Oryx and Crake as a high-school fling, Jimmy's mother, who runs away to become an activist, and the God's Gardeners, whom he mentions as a fringe green cult. Re-read the final pages of both books. What do you predict for the remaining characters? Should the Gardeners execute the Painballers? Why? Why not? Would you?
15. What parallels did you see between The Year of the Flood and current headlines?


(For a complete list of available reading group guides, and to sign up for the Reading Group Center enewsletter, visit www.readinggroupcenter.com)
About this Author
Margaret Atwood, whose work has been published in over thirty-five countries, is the author of more than forty books of fiction, poetry, and critical essays. In addition to
The Handmaid's Tale
, her novels include
Cat's Eye
, shortlisted for the Booker Prize;
Alias Grace
, which won the Giller Prize in Canada and the Premio Mondello in Italy;
The Blind Assassin
, winner of the 2000 Booker Prize; and her most recent,
Oryx and Crake
, shortlisted for the 2003 Booker Prize. She lives in Toronto with writer Graeme Gibson.
Suggested Reading
Ragner's Urban Survival: A Hard-Times Guide to Staying Alive in the City
by Ragnar Benson; 
The Last of the Curlews
by Fred Bodsworth;
Trauma Farm: A Rebel History of Rural
by Brian Brett;
The Speckled Monster: A Historical Tale of Battling Smallpox
by Jennifer Lee Carrell;
Silent Spring
by Rachel Carson;
Balcony and Roof Gardens: Creative Ideas for Small-Scale Gardening
by Jenny Hendy;
The Great Mortality: An Intimate History of the Black Death, the Most Devastating Plague of All Time
by John Kelly
Back to Top