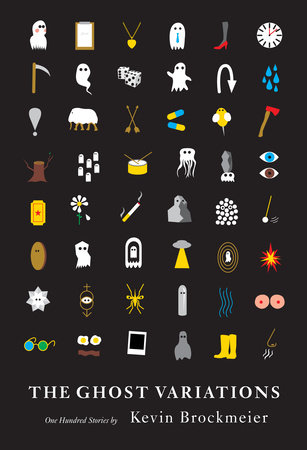 The Ghost Variations
Best Seller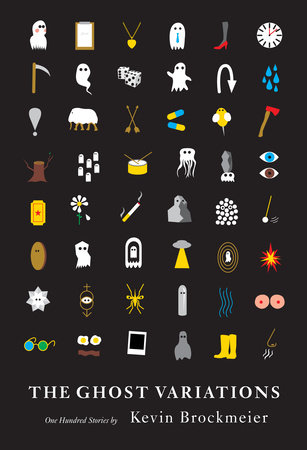 Mar 09, 2021
|
ISBN 9781524748838
Buy the Audiobook Download:
YOU MAY ALSO LIKE
QUICK VIEW
St. Lucy's Home for Girls Raised by Wolves
Paperback
$17.00
QUICK VIEW
Freddy and Fredericka
Paperback
$17.00
QUICK VIEW
What Is Not Yours Is Not Yours
Paperback
$17.00
QUICK VIEW
Vampires in the Lemon Grove
Paperback
$17.00
QUICK VIEW
The Widows of Eastwick
Paperback
$17.00
QUICK VIEW
White Cat, Black Dog
Paperback
$18.00
QUICK VIEW
The Fifth Child
Paperback
$16.00
QUICK VIEW
White is for Witching
Paperback
$18.00
QUICK VIEW
QUICK VIEW
Ghostwritten
Paperback
$17.00
Praise
"By turns scary, funny, touching, troubling and sad."
—USA Today

"Those who enjoyed Brockmeier's The Brief History of the Dead . . . will no doubt rejoice to read more poignant stories. . . . Ranges from funny to scary, checking all the boxes for those who love ghost stories in various forms and styles."
—BookRiot

"Brockmeier's 100 extremely short ghost stories present a range in tone from unsettling to terrifying, and pack a fearful punch with an economy of language, even for readers primed to feel uneasy. . . . The tales themselves are gems: modern, haunted treasures to be discovered."
—Booklist

"Brockmeier's world has a perpetual hum of oddity, a numinous glow. He's a master of defamiliarizing the everyday, of what the Russians call "making strange." . . . Varied, inventive, uncanny, and playful: a gifted fabulist's cabinet of curiosities, his book-length memento mori." 
—Kirkus Reviews

"Sonorous. . . . Brockmeier's luminous sentences and potent metaphors animate the phantasmagorical material. These eloquent dispatches show the writer's remarkable range." 
—Publishers Weekly

"A teeming throng of stories in miniature in my favorite mode by one of my favorite writers. Brockmeier's ghosts range from the wistful to the terrifying—I could only wish that there were one hundred more." 
—Kelly Link, author of  Get in Trouble

"The Ghost Variations is pure Kevin Brockmeier—lush and playful and devastating and brilliant; a haunted hotel with a hundred rooms and a hundred doors, behind which lie a hundred perfect and terrifying dioramas. It's been ages since I've been this profoundly sated by a story collection, and I loved every minute of it."
—Carmen Maria Machado, author of Her Body and Other Parties

"The Ghost Variations is a haunted jukebox sparkling in the shadows, built to house a hundred voices, a hundred gorgeous songs. Each one is a masterpiece in miniature from one of our greatest writers, by turns funny and philosophical, chilling and warm. Like a palmful of smelling salts, these very short stories will wake you up. Only Kevin Brockmeier could write ghost stories that make a reader feel so alive."
—Karen Russell, author of Orange World and Other Stories
 
"In Kevin Brockmeier's The Ghost Variations, the familiar poetry of life gives way to uncanny wonder and startling discoveries, leaving the reader constantly unsettled, as if we found a room in a house where none had been before or woke in the night to a figure standing at the bottom of the bed.  There might be a hundred stories in this collection, but there are a million reasons to love Brockmeier, one of literature's greatest living talents, who writes sentences like spells and who elegantly phases between the walls of literary and genre fiction."
—Benjamin Percy, author of Red Moon
Table Of Contents
GHOSTS AND MEMORY
One: A Notable Social Event • 3
Two: The Guidance Counselor • 5
Three: A Hatchet, Several Candlesticks, a Pincushion, and a Top Hat • 7
Four: Milo Krain • 9
Five: Amnesia • 11
Six: A Long Chain of Yesterdays • 13
 
GHOSTS AND FORTUNE
Seven: The Hitchhiker • 19
Eight: Wishes • 21
Nine: How to Play • 23
Ten: The Scales of Fortune • 25
Eleven: A Moment, However Small • 27
Twelve: A Gathering • 29
Thirteen: Mira Amsler • 31
 
GHOSTS AND NATURE
Fourteen: Elephants • 37
Fifteen: The White Mare • 39
Sixteen: Many Additional Animals • 41
Seventeen: Bees • 43
Eighteen: A Blight on the Landscape • 45
Nineteen: An Ossuary of Trees • 47
Twenty: Things That Fall from the Sky • 49
Twenty-one: A Story with a Drum Beating Inside It • 51
Twenty-two: The Sandbox Initiative • 53
Twenty-three: Renewable Resources • 55
 
GHOSTS AND TIME
Twenty-four: Thirteen Visitations • 61
Twenty-five: The Office of Hereafters and Dissolutions • 63
Twenty-six: An Obituary • 65
Twenty-seven: The Midpoint • 67
Twenty-eight: The Whirl of Time • 69
Twenty-nine: Minnows • 71
Thirty: A Story Swaying Back and Forth • 73
Thirty-one: A Time-Travel Story with a Little Romance and a Happy Ending • 75
 
GHOSTS AND SPECULATION
Thirty-two: The Phantasm vs the Statue • 81
Thirty-three: Footprints • 83
Thirty-four: Passengers • 85
Thirty-five: New Life, New Civilizations • 87
Thirty-six: A Blackness Went Fluttering By • 89
Thirty-seven: The Prism • 91
Thirty-eight: His Womanhood • 93
Thirty-nine: There Are People, They Had Lives • 95
Forty: The Soldiers of the 115th Regiment • 97
 
GHOSTS AND VISION
Forty-one: Action! • 103
Forty-two: The Way the Ring of a Moat Becomes Comforting to a Fish • 105
Forty-three: Spectrum • 107
Forty-four: Every House Key, Every Fire Hydrant, Every Electrical Outlet • 109
Forty-five: The Walls • 111
Forty-six: Playtime • 113
Forty-seven: All His Life • 115
Forty-eight: Take It with Me • 117
Forty-nine: A Story Seen in Glimpses Through the Mist • 119
 
GHOSTS AND THE OTHER SENSES
Fifty: A Lifetime of Touch • 125
Fifty-one: The Runner-Up • 127
Fifty-two: So Many Songs • 129
Fifty-three: A Matter of Acoustics • 131
Fifty-four: Bouquet • 133
Fifty-five: The Mud Odor of the Snow Melting in the Fields • 135
Fifty-six: Instrumentology • 137
Fifty-seven: When the Room Is Quiet, the Daylight Almost Gone • 139
Fifty-eight: A Sort of Fellow • 141
Fifty-nine: A Lesser Feeling • 143
 
GHOSTS AND BELIEF
Sixty: A Small Disruption of Reality • 149
Sixty-one: The Abnormalist and the Usualist • 151
Sixty-two: Real Estate • 153
Sixty-three: Which Are the Crystals, Which the Solution • 155
Sixty-four: Countless Strange Couplings and Separations • 157
Sixty-five: Rapture • 159
Sixty-six: 666 • 161
 
GHOSTS AND LOVE AND FRIENDSHIP
Sixty-seven: Lost and Found • 167
Sixty-eight: Another Man in a Mirror • 169
Sixty-nine: The Apostrophes • 171
Seventy: A Man in a Mirror • 173
Seventy:-one Turnstiles • 175
Seventy-two: A True Story • 177
Seventy-three: Bullets and What It Takes to Dodge Them • 179
Seventy-four: Knees • 181
Seventy-five: The Man She Is Trying to Forget • 183
Seventy-six: The Eternities • 185
Seventy-seven: Too Late • 187
Seventy-eight: Detention • 189
Seventy-nine: I Like Your Shoes • 191
 
GHOSTS AND FAMILY
Eighty: The Ghost's Disguise • 197
Eighty-one: A Source of Confusion • 199
Eighty-two: Unseeable, Untouchable • 201
Eighty-three: Ghost Brothers • 203
Eighty-four: A Second True Story • 205
Eighty-five A Life • 207
Eighty-six: Extraordinary Gifts • 209
Eighty-seven: An Inherited Disorder • 211
Eighty-eight: Prayer from an Airport Terminal • 213
Eighty-nine: Hatching • 215
Ninety: Bilateral Symmetry • 217
 
GHOSTS AND WORDS AND NUMBERS
Ninety-one: Parakeets • 223
Ninety-two: Euphemisms • 225
Ninety-three: Roughly Eighty Grams • 227
Ninety-four: The Ghost Letter • 229
Ninety-five: A Matter of Linguistic • s231
Ninety-six: Dusk and Other Stories • 233
Ninety-seven: Telephone • 235
Ninety-eight: Numbers • 237
Ninety-nine: The Census • 239
One Hundred: The Most Terrifying Ghost Story Ever Written • 241
 
A Partial Concordance of Themes • 245
Acknowledgments • 267
Get the latest updates about Kevin Brockmeier
And go from well-read to best read with book recs, deals and more in your inbox every week.
And go from well-read to best read with book recs, deals and more in your inbox every week.
Dismiss
Thanks!
Something awesome is on its way.
Back to Top
Become a Member
Start earning points for buying books! Just for joining you'll get personalized recommendations on your dashboard daily and features only for members.
Find Out More
Join Now
Sign In
Success!
Your account has been created. Upload book purchases, access your personalized book recommendations, and more from here.