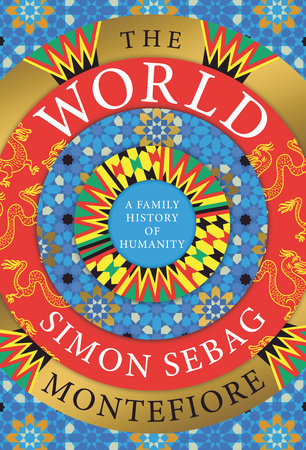 The World
A Family History of Humanity
A Family History of Humanity
A Family History of Humanity
By Simon Sebag Montefiore
Read by
Simon Sebag Montefiore

and

Full Cast



By Simon Sebag Montefiore
Read by
Simon Sebag Montefiore

and

Full Cast




Best Seller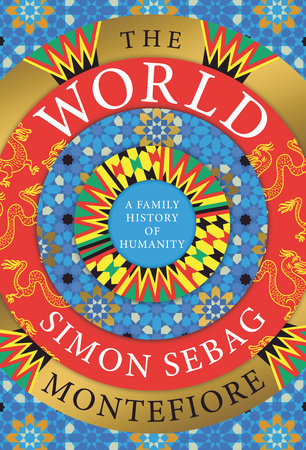 May 16, 2023
|
ISBN 9780525659532
Buy the Audiobook Download:
YOU MAY ALSO LIKE
QUICK VIEW
The First Salute
Paperback
$20.00
QUICK VIEW
War on the Run
Paperback
$18.00
QUICK VIEW
The Blazing World
Hardcover
$38.00
QUICK VIEW
The First World War
Paperback
$20.00
QUICK VIEW
The Face of Battle
Paperback
$18.00
QUICK VIEW
The Battle for Spain
Paperback
$25.00
QUICK VIEW
QUICK VIEW
Crucible of War
Paperback
$27.00
QUICK VIEW
Forget the Alamo
Paperback
$19.00
QUICK VIEW
Indivisible
Hardcover
$30.00
Praise
Named The Times (UK) History Book of the Year!
Named one of the Best Books of the Year by The Economist

"In his new book, Simon Sebag Montefiore traces the perilous and prescriptive power of ancestry through centuries riddled with rivalry, betrayal, and violence. . . . As the title suggests, [The World] approaches the sweep of world history through the family—or, to be more precise, through families in power. In the course of some thirteen hundred pages, The World offers a monumental survey of dynastic rule: how to get it, how to keep it, how to squander it. . . . The World has the heft and character of a dictionary. . . . Montefiore energetically fulfills his promise to write a 'genuine world history, not unbalanced by excessive focus on Britain and Europe.' In zesty sentences and lively vignettes, he captures the widening global circuits of people, commerce, and culture." —The New Yorker

"A staggering achievement. Simon Sebag Montefiore has given us a tremendous gift: a pulsingly readable world history through the millennia and from one end of the globe to the other." —Sir Simon Schama, author of The Story of the Jews

"A tour de force. Hugely ambitious, erudite and filled with surprises. This puts the family and families back into the heart of history." —Peter Frankopan, New York Times best-selling author of Silk Roads
 
"Compelling, moving, epic, and diverse, Montefiore's wonderful storytelling prowess and wide research pulls off this unparalleled world history in a single narrative with unforgettable style. All the drama of humankind is here from cavemen to Putin and Zelensky." —Olivette Otele, author of African Europeans

"One word for Montefiore's book: magisterial." —Ben Okri, Booker Prize–winning author of The Famished Road
 
"In this work of astonishing scope and erudition, Simon Sebag Montefiore interweaves the stories of the servants, courtiers, and kings, pioneers, preachers, and philosophers who have made history. A brilliant synthesis that will impart fresh insight to even the most learned readers." —Henry Kissinger, former U.S. Secretary of State

"Simon Sebag Montefiore took on the ambitious task of telling the story of mankind throughout time which he accomplished in splendid fashion! The World: A Family History of Humanity is a brilliant book, and its examination of our species' experiences through the prism of the family is truly inspired." —General David Petraeus (US Army, Ret.), former Commander of the Surge in Iraq, US Central Command, and NATO/US Forces in Afghanistan; former Director of the CIA.

"There is a certain satisfaction in holding, and reading a bulky tome. Simon Sebag Montefiore's The World: A Family History requires strong wrists, but is well worth the physical effort. It is a most readable and fascinating history of humanity from the perspective of that most enduring of institutions: the family. There is pleasure and learning on every [page]." ―Alexander McCall Smith, New Statesman, Books of the Year 2022

"A rollicking, globetrotting . . . truly global history spanning almost every continent. . . . A  thrilling tapestry. Only a highly skilled storyteller and pen-portraitist could so deftly grip attention across twenty-three 'acts', spanning more than six millennia and packed with lavish and pullulating detail. . . . The World is wildly entertaining . . . certainly enriching and bracingly profane." ―Times Literary Supplement

"This history of the world, told through the stories of eminent families, is a riveting page-turner. The author brings his cast of dynastic titans, rogues and psychopaths to life with pithy, witty pen portraits, ladling on the sex and violence. An epic that both entertains and informs." —The Economist, Best Books of 2022
 
"A magnificent new book by Montefiore. . . . [A] magisterial tome. . . . To make sense of the chaos of world history, [Montefiore] has done magnificently and meticulously by choosing as his framework all the dynasties we know of that ever held power or make a name for themselves. . . . Dip into this book anywhere and the minutiae of history leap off the page. . . . Dip too into the author's copious footnotes and there are gems to be mined. . . . [A] real-life Game of Thrones. . . . [A] compelling narrative, a massive effort of research. . . . Often sassy, always entertaining – of the first order. . . . To my mind, what it gives above all is perspective from which comes understanding and not a little wisdom." —The Daily Mail, Book of the Week

"A history of the world from the Neanderthals to Trump. It's a rollicking tale, a kaleidoscope of savagery, sex, cruelty and chaos. . . . By focusing on family, Montefiore provides an intimacy usually lacking in global histories. . . . This book … has personality and a soul. It's also outrageously funny. . . . An enormously entertaining book." —The Times (UK), History Book of the Year
 
"Deserves to be a roaring bestseller. . . . Think Succession meets Game of Thrones, history told through dynasty and intrigue and written with wit, insight, and more than a dash of scandal." —The Spectator
 
"A delightful world history, told through influential families. . . . The device of weaving together the past using the most enduring and essential unit of human relations is inspired. It lets readers empathize with people who helped shape historical events and were shaped by them. . . . The method also allows the author to cover every continent and era, and to give women and even children a voice and presence that they tend to be denied in more conventional histories. . . . Despite the book's formidable length, there is never a dull moment. The story moves at pace across terrible battles, court intrigues, personal triumphs and disasters, lurid sexual practices and hideous tortures. . . . The author tells these stories with verve and palpable relish for the unbridled sex and inventive violence that run through them. His character sketches are pithy and witty. . . . The footnotes, often short essays in themselves, have the acid drollery of Edward Gibbon. . . . Overall this book is a triumph and a delight, an epic that entertains, informs and appalls in enjoyably equal measure." —The Economist
 
"A history of pretty much everything everywhere from the evolution of Homo sapiens to Putin's invasion of Ukraine. . . . Dip into any page and you'll find history rushing by in prose that combines clarity, liveliness and even deadpan humour with intriguing little asides a specialty. . . . A staggering achievement." ―Daily Telegraph

"This is not just an undoubted book of the year but of many years. . . . It's a treasure trove of marvellous stories, brilliantly researched and absorbingly told, fascinating characters who leap off thepages but, above all, the thing missing most in our troubled, self-absorbed society – perspective." ―Daily Mail
 
"Poisoning, adultery, incest, murder & mayhem: Montefiore's entertaining history of the world is told through the dynasties that helped shape humanity. Plenty of world histories have come out in the past few years but this one is different – a family history of the world. . . . One extraordinary story follows another, all of them extraordinarily well told. It is hard to stop turning the pages. . . . One of thecommonest criticisms of world histories … is that they are all about the vast impersonal forces. . . . Montefiore's family-centered alternative is the perfect antidote, reveling in the peculiarities and downright perversities of its all-too-human cast. . . . No one who has watched TV dramas such as Succession or read Shakespeare will be surprised. . . . Montefiore's vignettes are fascinating, albeit in a disturbing kind of way. . . . There is no doubting that family is the central institution of human history and Montefiore's overview of its most recent five millennia is entertaining and consistently interesting." ―Financial Times
 
"Succeeds in scintillating fashion . . . . [A]n epic rich in detail . . . . [O]n each page, you'll find an interesting idea, a witty observation or a footnote containing an anecdote emblematic of a wider point. Montefiore pays attention to the lives of women and children and to places slighted by Western historians. . . . This is an extraordinary work of wisdom and vivid storytelling." ―Literary Review
 
"[Montefiore's] major achievement is to make us see the world through a different lens – to make theunfamiliar familiar and, more important, the familiar unfamiliar. . . . [B]rings [history] most vividly, almost feverishly, to life. There is hardly a dull paragraph." ―The Spectator

"To tell a history of the world through its most influential families is a clever way to marshal thousands of years of humanity . . . . [A]n incredible undertaking. Montefiore finds enduring resonances and offers new perspectives . . . . Because these are family stories, he adeptly eschews traditionally male histories to find greater texture and diversity. A remarkable achievement." ―Observer

"The World is almost narcotic to read." ―The Jewish Chronicle

"Violence, treachery, and sex are the motors of history in this sweeping chronicle. Historian and novelist Montefiore (The Romanovs) surveys wars, massacres, revolutions, plagues, famine, and socioeconomic transformations from the rise of the Mesopotamian city states to the Biden administration, giving China, India, Africa, central Asia, and pre-Columbian America as much space as the West. . . . Montefiore makes women central to the story, as queens and regents or as mothers and mistresses manipulating feckless kings. (They also hold their own in mayhem: the seventh-century Chinese royal concubine Miss Wu allegedly broke up Emperor Gaozong's marriage by killing her own infant daughter and framing the Empress for murder.) And there's plenty of sex, with the orgies of Rodrigo Borgia—aka Pope Alexander VI—perhaps taking the prize for debauchery. Setting a whirlwind pace, Montefiore skillfully guides readers through the tumult with elegant prose and evocative character sketches. It's a bravura performance." —Publishers Weekly [boxed and starred review]

"Award-winning historian Montefiore draws on 30 years of research, reading, and travel to create a panoramic, abundantly populated, richly detailed history of the world through the stories of families across place and time. . . . Some families that Montefiore examines are familiar to most readers—Medici, Bonaparte, Romanov, Habsburg, and Rockefeller—but Montefiore's view is capacious, as he recounts the histories of Chinese, Indian, Middle Eastern, Hawaiian, and African dynasties as well as the more recent Bushes, Kennedys, Castros, and Kims. The history of humanity, the author ably demonstrates, displays 'cruelty upon cruelty, folly upon folly, eruptions, massacres, famines, pandemics, and pollutions'—yet throughout, he adds, an enduring capacity to create and love. A vibrant, masterful rendering of human history." —Kirkus [starred review]

"The book depicts the major events of world history, covering both familiar and lesser known but equally consequential figures. Montefiore makes a conscious effort to intentionally include people and events from Asia, Africa, the Americas, Polynesia, and the Middle East. What this audacious project lacks in depth, it more than makes up for in breadth, and it even includes humorous asides and unusual facts. Coverage grows increasingly detailed as the book races towards the modern era; half of the book takes place after 1750. The author connects and illustrates how many contemporary global conflicts descend from disputes and struggles that have been centuries in the making. History buffs and novices will appreciate this extensive, accessible, highly recommended work; it may inspire them to dig into lesser-known areas of global history." —Library Journal [starred review]

Get the latest updates about Simon Sebag Montefiore
And go from well-read to best read with book recs, deals and more in your inbox every week.
And go from well-read to best read with book recs, deals and more in your inbox every week.
Dismiss
Thanks!
Something awesome is on its way.
Back to Top
Become a Member
Start earning points for buying books! Just for joining you'll get personalized recommendations on your dashboard daily and features only for members.
Find Out More
Join Now
Sign In
Success!
Your account has been created. Upload book purchases, access your personalized book recommendations, and more from here.