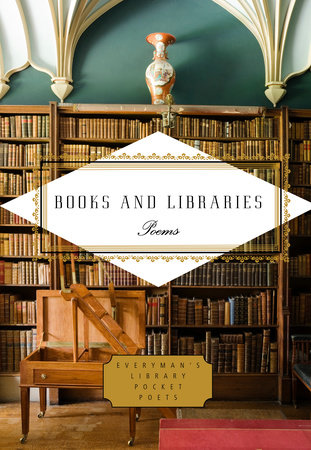 Books and Libraries
Best Seller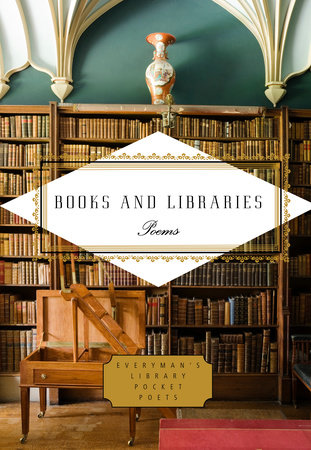 Nov 02, 2021
|
ISBN 9780593320198
Buy the Hardcover:
YOU MAY ALSO LIKE
QUICK VIEW
Selected Poems and Prose
Paperback
$20.00
QUICK VIEW
The Complete Poems
Paperback
$21.00
QUICK VIEW
QUICK VIEW
When You Are Old
Paperback
$19.00
QUICK VIEW
The Penguin Book of English Verse
Paperback
$24.00
QUICK VIEW
The Penguin Book of the Prose Poem
Paperback
$18.00
QUICK VIEW
The Complete Poems and Translations
Paperback
$15.00
QUICK VIEW
The Book of Taliesin
Paperback
$17.00
QUICK VIEW
Leaves of Grass and Selected Poems and Prose
Hardcover
$26.00
QUICK VIEW
Leaves of Grass
Paperback
$14.00
Table Of Contents
The Love of Books
Wallace Stevens, "The House Was Quiet and The World Was Calm"
Dylan Thomas, from "Notes on the Art of Poetry"
Theodore Beza, "Hayle to My Bookes"
Robert William Service, "Book Lover"
William Wordsworth, "Wings Have We"
Emily Dickinson, "There is No Frigate Like a Book"
William Shakespeare, "Sonnet XXIII"
George Crabbe, from "The Library"
Tsitsi Jaji, "Unaccompanied Minor"
Maya Angelou, "I Love the Look of Words"
Latin Proverb, "Words Fly Away"
Tessa Ransford, "In Convents and Crypts"
Henry Vaughan, "To His Books"
John Donne, "A Valediction of the Book"
Pablo Neruda, "Ode to the Book, II)"
Lynn Powell, "Sword Drill"
Tony Harrison, "Book Ends"
 
All Sorts of Readers
Samuel Taylor Coleridge, "There Are Only Four Kinds of Readers"
Louis MacNeice, "The British Museum Reading Room"
Stephen Kuusisto, "Night Seasons"
Coventry Patmore "The Revelation"
Hilaire René Belloc, "On His Books"
Anonymous, "A Description of a College Room"
Pierre de Ronsard, "To His Valet"
T'ao Ch'ien, "Reading the Book of Hills and Seas"
Muddupalani, "How to Read a Book"
Paul Valéry, "The Angel Handed Me a Book"
Czeslaw Milosz, "Father in the Library"
 
Turning the Page
Billy Collins, "Books"
David S. Herrstrom, "Sacred Books"
Stephen Dunn, "The Book and I"
Charles Bukowski, "They Arrived in Time"
Dante, from Inferno
Gjertrud Schnackenberg, "Supernatural Love"
John Burnside, "September Evening: Deer at Big Basin"
Yi Sha, "Sunday"
Flavio Santi, "Dear Mary"
Juan Manuel Roca, "The Library of the Blind"
Mona Van Duyn, "In Bed with a Book"
Iku Takenaka, "My Books
Mel Pryor, "In a Secondhand Bookshop"
Agi Mishol, "Poetry Reading"
C.P. Cavafy, "Very Rarely"
Derek Walcott, "This Page is a Cloud"
Jean Sprackland, "The Girl Who Ate Books"
John Glenday, "For My Wife, Reading in Bed"
 
Discovering Reading
Joyce Sutphen, "Things You Didn't Put on Your Résumé"
Julia Alvarez, "Waiting for My Father to Pick Me Up at the Library
Laurie L. Patton, "On Learning a Sacred Language in Childhood"
Lewis Carroll, "What is the Use of a Book?"
Patricia Hooper, "The World Book
Margarita Engle, "Tula ["Books are door-shaped"]"
 
Celebrating Individual Books and Authors
Andrew Marvell, "On Mr. Milton's 'Paradise Lost'"
John Keats, "On First Looking into Chapman's Homer
W. H. Auden, "Auden on Montaigne"
Ivor Gurney, "George Chapman – The Illiad"
R. S. Thomas, "Henry James"
Jorge Luis Borges, "On Acquiring an Encyclopedia"
Ezra Pound, "Cantico del Sole"
Andrew D. Scrimgeour, "Winter Pages"
Siegfried Sassoon, "To an Eighteenth Century Poet"
Joseph Brodsky, from "Elegy for John Donne"
Giovanni Boccaccio, "Boccaccio Sends Petrarch a Copy of Dante"
Anne Stevenson, "Re-reading Jane"
Wendy Cope, "My Father's Shakespeare"
 
Because of Libraries
Alberto Rios, "Don't Go into the Library"
J. K. Rowling, from Harry Potter and the Chamber of Secrets
William E. Gladstone, "Books Are a Delightful Society"
Liz Lochhead, "Random"
Yuriy Andrukhovych, "Library"
Kostas Koutsourelis, "Library"
Laurynas Katkus, "On the Sixth Floor"
Jill Osier, "Elegy"
Robert L. Chapman, "Library"
Rosemary Griebel, "Library"
Naomi Shihab Nye, "Because of Libraries We Can Say These Things"
Alasdair Paterson, "On the Library"
William Cowper, from "An Ode Addressed"
Walt Whitman, "Shut Not Your Doors to Me Proud Libraries"
Frederick Buechner, "Holy a Place"
Gerald Stern, "Stepping Out of Poetry"
Lesbia Harford, "Closing Time: Public Library"
Abraham Cowley, "Mr. Cowley's Book Presenting It Selfe"
Margaret Cavendish, "Fame's Library within the Temple"
John Greenleaf Whittier, "The Library"
Gillian Clarke, "In a Cardiff Arcade"
U. A. Fanthorpe, "In the English Faculty Library, Oxford"
James Russell Lowell, "Literature for Desolate Islands"
Ian McMillan, "Adult Fiction"
 
Always the Librarians
Joseph Mills, "If Librarians Were Honest"
Andy Jackson, "Enquiry Desk"
Rita Dove, "Maple Valley Branch Library, 1967"
William Mcllvanney, "In the Library"
Nikki Giovanni, "A Poem for My Librarian, Mrs. Long"
Sean O'Brien, "The Beautiful Librarians"
John Holland, "On the Death of Esther Caterer"
Philip Metres, "Hearing of Alia Muhammed Baker's Stroke"
 
The Writing of Books
Wislawa Szymborska, "The Joy of Writing"
Durs Grünbein, "On Learning Old Vocabulary"
Amit Majmudar, "Vocative"
Alicia Ostriker, from Ars Poetica
Gabriela Mistral, "The Teller of Tales"
Alexander Pope, "Sound and Sense"
Philippe Jaccottet, from "Songs from Below"
Ilya Kaminksky, "Author's Prayer"
William Blake, from Songs of Innocence
Les Murray, "The Privacy of Typewriters"
Li Sen, "Confronting Nujiang"
William Stafford, "A Writer's Fountain Pen Talking"
Odia Ofeimun, "I Am a Writer,"
Petrarch, from Canzoniere 1, "O You Who Hear"
Gaius Valerius Catullus, "To Whom Shall I Offer this Book?"
William Butler Yeats, "Where My Words Go"
Anne Bradstreet, "The Author to Her Book"
Marcus Valerius Martialis, "Epigrams 1,3, "My Little Book"
Horace, Ode 3.30, "More Lasting than Bronze"
Guido Cavalcanti, "Sonnet XVIII"
Uejima Onitsura, Untitled haiku
Johann W. Goethe, "Authors"
Henry Wadsworth Longfellow, "The Poet and His Songs"
Callimachus, "The Very First Time"
 
Marginalia
John F. M. Doraston, "The Bookworm"
Robert Burns, "The Book-Worms"
Evenus, "Page-eater"
Elizabeth Barrett Browning, from Aurora Leigh
Ben Jonson, "To My Book-seller"
Thomas Hornsby Ferril, "Bookmarks"
Tarannum Riyaz, "The Scent of Old Books"
Robert Herrick, "Make Haste Away"
Udava R. Tennakoon, "Books Up on Books"
Decimus Ausonius, "You've Bought Books"
Eugene Field, "The Bibliomaniac's Prayer"
Andrew Lang, "Ballade of the Book-man's Paradise"
Adilia Lopes, "I Don't Like Books"
Lope de Vega, "So Many Books"
Ecclesiastes 12:11-12, "The Sayings of the Wise"
Philip Larkin, "A Study of Reading Habits"
 
Rethinking Books and Libraries
Frank Osen, "Bookshop Shopping"
Douglas Dunn, "December's Door"
Joe Lucia, "The Afterlife of Libraries"
Bertolt Brecht, "The Book Burnings"
Michael Symmons Roberts, "The Future of Books"
Elaine Equi, "The Libraries Didn't Burn"
 
Index of Authors
Get the latest updates about Andrew Scrimgeour
And go from well-read to best read with book recs, deals and more in your inbox every week.
And go from well-read to best read with book recs, deals and more in your inbox every week.
Dismiss
Thanks!
Something awesome is on its way.
Back to Top
Become a Member
Start earning points for buying books! Just for joining you'll get personalized recommendations on your dashboard daily and features only for members.
Find Out More
Join Now
Sign In
Success!
Your account has been created. Upload book purchases, access your personalized book recommendations, and more from here.