French Braid Reader's Guide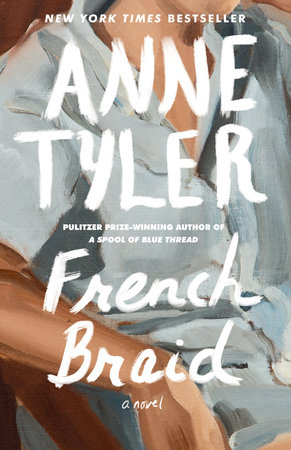 French Braid Reader's Guide
READERS GUIDE
Brimming with warmth, wry humor, and endearingly eccentric characters,
French Braid
is a triumph of storytelling from Pulitzer Prize–winning author Anne Tyler.
At the center of the novel (though she doesn't like being at the center of things) is Mercy Garrett, a dutiful wife who skillfully manages the care and feeding of her family throughout the 1950s and '60s. When the youngest goes off to college, Mercy at last feels free to pursue her passion for painting, gradually moving into her own studio and leaving ready-to-heat dinners for her husband, Robin.
Along the way, we follow Mercy and Robin's three children from their youth in a bygone era—when they took their one and only family vacation—to their own transitions to adulthood and empty-nesting decades later, just as the isolation of the pandemic is setting in. Raising poignant questions in every scene,
French Braid
reveals the gentle realities of family ties that constrict and those that fall apart altogether, while the daily hum of diligence and possibility reverberates in the background.
The questions that follow are designed to enrich your book club's discussion of
French Braid
. We hope they enhance your experience of this brilliantly perceptive novel from one of America's most beloved writers.
Questions and Topics for Discussion
1. Revisit the novel's first chapter, now that you know the full story. What did you originally predict for Serena? What were your notions about why her family was so disconnected?
2. Which images stand out most clearly to you from the Garretts' summer vacation? What lifelong pursuits were set in motion for Alice, Lily, and David during their time at the lakeside cabin? Share your defining memories from a childhood trip.
3. How did your perceptions of Mercy and Robin shift as the details of their marriage unfolded? Though Robin's proposal included the plea, "If you can imagine us ever, ever divorcing, then I don't want you to accept" (page 146), was there ever a time when he felt truly secure with Mercy, and with his in-laws?
4. Anne Tyler explores the nature of time and memory in much of her fiction. How did the timeline in French Braid amplify the realism of the characters? How did cultural expectations for women evolve between Mercy's generation and her children's? What stayed the same, even in a new millennium?
5. How did you react to the story of Desmond, the Motts' cat?
6. Are the cousins a reflection of their parents' and grandparents' legacies and personalities, or do they create a series of new beginnings? Ultimately, why don't the cousins know one another very well?
7. A recurring element in French Braid is the ritual of bringing home a romantic partner to meet the family. How do those encounters play out for the Garretts, and in your own family lore? In the novel, what is at the root of this quest for approval, and what motivates the naysaying?
8. Alice and Lily embody two very different versions of womanhood and motherhood. Does temperament alone account for these differences? What did they learn from Mercy about how to find fulfillment in life?
9. Do you think it's true that Robin didn't like his son, as David asserts on page 241?
10. Mercy's studio is free of clutter. If you were to set up a room of your own, what would it look like? How would you pass the time there?
11. How would you characterize the surprise fiftieth anniversary party and its aftermath? Heartbreaking? Humorous? Some of each? What does it cost the Garrett family emotionally to perpetuate the open secret of Robin and Mercy's separation? What other aspects of their family life require the ability to pretend?
12. Is Mercy a merciful person, including being merciful with herself? What do her paintings reveal about the aspects of home, and homemaking, that intrigue her? What was it like to watch her in Manhattan, accompanied by Kendall?
13. When David and Greta describe the crimped "ripples" that keep us from ever being free of our families (page 234), what are they saying about the fundamental differences in their upbringing? Is the interwoven nature of family a source of comfort or confinement to you?
14. In the novel's closing scene, what truths are distilled as we observe David's fierce love for Benny?
15. How does French Braid enhance the sketches of humanity that emerged in previous books by Anne Tyler that you have read? What new insight does French Braid offer in the wake of the pandemic?
Suggested Reading
Other Recommended Novels
Margaret Atwood,
Cat's Eye
Rachel Cusk,
Arlington Park
Diane Johnson,
Lorna Mott Comes Home
Jhumpa Lahiri,
Whereabouts
Alice McDermott,
At Weddings and Wakes
Maggie Shipstead,
Great Circle
Gary Shteyngart,
Our Country Friends
Dana Spiotta,
Wayward
Elizabeth Strout,
Oh William!
Nonfiction for Further Reading
Joan Anderson,
A Year by the Sea: Thoughts of an Unfinished Woman
Ann Patchett,
This Is the Story of a Happy Marriage
Jo Ann Beard,
The Boys of My Youth
Back to Top