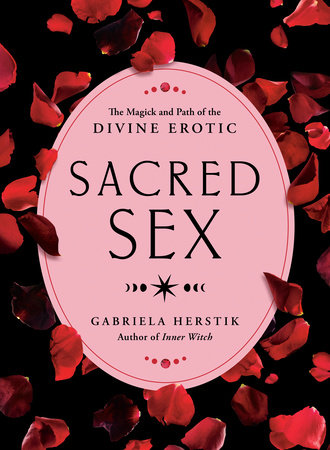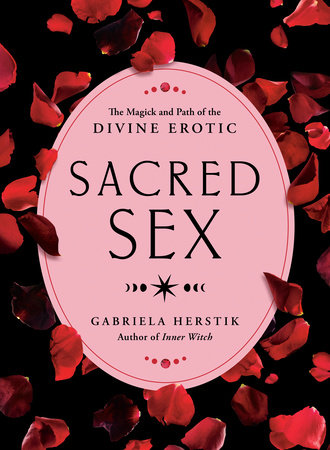 Jul 12, 2022
|
ISBN 9780593421659
Buy the Audiobook Download:
YOU MAY ALSO LIKE
QUICK VIEW
Magic Days
Paperback
$40.00
QUICK VIEW
Sylvia Browne's Book of Dreams
Paperback
$18.00
QUICK VIEW
The Enneagram for Beginners
Paperback
$15.99
QUICK VIEW
The Signs in Love
Paperback
$18.00
QUICK VIEW
Law of Attraction Manifestation Journal
Paperback
$13.13
QUICK VIEW
The Force of Character
Paperback
$18.00
QUICK VIEW
Urban Tantra, Second Edition
Paperback
$18.99
QUICK VIEW
The Cloud of Unknowing
Paperback
$16.00
QUICK VIEW
Rise and Shine
Paperback
$18.00
QUICK VIEW
The Energies of Love
Paperback
$20.00
Praise
"Are you ready to reclaim your sensuality? Want to sex up your magick? Wish you could tap into your lust for life and manifest your deepest wishes? Of course you do! Gabriela Herstik has created the perfect guide to sex magick. Open the pages and get ready for a sensuous, shame-free, transformative journey. This is a modern, inclusive, and sex-positive book filled with tarot, ritual, spells, affirmations, and wisdom. Gabriela's writing is down-to-earth and practical—perfect for adepts but also sex-magick newbies. She makes the reader feel comfortable right off the bat, which helps even the timid types open up. With Gabriela's gentle guidance, you can explore your kinks, bring devotional practices into your bedroom, connect to your wild lust, raise your power, and turn your life into something truly magical."—Theresa Reed, author of Twist Your Fate: Manifest Success with Astrology and Tarot
 
"Gabriela's juicy wisdom invites you into a new erotic relationship with yourself, and life. One you've likely always been yearning for."—Alexandra Roxo, author of Fuck Like a Goddess: Heal Yourself, Reclaim Your Voice, Stand in Your Power
 
"Sacred Sex is a thrilling and densely informative guide to sex magick and sacred sexuality, laying out a number of paths to the Divine Erotic so every reader can find (at least) one that works for them. Herstik is a compassionate and loving guide through these paths offering everything from history to tarot spreads to affirmations for each step of your journey. I absolutely loved it and am sure I'll come back to it many times."—Cassandra Snow, author of Lessons From the Empress and Queering the Tarot
 
"Gabriela Herstik has created a learned and path-opening guide to the occult dimensions of sexuality, as perfectly suited to the present generation as it is to all times and places. You will discover new folds of yourself within its pages."—Mitch Horowitz, PEN Award-winning author of Occult America and Uncertain Places
 
"This book is a magickal journey into the place where we all need to explore: self-love. Whether you're in a relationship, or going it on your own, to explore the secrets and divinity through the lens of our sexuality is not only fun, but healing. This book will be your guide."—Damien Echols, author of High Magick: A Guide to the Spiritual Practices That Saved My Life on Death Row and Ritual: An Essential Grimoire
 
"Gabriela Herstik bids you to leave your shame and hang-ups at the door as she escorts you through the magickal power of sensuality and pleasure in her provocative book. With a strong ethical focus on consent and boundaries, Herstik asserts that sacred sexuality begins with the self. Full of insightful journal prompts to assist the reader in evaluating and reflecting on their personal relationship with sexuality, this book also includes many great energy exercises, meditations, and rituals to tap into the powerful currents of magickal hedonism. Embracing that witchy liminal space where the profane is sacred and desire is holy, Sacred Sex is a fantastic guide for those looking to explore themselves and spice up their magickal practice regardless of one's gender or sexual orientation."—Mat Auryn, bestselling author of Psychic Witch and Mastering Magick
 
"In Sacred Sex, Gabriela Herstik is a devoted sexual psychopomp, compassionately guiding us into the realm of the Divine Erotic. With nuance, wit, and a sparkling dedication to the healing powers of self-lust, Herstik offers up historical context, journal prompts, tarot spreads, spells, ritual guides, and interviews with seasoned practitioners to help readers navigate shame and stigma, conjure embodiment, and delve into the deliciously diverse forms of sexual and spiritual expression at our fingertips. Beautifully designed for pleasure seekers of all persuasions, Sacred Sex deftly undresses the juicy, transformative magick that lies in becoming—as Herstik writes—"a priest/ess of your own pleasure."—Kristen J. Sollée, author of Witches, Sluts, Feminists

"With Sacred Sex, Gabriela Herstik brings the magic of sexuality front and center, in what is nothing less than an expertly guided journey of personal transformation. Surprisingly robust, this tome is crammed full of history, myths, and lore surrounding various practices of sacred sexuality, as well as step-by-step exercises, rituals, affirmations, divinations, and practical advice for anyone who wishes to incorporate a healthy sexuality into their spiritual practice. With discussions on boundaries, mindfulness, working with the moon, transgression, sex work, and more, spiritual practitioners both seasoned and new will find much value in these life-affirming pages."—Storm Faerywolf, author of The Satyr's Kiss: Queer Men, Sex Magic and Modern Witchcraft

"Sacred Sex is a wonderful permission slip to all who read it. It does what few spiritual or magical books achieve, which is a dissolution of the boundaries between the sacred and the profane, urging readers to both embrace their true sexuality, and to discover the sacred within it. It is written with Gabriela Herstik's unabashed Aquarian authenticity, and considerate and practical wisdom. This book will be medicine for many people."—Jake Kobrin, artist and wizard
 
"Scared Sex is a road map to living deliciously with focused and intentional lessons on releasing shame and any other blockages that may lie deep within. Gabriela has created a book with exercises, rituals, and affirmations to inspire you to learn, laying the foundations for your very own fulfilling and sustainable self-lust and sex magic practice. The book is inclusive of dating style, sexuality and gender supported with interviews with people from all walks of life."—Baby Reckless, musician, mixed media artist, and occultist 
 
 "The profane meets the sacred in this provocative yet soulful exploration of magic and personal mystery that will leave you feeling aroused, empowered, and in tune with your body like never before. This is Herstik at her finest, guiding us through the goose-fleshed terrain of sacred sexuality as she weaves a spell with every word."—Devin Hunter, bestselling author of Modern Witch | Spells, Recipes, & Workings
 
"Sacred Sex is the guide to ritual sensuality we've all been waiting for: trauma-informed, queer-inclusive, anti-capitalist. Bring your own body and intention—that's all that's required. Gabriela offers a multitude of rituals, affirmations, meditations, and more that are accessible to the beginner and experienced practitioner alike."—Jeanna Kadlec, author of Heretic: A Memoir

"Sacred Sex is a deeply empowering and relatable guide to help you reclaim and connect with your sexuality, spirit, and magick. Whether you are at the beginning of your journey or have been walking the path of the Divine Erotic for a while now, Herstik's powerhouse writing makes this guide a must-have addition to every witch's collection."—Bre Ulrich, witch, artist, and death doula
 
"As a former sex worker, I thought I had it sorted, but Gabriela not only educated me but also talked to me like a friend in Sacred Sex. I felt supported, nurtured and excited to learn how I could integrate all these pieces of myself, my past, and my magick in truly fulfilling ways."—Madeline Sinclaire, burlesque performer and creatrix of the Babalon Tarot 
 
"Sacred Sex is a master class in erotic alchemy. Gabriela Herstik skillfully weaves together the rich history of sex magick with rituals, intentions, a myriad of practical and energetic tools, and even a dash of consecrated kink in this must-read book! Whether solo or partnered, there's something for every aspiring or experienced practitioner in these pages. I look forward to incorporating her book into my own sex magick group program."—Ashley Manta, author of The CBD Solution: Sex
 
"The attention to detail in Sacred Sex is beyond any book this generation will see and will propel people into embodying their true sexual nature. Gabriela has managed to capture and exemplify how the perception of sex is an avenue to true freedom."—Maggie Wilson, author of Metaphysical Cannabis Oracle Deck
 
"An intensely useful and pleasurable introduction to, and practical manual of, individuation and self-empowerment through the use of sexual energies. In medieval times, Herstik would have surely been burned as a witch for formulating so clearly what has been known to every genuine spiritual tradition but kept forbidden and occult by draconian forces throughout the ages. Today, she instead joyfully burns the flame of erotic enlightenment so that we can literally unite with ourselves, with others, and with the deeper layers of our psyches as well as our bodies. This book is an impressive contribution to the development of magic as a tool of transformation, and as such an invaluable accomplishment."—Carl Abrahamsson, author of Resonances, Occulture, Anton LaVey & the Church of Satan, and Source Magic

"I love and cherish all of Gabriela Herstik's offerings. Her devotion to providing accessibility and willingness to be comprehensive, vulnerable, and imperfect is what makes her work so authentic and trustworthy. Sacred Sex is a groundbreaking resource for sexual embodiment, healing, release, and expansion, and a beautiful standard that rewrites the narrative for sacred sex education to embrace curiosity, accountability, active consent, and a deeper relationship with emotional intelligence."—Rebekka "V.V. Venom" Ohler, performance artist, certified hypnotherapist, and sexologist
 
"Self-empowerment though carnal exploration, the unbridled celebration of the body in its multitude of beautiful forms—Herstik's newest book is brimming with joyful revelations and insightful wisdoms on sacredness and sex. Through interviews with sex therapists, journaling tips, affirmations and essays highlighting the ancient sensual/spiritual practices of tantra and kundalini, the pleasures of sex-magick, and the worship of the divine erotic, Herstik ushers in a new, playful, nonjudgmental, and deeply mystical sexual revolution."—Jessica Hundley, author and editor of the Library of Esoterica encyclopedia series

"Sacred Sex is a beautiful exploration of the Divine Erotic that is open and welcoming no matter where along this path you find yourself. Whether you're exploring the world of kink, healing from sexual trauma, expanding your sexual relationships with others, or discovering yourself, Gabriela's warm and funny voice will show you how to do so in the most magical way possible. This book succeeds where many others have failed on this topic. It gives you the space to venture beyond the bounds of your comfort zone without feeling pushed or pressured to be someone you're not. There's no shame or stigma, only love, sex, and magic."—Paige Vanderbeck, author of Witchcraft for Emotional Wisdom and host of the Fat Feminist Witch Podcast
 
"Gabriela Herstik is a walking altar to Venus, the Goddess of love, beauty, and abundance, and one of the most powerful sex witches I know. Sacred Sex is a holy text encompassing kink, sex magick, and tools for witches of all orientations, bodies, and experience levels to have the most magickal sex of their lives."—Sophie Saint Thomas, author of Sex Witch: Magickal Spells for Love, Lust, and Self-Protection

"Gabriela Herstik has written a comprehensive guide—no, make that the guide—to the most personal and unique form of magic that exists. Using the human body as a vessel of pleasure and (wo)manifestation is a potent, wonderful and fun way of getting what you want. Like sensuality itself, Sacred Sex has something for everyone, from tentative witchlet newbies to seasoned practitioners. Keep Sacred Sex on your altar… or under your pillow."—Pleasant Gehman, author of Rock 'n'Roll Witch
 
"Sacred sexuality may have been part of human life for as long as concepts of the sacred have existed, but how can we incorporate it into our lives if it's not part of them today? In Sacred Sex, Gabriela Herstik has provided a feast of methods for exploring sacred sexuality, covering many dimensions of it, from solo sex to releasing sexual shame to BDSM. With an integration of tarot and affirmations, alongside rituals, there are ample practical tools for starting on this path. This book has the power to bring you back to the deep knowing of the ancients: that sex is divine."—Durgadas Allon Duriel, author of Worthy As You Are: Weed Out Unhealthy Beliefs and Nourish Your Authentic Self and The Little Work: Magic to Transform Your Everyday Life.
 
"Gabriela's writing nourishes a deep remembrance of the sanctity of the human experience. This revelatory book serves as a visceral reminder that we experience the Divinity of our vessels through our earthly senses. In a world where we are taught to repress our desires in the name of false morality, Gabriela reminds us that Divinity is all encompassing and is not separate from the flesh. Sacred Sex is a declaration of sovereignty, expressing that our human desires are Divinely sacred and should be honored rather than neglected."—Gabriela Rosales, The Stylist Witch

"Gabriela Herstik's writing is passionate, inclusive, and embodied. Building on years of experience and drawing from the wellspring of Western esotericism, Herstik guides her reader towards a personal practice in a way that is both sensitive and encouraging of experimentation. Sacred Sex is a beautifully sincere and accessible guide to exploring erotic embodiment and sexual magic in a consensual, risk-aware, and (not least!) pleasure-affirming way."—Manon Hedenborg White, Senior Lecturer in Religious Studies and author of The Eloquent Blood: The Goddess Babalon and the Construction of Femininities in Western Esotericism

"Herstik crafts a velvety landscape that is highly evocative, yet reassuringly grounded. Approaching erotica with profound reverence, Herstik invites readers to reimagine their relationship with sex and sexuality, constructing their own devotional temples built on empowerment, self-actualization, and physical embodiment. Whether you're just beginning your spiritual quest or are a seasoned sensual mystic, Sacred Sex is an absolute must-read."—Aliza Kelly, celebrity astrologer, author of This is Your Destiny, and host of Stars Like Us
Get the latest updates about Gabriela Herstik
And go from well-read to best read with book recs, deals and more in your inbox every week.
And go from well-read to best read with book recs, deals and more in your inbox every week.
Dismiss
Thanks!
Something awesome is on its way.
Back to Top
Become a Member
Start earning points for buying books! Just for joining you'll get personalized recommendations on your dashboard daily and features only for members.
Find Out More
Join Now
Sign In
Success!
Your account has been created. Upload book purchases, access your personalized book recommendations, and more from here.