The Lighthouse Reader's Guide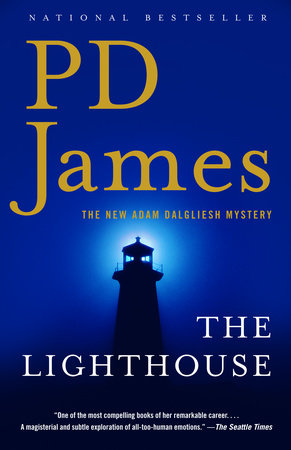 The Lighthouse Reader's Guide
READERS GUIDE
"One of the most compelling books of her remarkable career. . . . A magisterial and subtle exploration of all-too-human emotions."
—
The Seattle Times
The introduction, discussion questions, suggested reading list, and author biography that follow are intended to enhance your group's discussion of P. D. James's
The Lighthouse
, the latest contribution to the Adam Dalgliesh series by one of the world's great masters of crime fiction.
Introduction
Combe Island, off the southwestern edge of England, is a beautiful wind-worn place with a dark history of slave trading and piracy. In the present, it has become a highly secure getaway for world leaders and the very rich, and the Combe Island Trust sees to it that no one is disturbed during these restorative visits. But when a world-famous writer is found murdered, hanging from the lighthouse, Combe is the site of an urgent manhunt led by Commander Adam Dalgliesh and his team.
Nathan Oliver, the writer in question, is acknowledged to be a great fiction author—yet he is a terribly difficult and selfish person. Having been born on the island, he is permitted to return whenever he likes, much to the dismay of the small permanent community of islanders. There are several people who might have had motives for killing Oliver, yet before Dalgliesh, Detective Inspector Kate Miskin, and Sergeant Francis Benton-Smith can single out the murderer, someone else is found brutally beaten to death.
In addition to the terrifying sense of entrapment on an island where a murderer is at large, those present also have to deal with a biological killer: a German diplomat who has just arrived from Beijing is diagnosed with the deadly SARS virus, and Adam Dalgliesh is stricken with it as well. While Dalgliesh is under quarantine, Kate Miskin and Francis Benton-Smith must find the murderer without the aid of their brilliant boss. The tensions are high and the dangers are many in this gripping tale of crime and punishment in which the sins of the past are visited—unexpectedly—upon those in the present.
Questions and Topics for Discussion
1. Early on, we are given psychological profiles of three main characters who have figured in earlier James novels: Adam Dalgliesh, Kate Miskin, and Francis Benton-Smith. How are these three different in their family backgrounds, and how are they similar in temperament? What do they have in common? How are they each well adapted to the requirements of their profession?
2. Whom would you consider the main character in the story? Does the narrative style cause you to identify with a single main character, or does it give equal access to the minds of all characters? Is Dalgliesh more emotionally remote than Kate? Is Kate the person with whom the reader is most closely engaged? Among the islanders and visitors, which characters are most likable?
3. Kate's unexpected romantic liaison with Piers Tarrant is mentioned early in the novel; later she comes to recognize that her love for Adam Dalgliesh is hopeless. Dalgliesh's love for Emma and his inability to spend time with her cause him a great deal of anxiety throughout the story. The romance plot for James's main characters is always subordinate to a more urgent crime plot. What are the effects of these subplots on the reader?
4. Nathan Oliver is noted, in book 1, chapter 3, to have aged prematurely: "Something—was it confidence, arrogance, hope?—had seeped out of him. . . . What was wrong with the man? He was only sixty-eight, hardly more than late middle-aged by modern reckoning, but he looked over eighty" [p. 52]. Oliver is outraged at the loss of his blood sample [p. 50], and Emily Holcombe wonders whether he might be going mad [p. 35]. Why does James raise so many questions about Oliver's physical and psychological state before the reader learns that he is dead? What does his recurrent dream suggest [p. 82]? Does this dream, as well as Oliver's reaction to it, present a case for suicide?
5. In the opening chapters leading up to the first murder, James provides careful background histories for all of the characters on the island. Which characters seem to have the strongest motives for murdering Nathan Oliver? Are there any characters that can be ruled out immediately?
6. Oliver is drawn as a monster of selfishness who has been ruthless about using and discarding other people according to his own needs. He intends to disinherit Miranda and to fire Tremlett if they persist in their intention to marry, even though they intend to continue in his service as they have in the past. Tremlett tells Miranda, "He won't let us go. He won't let our happiness upset his whole life, the way he lives, how he works, what he's used to" [pp. 59–60]. Yet Oliver, who is so completely lacking in human empathy, is a great novelist. Tremlett says, "He's a conduit. Emotion flows through him. He can describe but he can't feel, not for other people" [p. 60]. Is it possible to simultaneously be a great artist and a monstrous human being? How can the two qualities coexist in one person?
7. The widower Rupert Maycroft seems overwhelmed by the responsibilities he faces as administrator of the Combe Island Trust once Nathan Oliver is found murdered. The doctor Guy Staveley also faces an enormous challenge in having to tend to two patients with SARS. Why are these men so timid in terms of their own abilities, and how do they perform under pressure? Is the crisis on the island ultimately good for both of them?
8. As the plot proceeds, are all the clues provided to make it possible to guess or deduce the killer? If so, at what point is it possible, and on what grounds?
9. P. D. James's love of English poetry and literature comes across in her frequent quoting of such writers as John Donne [p. 59], Virginia Woolf [p. 134], and others. How does this receptivity to poetic language make itself felt in her narrative style and descriptive language?
10. What social or personal crimes have resulted in destroying the lives of Daniel Padgett, Millie Tranter, and Adrian Boyde? How do these characters shed light on enduring problems in contemporary society?
11. In addition to the fearful aspects of her murder plot, James brings in another contemporary anxiety when Adam Dalgliesh contracts a life-threatening case of SARS from Dr. Speidel. Discuss how this detail, along with others, allows the story—a fiction set on a remote island—to remind us of the dangers of life in the real world.
12. In P. D. James's novels, the setting is usually of great importance in creating a mood as well as in providing plot details. What mood does the setting of Combe Island provide in The Lighthouse? Does the island provide, eventually, a healing and restorative function for various characters? For the three highly stressed detectives of the story, what are the positive and negative effects of their stay on Combe?
13. James seems to be interested in people who are so consumed by their work—and are indeed so good at their work—that their intimate relationships suffer accordingly. Which of the characters in the novel would you include in this category, and is there hope that this imbalance between love and work can be resolved for them?
14. What are the most admirable qualities of Kate Miskin, Francis Benton-Smith, and Adam Dalgliesh? Do Kate and Francis seem to have the skill, talent, and sensibility that have allowed Dalgliesh to rise to the top of his profession? Is Kate the real heroine of the story?
15. How does the ending reflect upon the romance between Adam Dalgliesh and Emma Lavenham? What steps might be taken in the next novel?
16. What temperamental qualities do Daniel Padgett and Nathan Oliver have in common? Do these qualities create a sort of family resemblance between the father and his unacknowledged son?
17. James has written, "The classical detective story is rather like the modern morality play. It can provide catharsis, a means by which both writer and reader exorcise irrational feelings of anxiety or guilt. The basic moral premise, the sanctity of life, is also an attraction as is the solution of the plot at the end of the book. The classical detective story affirms our belief that we live in a rational and generally benevolent universe." In what ways do you see James as a writer of "the classical detective story," and in what ways does she not fit this model? Is James a believer in "a generally benevolent universe," or is her vision of society a darker one?
About this Author
P. D. James is the author of nineteen books, most of which have been filmed and broadcast on television in the United States and other countries. She spent thirty years in various departments of the British Civil Service, including the Police and Criminal Law Departments of Great Britain's Home Office. She has served as a magistrate and as
a governor of the BBC. In 2000 she celebrated her eightieth birthday and published her autobiography,
Time to Be in Earnest
. The recipient of many prizes and honors, she was created Baroness James of Holland Park in 1991. She lives in London and Oxford.
Suggested Reading
Peter Ackroyd,
First Light
; Agatha Christie,
Ten Little Indians
; Wilkie Collins,
No Name
; Edmund Crispin,
Buried for Pleasure
; William Faulkner,
Absalom, Absalom!
; Graham Greene,
The Third Man
; Henning Mankell,
The Dogs of Riga
; Dorothy L. Sayers,
Whose Body?
; Gavin Weightman,
London's Thames
; A. N. Wilson,
London: A History
; Virginia Woolf,
To the Lighthouse
.
Back to Top