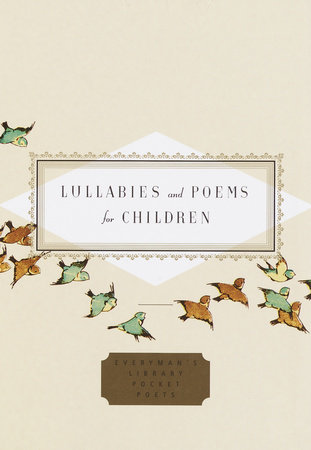 Lullabies and Poems for Children
Edited by
Diana Secker Larson
Edited by
Diana Secker Larson
Best Seller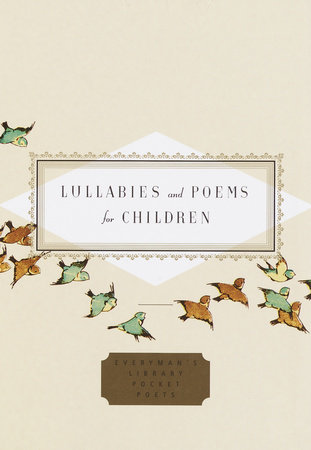 Apr 30, 2002
|
ISBN 9780375414190
Buy the Hardcover:
YOU MAY ALSO LIKE
QUICK VIEW
The Knot Outdoor Weddings
Hardcover
$40.00
QUICK VIEW
A Victorian Flower Dictionary
Hardcover
$25.00
QUICK VIEW
The Wager
Hardcover
$30.00
QUICK VIEW
Poverty, by America
Hardcover
$28.00
QUICK VIEW
Built to Move
Hardcover
$28.00
QUICK VIEW
Sweet Enough: A Dessert Cookbook
Hardcover
$35.00
QUICK VIEW
The Daily Dad
Hardcover
$30.00
QUICK VIEW
Life Worth Living
Hardcover
$29.00
QUICK VIEW
Love and Lemons Simple Feel Good Food
Hardcover
$35.00
QUICK VIEW
Excellent Advice for Living
Hardcover
$26.00
Table Of Contents
Foreword

LULLABIES

HUSH, LITTLE BABY
THOMAS DEKKER Golden Slumbers
WOLFGANG AMADEUS MOZART Sleep, Little One
ALFRED, LORD TENNYSON Cradle Song
CHRISTINA ROSSETTI Lullaby, Oh, Lullaby
CHRISTINA ROSSETTI Lie A-Bed
TRADITIONAL Oh Hush Thee, My Dove
TRADITIONAL Sleep, Baby, Sleep
TRADITIONAL IRISH Toora, Loora, Loora
TRADITIONAL GERMAN Sleep, Baby Sleep
TRADITIONAL SWEEDISH Slumber Time Is Drawing Near
TRADITIONAL SPANISH Rockaby Baby
TRADITIONAL MEXICAN Señora Santa Ana
TRADITIONAL Bye-O, Bye-O, Bye-O Baby
TRADITIONAL Hush, My Little Bird

WATCHING OVER ME
ANONYMOUS Lully, Lulla
GEORGE WITHER A Rocking Hymn
ISAAC WATTS Cradle Hymn
JOHANNES BRAHMS Brahms's Lullaby
SIR HAROLD BOULTON All Through the Night
ENGELBERT HUMPERDINCK When At Night I Go To Sleep
TRADITIONAL Matthew, Mark, Luke, and John
AMERICAN SPIRITUAL Angels Watching Over Me
AMERICAN SPIRITUAL Swing Low, Sweet Chariot
TRADITIONAL WEST INDIAN Kumbayah

THE VOYAGE OF SLEEP
EUGENE FIELD Wynken, Blynken, and Nod
ROBERT LOUIS STEVENSON My Bed Is a Boat
RUDYARD KIPLING TheWhite Seal's Lullaby
TRADITIONAL Baby's Bed's a Silver Moon
ROBERT LOUIS STEVENSON The Land of Nod

PROMISES
SIR WALTER SCOTT Lullaby of an Infant Chief
TRADITIONAL ENGLISH Rock-a-bye, Baby
TRADTIONAL AMERICAN (SOUTHERN) All the Pretty Little Horses
TRADITIONAL ENGLISH Cherries Are Ripe
TRADITIONAL RUSSIAN Baiouski Baiou
TRADITIONAL YIDDISH Raisins and Almonds
TRADITIONAL, YORUBA PEOPLE, AFRICA Yoruba Lullaby
TRADTIONAL GREEK O Sweetly Does My Baby Sleep
TRADITIONAL FRENCH Fais Dodo
TRADITIONAL Little Baby Sweetly Sleep
CHRISTINA ROSSETTI Your Brother Has a Falcon
EUGENE FIELD Armenian Lullaby
GEORGE GERSHWIN Summertime
CYNTHIA ZARIN Poem for a Birthday

NIGHT FALLS
WILLIAM BLAKE from Night
JANE TAYLOR Twinkle, Twinkle, Little Star
TRADITIONAL Day Is Done
DOROTHY WORDSWORTH The Cottager To Her Infant
SABINE BARING-GOULD Now the Day Is Over
TRADITIONAL Autumn Lullaby
TRADITIONAL The Evening Is Coming
TRADITIONAL MANX Little Red Bird
TRADITIONAL EL SALVADORAN Now Sleep Little Baby

SPELLS AND CHARMS
WILLIAM SHAKESPEARE The Fairies Sing Titania To Sleep
WILLIAM SHAKESPEARE Ariel's Song
JOHANNES BRAHMS The Sandman
TRADITIONAL ENGLISH Monday's Child
TRADITIONAL Bed Is Too Small
TRADITIONAL SOUTH AMERICAN Hush-a-Bye My Baby
ANNE HALLEY Against Dark's Harm

STORIES IN SONG
SARAH JOSEPHA HALE Mary's Lamb
ALFRED, LORD TENNYSON Minnie and Winnie
TRADITIONAL ENGLISH Little Boy Blue
TRADITIONAL Oh, Mother, How Pretty the Moon Is Tonight
TRADITIONAL I Gave My Love a Cherry
TRADITIONAL ENGLISH Lavender's Blue
TRADITIONAL ENGLISH Oranges and Lemons
TRADITIONAL Shady Grove,My Little Love
TRADITIONAL ENGLISH The Cambric Shirt
SCOTTISH FOLK SONG The Skye Boat Song
TRADITIONAL AMERICAN Oh, My Darling Clementine
TRADITIONAL AMERICAN The Big Rock Candy Mountains

IN MOTHER'S ARMS
ANN TAYLOR The Baby's Dance
HANS CHRISTIAN ANDERSEN Mother and Child
CHRISTINA ROSSETTI Crying, My Little One
TRADITIONAL Mother's Song
TRADITIONAL Mammy, Mammy Told Me-O
TRADITIONAL Way Up High In the Cherry Tree
TRADITIONAL IRISH I've Found My Bonny Babe a Nest
JOSEPH CAMPBELL The Gartan Mother's Lullaby
TRADITIONAL SCOTTISH Can Ye Sew Cushions?
TRADITIONAL WELSH Suo-Gân
TRADITIONAL RUSSIAN Bye You, Bye You
TRADITIONAL HOPI INDIAN Hopi Lullaby
TRADITIONAL, AKAN PEOPLE, AFRICA Akan Lullaby
LANGSTON HUGHES Lullaby (For a Black Mother)
MARY JO SALTER Lullaby for a Daughter

WHEN DADDY COMES HOME
ALFRED, LORD TENNYSON Sweet and Low
TRADITIONAL ENGLISH Bye, Baby Bunting
TRADITIONAL Hush, My Baby, Don't You Cry
TRADITIONAL AMERICAN (SOUTHERN) Hush, Little Baby, Don't Say a Word
TRADITIONAL Ally Bally
TRADITIONAL WELSH Welsh Lullaby
TRADITIONAL SCOTTISH Dance to Your Daddy
OGDEN NASH To Be Sung By the Father of Infant Female Children

WELCOME, STRANGER
THOM GUNN Baby Song
SYLVIA PLATH Morning Song
JUDITH WRIGHT Woman to Child
DONALD JUSTICE To a Ten Months' Child
ANTHONY THWAITE At Birth
AUDRE LORDE Now That I Am Forever With Child


POEMS FOR CHILDREN

NONSENSE
ANONYMOUS To Bed
ANONYMOUS Hey! Diddle, Diddle
ANONYMOUS Sing a Song of Sixpence
ANONYMOUS Comical Folk
ANONYMOUS The Crooked Song
ANONYMOUS The Man in the Wilderness
EDWARD LEAR Self-Portrait of Edward Lear
EDWARD LEAR The Table and the Chair
CHRISTINA ROSSETTI If a Pig Wore a Wig
CHRISTINA ROSSETTI Growing in the Vale
LEWIS CARROLL You Are Old, Father William
LEWIS CARROLL Jabberwocky
LEWIS CARROLL The Mock Turtle's Song
JAMES WHITCOMB RILEY Craqueodoom
LAURA E. RICHARDS Eletelephony
WALTER DE LA MARE Song of the Mad Prince
OGDEN NASH Ode to a Baby

SILLY STORIES
ANONYMOUS Good King Arthur
ANONYMOUS The Queen of Hearts
ANONYMOUS Wee Willie Winkie
ANONYMOUS Little Bo-Peep
OLIVER GOLDSMITH An Elegy on the Death of a Mad Dog
SARAH CATHERINE MARTIN The Comic Adventures of Old Mother Hubbard and Her Dog
EDWARD LEAR The Owl and the Pussy-Cat
WILLIAM MAKEPEACE THACKERAY A Tragic Story
GEORGE MacDONALD Where Did You Come From, Baby Dear?
CHRISTINA ROSSETI Mother Shake the Cherry-Tree
LEWIS CARROLL TheWalrus and the Carpenter
ROBERT LOUIS STEVENSON Bed in Summer
ROBERT LOUIS STEVENSON My Shadow
OGDEN NASH The Tale of Custard the Dragon

FANTASIES
ANONYMOUS I Saw a Ship A-Sailing
ANONYMOUS King Pippin's Hall
ANONYMOUS If
WILLIAM BLAKE Laughing Song
ALFRED, LORD TENNYSON The Splendour Falls on Castle Walls
EUGENE FIELD The Sugar-Plum Tree
ROBERT LOUIS STEVENSON Young Night Thought
ROBERT LOUIS STEVENSON The Land of Counterpane

ANIMALS
ANONYMOUS Bat, Bat
ANONYMOUS Bow-Wow, Says the Dog
ANONYMOUS The Quarrelsome Kittens
ANONYMOUS To Market
ANONYMOUS Dickery, Dickery, Dare
ANONYMOUS A Guinea-Pig Song
WILLIAM BLAKE Spring
WILLIAM BLAKE The Tyger
WILLIAM BLAKE The Lamb
SAMUEL TAYLOR COLERIDGE Answer to a Child's Question
LEWIS CARROLL How Doth the Little Crocodile
EMILY DICKINSON Bee! I'm Expecting You!
HILAIRE BELLOC The Frog
T. S. ELIOT The Naming of Cats
T. S. ELIOT The Song of the Jellicles
CYNTHIA ZARIN The Opossum's Dream

Acknowledgments
Index of First Lines
Be the first to know!
And go from well-read to best read with book recs, deals and more in your inbox every week.
And go from well-read to best read with book recs, deals and more in your inbox every week.
Dismiss
Thanks!
Something awesome is on its way.
Back to Top
Become a Member
Start earning points for buying books! Just for joining you'll get personalized recommendations on your dashboard daily and features only for members.
Find Out More
Join Now
Sign In
Success!
Your account has been created. Upload book purchases, access your personalized book recommendations, and more from here.