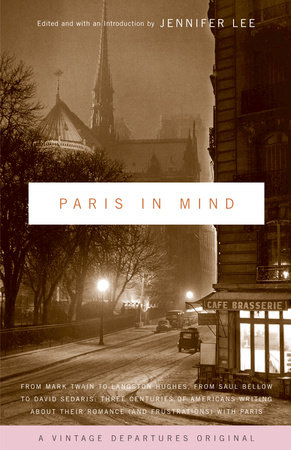 Paris In Mind
From Mark Twain to Langston Hughes, from Saul Bellow to David Sedaris: Three Centuries of Americans Writing About Their Romance (and Frustrations) with Paris
Edited by
Jennifer Lee
Edited by
Jennifer Lee
Best Seller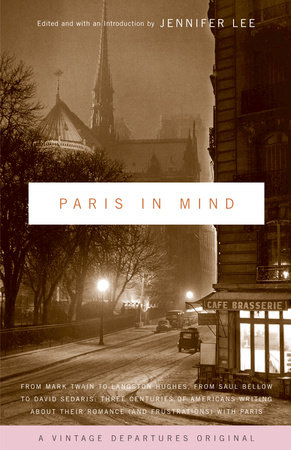 Jul 08, 2003
|
ISBN 9781400031023
Buy the Paperback:
Inspired by Your Browsing History
Buy other books like Paris In Mind
Table Of Contents
Introduction

Love
(How to Seduce and Be Seduced Like a Parisian)

E. B.White: "Liberation of Paris"
On the very first thing he did when he heard the news about the liberation of Paris from the Nazis: read the Paris entry in the Encyclopædia Britannica. The Britannica was never more moving.

Edith Wharton: from A Backward Glance
Wharton remembers "the bells of Paris calling to each other," and announcing the end of the First World War.

Art Buchwald: "April in Paris" from Art Buchwald's Paris
An interview with Vernon Duke, the composer of "April in Paris." Dorothy Parker, George Gershwin, and plenty of April showers make their appearance in the story of how the classic love song was born.

A. J. Liebling: "Passable" from Between Meals: An Appetite for Paris
Liebling poignantly recalls the working girl who befriended him and with whom he explored Paris while he was a distracted student of medieval history.

Maxine Rose Schur: "Passionate and Penniless in Paris"
Two very young, very love-struck Americans camp out in their VW van on the Quai de la Tournelle along an enchanted Seine.

Irwin Shaw: "Paris in Winter" from Paris! Paris!
Shaw disavows Paris by counting all that's wrong with the city in the wintertime, and still he can't help being seduced all over again once the sun comes out.

Saul Bellow: "My Paris" from It All Adds Up
A rumination on the Paris of his youth and the Paris of today—from art and anti-Semitism to how Paris lost its power as the center of European civilization and why he's still in love with the city.


Food
(How to Eat Like a Parisian)

Ernest Hemingway: "Hunger Was Good Discipline" from A Moveable Feast
In Paris, hunger—both physical and artistic—is keenly felt.

Patric Kuh: "Boulevard Des Italiens" from The Last Days of Haute Cuisine
The chef makes his way to the country of his American father by way of County Cork, Dublin, a Parisian brasserie on the Boulevard des Italiens, his American passport, and the declaration, "I am an American."

M. F. K. Fisher: from "The Measure of My Powers" from The Gastronomical Me
Newlyweds in Paris escape the expatriate crowd in the city and head for Dijon.

Naomi Barry: "Paris's Haute Chocolaterie"
Parisians not only have haute cuisine and haute couture, they have haute chocolaterie.

Grant Rosenberg: "A Day in the Life of a Parisian Café"
Where everybody knows your name, in French.


The Art of Living
(How to Live Like a Parisian)

David Sedaris: "The City of Light in the Dark" from Me Talk Pretty One Day
Sedaris moves to Paris, but spends most of his time in the dark, watching classic American movies.

Sylvia Beach: from Shakespeare and Company
Dreams of opening a French bookshop in New York are crushed, and voilà, an American bookshop in Paris is born.

Anaïs Nin: from The Early Diary of Anaïs Nin
The gravity of French Civilization, the "Legend of Paris," weighs on her own literary development, but in the end, she is sure that it can be good for her "if one survives them."

Stanley Karnow: "The Glass of Fashion" from Paris in the Fifties
The machines of haute couture—American department store buyers, an interview with Christian Dior, models, and the most fickle of consumers, the Parisienne.

Deborah Baldwin: "Paying the Way" from Paris Notes
Beauty doesn't come cheap, even for a grand old city like Paris. Baldwin shows how it's paid for.

Thomas Jefferson: from The Autobiography
Writing from Paris, Jefferson gives a firsthand account of the beginning of the French Revolution.

Gertrude Stein: from Paris France
Stein remembers the Paris she knew when she was four years old, and what Paris meant before it became the home that would free her to become a writer.


Tourism
(How You Can't Help Being an American in Paris)

Langston Hughes: "Montmartre" and "Le Grand Duc" from The Big Sea: An Autobiography
Hughes comes to Paris destitute, is rescued by an even poorer ballerina, and gets a job at Le Grand Duc, the place for after-hours Mississippi blues jam sessions.

Jennifer Allen: "Euro Disney: A Postcard"
An American visits the Happiest Place on Earth à la Paris, with her French mother.

Benjamin Franklin: from The Papers of Benjamin Franklin
In a series of letters from Paris, Franklin describes the fashions of the time, his warm acceptance by Paris society, and his thoughts on the American colony's war against England.

John Adams: from The Autobiography
Adams is at once delighted, envious, and distrustful of Parisian manners, and engages in a bit of private venting about his elderly colleague in Paris, calling Ben Franklin's active social life "a Scene of continual discipation. . . ."

Mark Twain: from The Innocents Abroad
Twain plays a wide-eyed country innocent in Paris. Twain is charming and hilarious in his descriptions of Paris and a new Parisian dance called the "cancan."

Dave Barry: "Parlez-Vous Français?" and "An Aesthetically Challenged American in Paris (Part II)" from Dave Barry Is Not Taking This Sitting Down
In a two-part series, Barry parodies the modern American abroad in Paris. He struggles with the infamous French "R," sees the sights, and in a bold move, takes a tax deduction.

T. S. Eliot: Letters from The Letters of T. S. Eliot
In a letter to his niece, Eliot describes the Luxembourg Gardens and Parisian children. In a letter to Robert McAlmon, Eliot advises the young American poet about Paris and literature.

Janet Flanner: "Tourist" from An American in Paris
A perfectly average American tourist takes up with a charming German in Paris and is murdered.

Bricktop (cowritten with James Haskins: "Cole Porter . . . and Josephine Baker" from Bricktop
The famed nightclub owner remembers her early days in Paris where she was befriended by Cole Porter and where she looked out for a young, naïve Josephine Baker.

James Baldwin: from No Name in the Street
To be black and American in Paris affords a freedom that being black and French or black and Algerian does not.
Back to Top