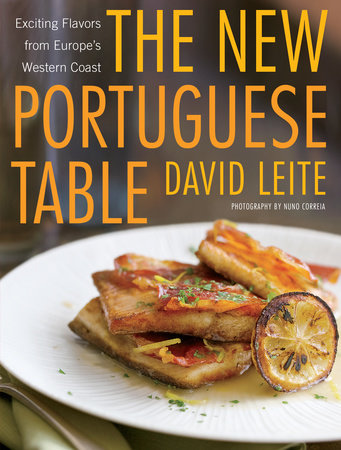 The New Portuguese Table
Exciting Flavors from Europe's Western Coast: A Cookbook
Exciting Flavors from Europe's Western Coast: A Cookbook
By David Leite

By
David Leite
By David Leite

By
David Leite
Best Seller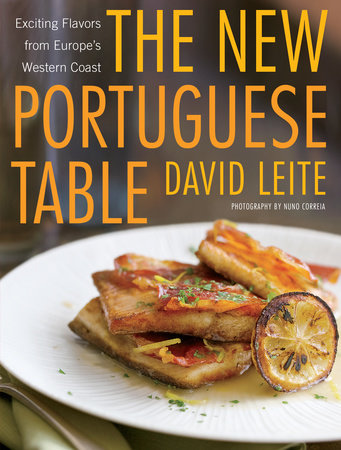 Aug 18, 2009
|
ISBN 9780307394415
Inspired by Your Browsing History
Buy other books like The New Portuguese Table
Praise
"A modern classic cookbook."
—BlackBook.com

"Three-time James Beard Award winner Leite has written a foodie love letter to a European nation. The culinary profile of the 13 historic provinces, along with a shopping guide to the Portuguese pantry, are great, but the real payoff is the 130-plus recipes that range from the veggie-rich caldo verde to such new classics as scrambled eggs with asparagus and fresh cod."
—Dana Dickey,
Bon Appétit

"Iberian gem. The New Portuguese Table by David Leite, a prolific food journalist who founded the website LeitesCulinaria.com, is the best book on the subject of Portuguese cooking in years. Leite, whose parents emigrated to the U.S. from Portugal, is captivated by the way cooks there have pointed their under appreciated cuisine in new directions. He dutifully catalogs Portugal's iconic wines and traditional foods–we learn how to make clams and chouriço in a copper cataplana–but we also get decidedly new-school preparations like cheese-stuffed pork tenderloins and Filet-o-Fish-inspired salt cod sandwiches. Trad or mod, this is some winning home cooking."
—
Saveur
"Beautifully illustrated, 
The New Portuguese Table
 is a smart, delicious and highly personal travelogue through both memory and terrain."
—Maricel E. Presilla, MiamiHerald.com
"In Leite's
The New Portuguese Table
, the author performs a multitude  of feats: first, he provides [a] culinary travel guide to the country of his ancestors…introduces, with great  specificity, a multitude of regional delicacies…and finally presents recipes  ranging from the most remarkably parsimonious…to the more extravagant and modern. Leite's book is a stunning passport to a food and a people virtually unknown to most Americans, even though they are only five hours away from our mainland."
—Elissa Altman, The Huffington Post
"This is the perfect cookbook for lovers of salt cod, and it just might be the perfect cookbook for those who dislike the mild, Atlantic fish. Leite, a three-time James Beard award winner and proprietor of the Web site LeitesCulinaria.com, offers a wealth of recipes for the brackish dried fish, including a traditional version of pastéis de bacalhau (salt cod fritters) and a newfangled mini salt cod sandwich that is the Portuguese equivalent of McDonald's Filet-O-Fish. By highlighting the eclectic ingredients and modern techniques that define the country today, Leite brings the often-overlooked foods of Portugal center stage. This fully illustrated book begins with an extensive glossary of Portuguese staples, plus a port primer and an introduction to Madeira, and ends with a chapter devoted to workhorse sundries such as fiery piri-piri paste and smoked paprika oil. Along the way home cooks are introduced to a delectable jumble of dishes that range from classic to contemporary. A comforting adaptation of the fabled stone soup is enlivened with spicy chouriço sausage; simple-yet-elegant duck breasts are sauced with white port and black olives; and a dip made with anchovies, green olives, cilantro, and whole milk is surprisingly harmonious. The desserts are comparatively docile–molasses cookies, baked custard tarts–but the recipe variation for fatias douradas (Portuguese sweet bread French toast) is truly over-the-top.
(Aug.)
"
—
Publishers Weekly
(Starred Review)
"If your finances don't permit a trip abroad this year, perhaps this cookbook will provide some comfort–though it might just reinforce your urge to hit the sunny beaches of the Algarve. Leite, a noted Portuguese American food writer and publisher of the James Beard Award-winning web site Leite's Culinaria (www.leitesculinaria.com), begins by outlining Portugal's diverse regional cuisines and then describes traditional ingredients. From there it is a straightforward listing of appetizers, soups, fish, meat, poultry, vegetable/egg/rice dishes, breads, sweets, liqueurs, and condiments, with approximately 150 recipes overall. Each recipe begins with a paragraph relating its background, which adds to the book's homey feel. The recipes, many inspired by Leite's memories of his grandmother's cooking, are designed for the home cook and generally don't require exotic ingredients, although a supplier for salt cod may be necessary. A list of sources is provided for the few hard-to-find items, and color photos add to the presentation. Full of delicious-sounding recipes, this title is sure to appeal to adventurous cooks wanting to try a new ethnic cuisine and will also be popular with Portuguese American communities."
—Susan Hurst, Miami Univ. Libs., Oxford, OH (
Library Review
)
"David Leite's
The New Portuguese Table
is in fact three superb books in one volume: a thrilling travelogue, a thorough guide to Portuguese regional dishes and ingredients, and a transporting kitchen companion. The recipes in it will not only spirit you to an exotic, alluring place, they'll change the way you cook. We'll wager that after making Potato Skin Curls with Herbs, you will never look at potato peelings the same way again!"
—Matt Lee and Ted Lee, authors of
The Lee Bros. Simple, Fresh, Southern
"David Leite takes you right to the heart of the good stuff, scrupulously (and appetizingly) exploring and explaining an egregiously overlooked and unappreciated range of flavors and ingredients. Portugal once ruled the known world, and the recipes in this book are–in many ways–the history of the world–on your plate."
—Anthony Bourdain
"This book begs the question why, in heaven's name, have we ignored Portugal for so long? David Leite's Portuguese dishes practically stand up and salute with flavor. And he is smart about the Portugal he portrays. The temptation is to look only to the past and the traditional, but David knows cuisines are restless, ever shifting beings. He gifts us with the land of his family as it was and as it is now. We'll be cooking from this book for a long time."
—Lynne Rosetto Kasper and Sally Swift, authors of
The Splendid Table's How to Eat Supper


"I am very impressed with
The New Portuguese Table.
It is a welcoming, wonderful, satisfying, and passionate cookbook, an enticing view of Portugal through the lens of its food. David Leite is a terrific writer and he has a lot to teach us about one of Europe's most extraordinary and diverse cuisines. Bravo!"
 —Paula Wolfert
"Long overlooked in our culinary literature, Portugal's rich, historic cuisine finally has a passionate and knowledgeable ambassador in David Leite. Keenly aware of what modern American cooks want these days, Leite has compiled an incomparable collection in which every recipe is as rewarding to eat as it is simple to make. Bravo David!"
 —Anya von Bremzen, author of
The New Spanish Table
Back to Top