This interview was done at New York Comic Con 2018.
We caught up with Sylvain Neuvel to discuss the
Themis Trilogy,
alien languages, and a bit of cosplay.
Keith Rice:  All right, so Only Human came out in May and it closes out the Themis Files trilogy.  How does it feel to be done?
Sylvain Neuvel
:  Weird.  It's very weird.  Finishing that book was an emotional moment.  There was  a lot of crying involved in the last chapters, just knowing that I might never see these characters again. And it's kind of stupid, because they were there, they will always be there.  They're in the books, they exist.  But it was strange, and also
Sleeping Giants
was my first novel, so I've spent my entire writing career in that universe.  Getting out of it is a scary thing, though it's also exciting.
KR:  Did you envision the story as trilogy when you started or did that come about – –
SN
:  Well, originally, I thought it might be more of an open series, but It's a rarer thing in publishing nowadays to have just a like a real open-ended series like, say,
James Bond.
KR:  Sure.
SN
:  And so, well, quickly I figured out it would be a trilogy and I kind of knew how I wanted it to end, so I went for it.
KR:  Given that do you plan to go back into the world of Themis Files at any point? Is that something you've thought about?
SN
:  I would love to someday.  There are other things I want to do.  I'm working on something now and so it's nice to take a break and just let the story do its thing.  I'm not there [on revisiting
Themis Files
].  But if people want it, if there's a demand for it, I'd love to come back to it someday.
KR:  How would you describe the Themis Files to readers that haven't had a chance to pick it up yet?
SN
:  It's a strange one to describe.  It's science fiction but it's also very grounded, it happens here, and the format is, I think, as important to the experience as the story itself.  It's told in the form of interviews, between a mysterious interviewer and the main characters of the book.  So, it's pretty much three books of nothing but dialogue. It's a very different reading experience than what most people would be used to.  In terms of story it's like everything I do, it is grounded in science fiction. Book one is a search for giant metal body parts buried underground by an unknown civilization thousands of years ago.  And it has a lot to do with first contact, but it's also an exploration of what it means to be human.  Human nature in general, or what makes you
you 
and not me, and identity, and other themes that are very human.  So, even though there is alien life involved, it's very much about us and not them.
KR:  Your take on aliens was one of the more fascinating aspects for me.  They aren't that different from us.
SN
:  No.
KR:  What led you to that?
SN
:  Well, there's advantages in making aliens closer to us, there's a reason why, you know, every alien on a TV show, you know has at least two arms and legs, because we can hire an actor to do it.  This particular case I wanted them to be among us.  So, they had to be hiding in plain sight, it's kind of difficult if you're a giant amoeba or big blob of goo.
KR:  And I know you're a linguist as well.  Do you have any plans to dive into a language for any of your books?
SN
:  Well,
Only Human
does have some alien language bits in there.
KR:  True, but I meant on a larger, or I guess more Tolkien-esque scale?
SN
:  Actually, I did write grammar and a lexicon.
KR:  Oh?
SN
:  Well, I know that I'm a freak and I couldn't just improvise those like ten lines [laughs].  So, I pretty much wrote the whole language just so I could put those two lines in the book.  Someday I'd like to share that lexicon and grammar with the world. For example, they could read the dedication at the end of the trilogy, which is in the language.
KR:  I know you're a big cosplay fan and we are at NYCC.
SN
:  Yeah.
KR:  What's your favorite or your best costume?  One that you've put together?
SN
:  That I made? I will say my Grandizer robot costume.  It was super fun.
KR:  I imagine the proportions were a bit tricky on that one.
SN
:  Yeah, I mean, I made a Vader costume that I spent about a year on, but with Vader you have a costuming group, you can go with references online, you can know which actual parts of what were used to make it.  It gets tons of references, so you know things basically down to the millimeter. With Grandizer you're looking at an anime made in the 70's.  If you look at the show, in one scene, you'll have say, seven spikes on his fist, and in another scene you'll have nine and in another there'll be three.  Because the guys drawing it, they're just going super-fast. Plus there were a lot of technical challenges.  He has a tiny head, so, I managed to get the proportions better.  I realized that with a head so little my costume shoulders are about at my chin level, and I see through the mouth of the robot so the head can be higher, and it makes it more proportional, plus I have to build it from scratch.  There's no references, no nothing. So, it was a lot molding, and sculpting, and fiberglass.  It was a lot of fun to make.
KR:  Sounds like it.
SN
:  Yeah.
KR: I'm going to put you on the spot just a little bit.  If you had to recommend three novels , three books, for fans of the Themis Files what would they be?
SN
:  Well if you're in it for the giant robots,
Mecha Samurai Empire
by Peter Teiryas just came out and it's actually pretty fantastic.  It's book two of a series, but it's more of a standalone novel. If you're in it for the science, because there's a lot of it in the
Themis Files
, I really like the
The Flicker Men
by Ted Kosmatka. It's based on a simple sci-fi premise, but I really wish I'd come up with it.  I was jealous of the idea.  It's a great, great book.  Similarly,
Quantum Night
by Robert Sawyer is another book with tons of science. Sawyer sort of researches everything.  He has a bibliography at the end if you want further reading on brainwaves and all sorts of interesting things.  
The Gone World
, by Tom Sweterlitsch, it's a great book. It's really a great book.  I was kind of wary at first because it involves time travel and it's not usually my favorite, but it's so well done, I think everyone should read it.
Check out Sylvain Neuvel's Only Human!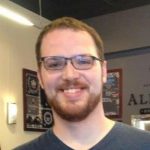 Keith Rice
is a West Virginia native and a freelance writer residing in Philadelphia with his lovely, if oft exasperated wife and three cats. Keith fosters an enthusiastic appreciation for beer and scotch, collects comics, and most importantly is an avid reader and movie lover. Oh, he's a pretty big fan of sci-fi and fantasy as well. Drop him a line @Keith_Rice1.