This interview was done at New York Comic Con 2018.
We caught up with Delilah Dawson for a quick chat about
Kill the Farm Boy
, fantasy tropes, Spam Musubi, and drinking with Kevin Hearne.
Keith Rice:
you have
Kill the Farm Boy
out now, and
No Country for Old Gnomes
is coming out next year?
Delilah Dawson
:  Yeah – –
KR:  So, what can you tell us about The Tales of Pell.
DD
:  
Tales of Pell
are like if
The Princess Bride
got in a car crash with
Discworld
.  It's all about flipping fantasy tropes in a loving way, playing with the tropes of
Dungeons and Dragons
and what happens when a group of heroes gets together. 
Kevin Hearne
and I came up with the idea at an airport barbecue restaurant in Houston.  He wanted to do an anthology and I was there for it, and then we realized that took a lot of math and author herding.  We're like, what if we just wrote the book together? Then you each only have to write half a book, which is a really good deal for us.  It's all about playing with fantasy tropes. There's a dark lord but his only magic is that he can make bread in various kinds of crusty goodness.  There is a fighter in a chainmail bikini because her real armor is on hold for layaway, which is why she needs the money. There is a bard who is also kind of a bunny rabbit, and the hero turns out to be a goat, because guess what happened to the farm boy?
KR:  What was it like writing something like Phasma, and then moving on to this kind of farcical fantasy?
DD
:  It was refreshing.
Phasma
, we call it the "Mad Max" of
Star Wars
.  It's kind of unrelenting, violent, soul-crushing, it is a sharp book.  And then you move into the
Tales of Pell
, which is all light-hearted, fun, jokey, a couple of fart jokes. So, it was very freeing, and in troubled times it was really nice to come home and get an email and it's this hilarious chapter from Kevin Hearne who is really funny.  And it's all about being lighthearted and loving, and the good guys win.  It was really nice. You know, you come back from a big fight and it's like that refreshing sip of ale.
KR:  After writing Phasma are there any other Star Wars characters you'd like a crack at? 
DD
:  The great thing about the current Del Rey
Star Wars
editing team is that they seem really great at matching authors to the characters, the stories that a given author would really be great at telling.  So, I feel like anything they ask me to do, it would be because they thought I would be the best person to write that particular story. I would be totally down for it.  Phasma is great.  Violent women are kind of my modus operandi.  And, you know, same with Bezine Netal in
The Perfect Weapon
.  The original pitch for that was female James Bond in space.  I was totally there for it. So, yeah, I would love anything that was offered me. You know, I really want to know what happens to Cardinal and to Phasma.  Although I know what happened to Phasma, but we don't know about "Episode 9." Cardinal and Bezine Netal are kind of my babies and I want to make sur that their okay.  And if they're not ok, I want to make sure that they go out with guns a-blazing.
KR:  How was the experience co-writing with Kevin Hearne?
DD
:  It's like going to the bar with your best friend and laughing your butt off.  Those stories, we did the outlining and story-breaking when we were at a Con together.  We would just go bar-hopping. 
No Country for Old Gnome
s, that was on Frenchman Street in New Orleans, we'd go into one bar, get a drink, listen to the music, look at the art on the walls and different things would make its way into the book.  And then for
The Princess Beard,
we were in Seattle and I had never had Spam Musubi, and I was like, "Kevin, we have to go get Spam Musubi."  We ended up with these two foot-tall hurricanes.  And we're like, "Oh, and it's a book that's got some piracy in it!" So, it was very fitting.  So, just a little bit of, "Oh, buddy, you know what would be fun, ooh, yeah that's a really good idea, let's do that." [Laughs]  We giggle a lot.
KR:  What was the inspiration for Kill the Farm Boy. 
DD: 
Kevin [Hearne] came up with it, it was his idea for an anthology and I said we should make it into just a book we write together.  I think the actual inspiration was just the trope of, kind of, every fantasy novel ever – a poor white boy from nowhere special suddenly discovers he's the chosen one with secret powers and is the scion of a generation. We were, like, "Oh, my God, stop."  Like, we love "Star Wars", but Luke was pretty whiny at the beginning. Let's accept it and he could've died at any moment. So, we were like, well what if we start off with a farm boy anointed as the chosen one and then he kicks it?  Who picks up and carries the torch of that quest?  How do the people come together to do the right thing?  It was all about lovingly playing with the
Dungeons and Dragons
sort of dungeon party trope, to tell a more current story that is feminist, that is LGBTQ inclusive, that is diverse, it's not all just a bunch of white awesome people.  We just really wanted to tell a more kind of fairytale fantasy.
KR:  You write Lady Castle and Sparrowhawk for Boom. 
DD
:  Yeah, pretty much anything that's a portmanteau or two words thrown together, I will write.
KR:  What's your process like writing comics versus writing fiction? 
DD
:  100% different.  When I write a book, I mean, granted, properties like
Star Wars
are very different – you work with committee of people, there are outlines involved – but writing a book for me at home is just, I do what I want, and then I turn it in, and an editor helps make it better. With comics, the idea in the pitch has to be something that would lend itself to a very visual story, and you have to describe the world-building.  You also have to think about length and pacing in a different way. A comic is usually 22 pages, and the ones I've written have been four or five-issue arcs, so each issue has to have its own small story that has an ending and then they all have to contribute to the overall arc.  It takes a little bit more advanced planning.  There's also this wonderful surprise of, you write your pages, you edit them, you get them right, and then one day art just falls in your lap and your like, "Oh my God, this is the thing that I dreamed up except better."  Because the artists are the heroes of comics.  They do all the heavy lifting.  All mad props to them.  They take our ideas and our words and just make them gorgeous.  You don't really get that with novels.  You get to see one cover that you might or might not like, but in comics you're usually involved in the art, and it shows up and it's like seeing your dreams made real.
KR:  Okay, so, if you could pick three books to recommend for fans of Kill the Farm Boy what would they be?
DD
:  Books for fans of
Kill the Farm Boy
?  Wow, hmmm, it's more like, "if you like this book, then you would like
Kill the Farm Boy
."
KR:  Let's go with that.
DD
:  So,
Good Omens, Discworld, The Princes Bride
. If you liked m
y Lady Castle
stuff, if you like
Monty Python
. All that sort of stuff would lead you into
Kill the Farm Boy
.  But, I haven't really read anything as kind of silly and playful as it in a long time.
Check out Delilah Dawson's Kill the Farm Boy!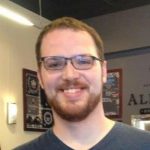 Keith Rice
is a West Virginia native and a freelance writer residing in Philadelphia with his lovely, if oft exasperated wife and three cats. Keith fosters an enthusiastic appreciation for beer and scotch, collects comics, and most importantly is an avid reader and movie lover. Oh, he's a pretty big fan of sci-fi and fantasy as well. Drop him a line @Keith_Rice1.