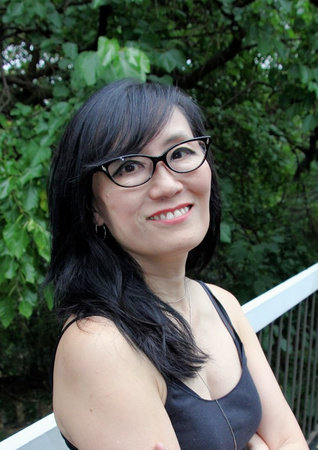 Photo: © Daniel Tisch
About the Author
Kerri Sakamoto was born in Toronto to a Japanese Canadian family. Her first novel, The Electrical Field, was a finalist for a slew of awards—the Governor General's Literary Award for Fiction, the Kiriyama Pacific Rim Book Prize and the IMPAC Dublin Literary Award—and won the Commonwealth Writers' Prize for Best First Book and the Canada–Japan Literary Award. The Toronto Star said "Kerri Sakamoto represents a major new force in the landscape of Canadian fiction."
 
Kerri's second novel, One Hundred Million Hearts, also earned widespread critical acclaim. After taking a sabbatical from writing to raise a family, she returns in 2018 with her third novel, Floating City. She has written scripts for independent films as well as writing extensively on visual art. Kerri has served as a judge of the Governor General's Literary Awards, a member of the Canadian jury at the Toronto International Film Festival, and a Distinguished Visitor at University College in the University of Toronto.

In The Electrical Field, Kerri wrote about the internment of Japanese Canadians during the Second World War from the point of view of her own generation. Her parents, aunts and uncles and grandparents were all forced out of their homes after the bombing of Pearl Harbor, when all Japanese Canadians on Canada's West Coast were, she says, "herded into the exhibition grounds in Vancouver where for several months they slept in horse stalls." Able-bodied men were then sent away to work, the others transported to live in camps of tarpaper shacks in the mountains. When the war ended with the bombing of Hiroshima and Nagasaki, Japanese Canadians were allowed to resettle only in designated areas of eastern Canada. Sakamoto's grandparents lost the homes and businesses they had worked so hard to acquire.

Kerri grew up in mostly white suburban Etobicoke of the 1960s and '70s; her parents avoided talking about the camps, or even about Japanese culture and history, even though racial taunts were a fact of life. She found out about the internment camps at the age of twenty, reading a magazine article. She read Joy Kogawa's Obasan and worked with Kogawa in the redress movement for two years, although her parents refused to attend the meetings. "It was the idea of being visible once again that was uncomfortable for them." She felt compelled to write about the internment and its residual effects.

She had studied English and French at the University of Toronto, published some short stories, but then wasn't sure how she would make a living. She worked in a range of jobs, often in libraries. Aged thirty, panicking about whether she would ever become a writer, she applied and was accepted to the creative writing program at New York University, where she studied with E.L. Doctorow and Peter Carey. She stayed in New York for six years, enjoying the talks and readings and films, and wrote about art for a gallery. By the time her work permit ran out, exciting things were happening in Canadian literature and she felt optimistic about returning to Canada; soon after her return, The Electrical Field, which she began writing while at NYU, was accepted for publication.

Kerri's second novel, One Hundred Million Hearts, examined the many Canadian- and American-born Japanese men who were in Japan at the start of the war and joined the military. Suffering racism in North America but aliens in Japan, they were not accepted anywhere. "It was absolutely conceivable that some of the kamikaze might have been American- or Canadian-born… I think if you're anxious to prove your authenticity and your allegiance, what more definitive way to do that?" She spent four months of 1999 in Japan doing research. Unable to speak the language, she experienced being a cultural outsider as she visited war museums, and tracked down memoirs and wartime propaganda. The novel, which took five years to complete, reflects her interest in memory and the splintering of history.
 
Kerri's third novel, Floating City, tells the story of a fiercely ambitious boy who overcomes humble beginnings and hardship in British Columbia to become a wealthy property developer in Toronto, but cannot escape the ghosts of his past. While the novel's early inspiration came from family history, its scope expanded dramatically when Kerri learned that visionary American architect Buckminster Fuller had once designed a futuristic development that included floating housing pods in Toronto harbour. Fuller appears in the book as the protagonist's mentor, giving rise to one of its many conflicts—altruism versus ambition, modernity versus tradition, and clashing ideas about belonging and inclusion.