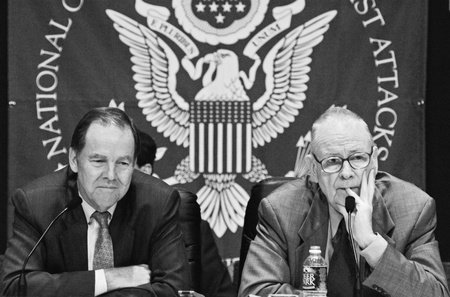 Photo: © David Coleman
About the Author
Lee H. Hamilton became Director of the Woodrow Wilson International Center for Scholars in January 1999. Previously, Mr. Hamilton served for thirty-four years as a United States Congressman from Indiana. During his tenure, he served as Chairman and Ranking Member of the House Committee on Foreign Affairs (now the Committee on International Relations) and chaired the Subcommittee on Europe and the Middle East from the early 1970s until 1993. He was Chairman of the Permanent Select Committee on Intelligence and the Select Committee to Investigate Covert Arms Transactions with Iran.

Also a leading figure on economic policy and congressional organization, he served as Chair of the Joint Economic Committee as well as the Joint Committee on the Organization of Congress, and was a member of the House Standards of Official Conduct Committee. In his home state of Indiana, Mr. Hamilton worked hard to improve education, job training, and infrastructure. Currently, Mr. Hamilton serves as Director of the Center on Congress at Indiana University, which seeks to educate citizens on the importance of Congress and on how Congress operates within our government.

Mr. Hamilton remains an important and active voice on matters of international relations and American national security. He served as a Commissioner on the United States Commission on National Security in the 21st Century (better known as the Hart-Rudman Commission), was Co-Chair with former Senator Howard Baker of the Baker-Hamilton Commission to Investigate Certain Security Issues at Los Alamos, and was Vice-Chairman of the National Commission on Terrorist Attacks Upon the United States (the 9/11 Commission), which issued its report in July 2004. He is currently a member of the President's Foreign Intelligence Advisory Board and the President's Homeland Security Advisory Council, as well as the Director of the Federal Bureau of Investigation's Advisory Board.

Born in Daytona Beach, Florida, Mr. Hamilton relocated with his family to Tennessee and then to Evansville, Indiana. Mr. Hamilton is a graduate of DePauw University and the Indiana University School of Law, and studied for a year at Goethe University in Germany. Before his election to Congress, he practiced law in Chicago and in Columbus, Indiana. A former high school and college basketball star, he has been inducted into the Indiana Basketball Hall of Fame.

Mr. Hamilton's distinguished service in government has been honored through numerous awards in public service and human rights as well as honorary degrees. He is the author of A Creative Tension—The Foreign Policy Roles of the President and Congress (2002) and How Congress Works and Why You Should Care (2004), and the coauthor of Without Precedent: The Inside Story of the 9/11 Commission (2006).


Lee and his wife, the former Nancy Ann Nelson, have three children—Tracy Lynn Souza, Deborah Hamilton Kremer, and Douglas Nelson Hamilton—and five grandchildren: Christina, Maria, McLouis and Patricia Souza and Lina Ying Kremer.