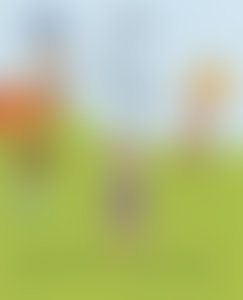 R D
About the Author
Rebecca Doughty paints, illustrates and writes books for children.
She wrote and illustrated Lost and Found (2005) and You Are To Me (2004) and has also illustrated numerous books including 31 Uses for a Mom, 39 Uses for a Friend
, and Toes Have Wiggles, Kids Have Giggles, all published by G.P.Putnam's Sons.
Her quirky style is distinctive for its deceptively simple line drawings and its subtle, mischievous humor. Accompanied by playful and lyrical verse, her books speak to audiences of all ages.
Rebecca 's drawings and paintings have been exhibited in museums and galleries nationally for twenty years. She has received numerous awards and grants, most recently a "Best Show" award from the International Association of Art Critics, Boston, and a fellowship at the Ballinglen Arts Foundation, County Mayo, Ireland.
She lives near Boston, Massachusetts.
Praise for Rebecca Doughty's books…
"…sunny, unexpected metaphors avoid the cliches….an ego-boosting bagatelle for children, and also fun for grown-ups who may hear echoes of Cole Porter's "You're the Top." —Booklist on You Are to Me
"A charming exploration of the joys of sharing."— School Library Journal on You Are to Me
"..The waggish pictures illustrate [the text] with verve and humor."— Kirkus Reviews on 31 Uses for a Mom
"Doughty's scribbly black-line drawings exude a playful, childlike charm."— Publisher's Weekly on 31 Uses for a Mom
"Clever touches abound."— Booklist on Toes Have Wiggles, Kids Have Giggles