Mary Oliver, beloved poet and bard of the natural world, died on January 17 at home in Hobe Sound, Florida.  She was 83.
Oliver published her first book, No Voyage, in London in 1963, at the age of twenty-eight. The author of more than 20 collections, she was cherished by readers, and was the recipient of numerous awards, including the 1984 Pulitzer Prize for American Primitive, and the 1992 National Book Award for New and Selected Poems, Volume One. She led workshops and held residencies at various colleges and universities, including Bennington College, where she held the Catharine Osgood Foster Chair for Distinguished Teaching until 2001. It was her work as an educator that encouraged her to write the guide to verse, A Poetry Handbook (1994), and she went on to publish many works of prose, including the New York Times bestselling essay collection, Upstream (2016). For her final work, Oliver created a personal lifetime collection, selecting poems from throughout her more than fifty-year career. Devotions was published by Penguin Press in 2017.
Her poetry developed in close communion with the landscapes she knew best, the rivers and creeks of her native Ohio, and, after 1964, the ponds, beech forests, and coastline of her chosen hometown, Provincetown. She spent her final years in Florida, a relocation that brought with it the appearance of mangroves. "I could not be a poet without the natural world," she wrote. "Someone else could. But not me. For me the door to the woods is the door to the temple." In the words of the late Lucille Clifton, "She uses the natural world to illuminate the whole world."
In her attention to the smallest of creatures, and the most fleeting of moments, Oliver's work reveals the human experience at its most expansive and eternal. She lived poetry as a faith and her singular, clear-eyed understanding of verse's vitality of purpose began in childhood, and continued all her life. "For poems are not words, after all, but fires for the cold, ropes let down to the lost, something as necessary as bread in the pockets of the hungry."
When Death Comes
When death comes
like the hungry bear in autumn;
when death comes and takes all the bright coins from his purse
to buy me, and snaps the purse shut;
when death comes
like the measle-pox;
when death comes
like an iceberg between the shoulder blades,
I want to step through the door full of curiosity, wondering:
what is it going to be like, that cottage of darkness?
And therefore I look upon everything
as a brotherhood and a sisterhood,
and I look upon time as no more than an idea,
and I consider eternity as another possibility,
and I think of each life as a flower, as common
as a field daisy, and as singular,
and each name a comfortable music in the mouth,
tending, as all music does, toward silence,
and each body a lion of courage, and something
precious to the earth.
When it's over, I want to say: all my life
I was a bride married to amazement.
I was the bridegroom, taking the world into my arms.
When it's over, I don't want to wonder
if I have made of my life something particular, and real.
I don't want to find myself sighing and frightened,
or full of argument.
I don't want to end up simply having visited this world.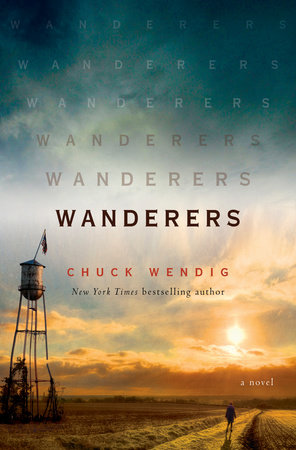 This interview was done at New York Comic Con 2018.
We caught up with Chuck Wendig, author of the Star Wars Aftermath Trilogy, to chat about Star Wars, Cantina Bartenders, and, of course, sandwiches.
Keith Rice: Can you share what you are working on now with us?
Chuck Wendig: Sure, sure. I have a stand-alone in 2019, in July, with Del Rey – who published me for Star Wars. I guess we can call it a sci-fi/horror epic kind of thing. Think of it as a little bit of Stephen King, a little bit of Station Eleven, a little bit of The Stand, with a vein of Michael Crichton throughout.
KR: You're speaking my language.
CW: Good, good! It's epic. It's a big book. I think in manuscript form, it's almost 1200 pages. It's called Wanderers, and I am very excited about that. Then this weekend [October 6th, 2018], I have the premiere of "You Might Be the Killer" on Syfy which I wrote with Sam Sykes. We randomly tweeted back and forth this slasher/serial killer story, we improved it and it got optioned for film. So, the lead characters are Sam and Chuck and Chuck is being played by Alyson Hannigan – of all the things in the world.  That's happening, just proving that 2018 is truly the dumbest timeline.
KR: You wrapped up the Aftermath Trilogy last year, how would you describe the series for readers who haven't picked up it yet?
CW: Aftermath is a new trilogy set between the end of Return of the Jedi and the beginning of The Force Awakens. It takes us up to and includes the Battle of Jakku. And it's about that sort of slow collapse of the Empire and the rise of the new Republic. And it sort of has a vibe in there that speaks to the Nazi hunters after World War II who tracked down all the Nazi war criminals across world. There is a group that takes on the task of finding some of the fallen Imperials and they get caught up in all of the dynamics with the new Republic and falling Empire.
KR: What was it like taking on such a pivotal time in the Star Wars universe?
CW: Awesome. It was amazing. It was great. I really don't know what to say beyond that.  Like I have no complaints other than the surprise that they let me do it.
KR: What was the process like coming into something as well-established as Star Wars?
CW: It wasn't just that Star Wars is so well-established because in some ways it wasn't, and that sounds strange given what we know about Star Wars. But Star Wars, after it was picked up by Disney, was a cleaner slate than it was five years previously. So, that actually allowed me more freedom in many ways than if we had been constrained by 100, 200, 500 books and other properties. The TV shows, films, and one or two books were able to kind of inform what we did. But of course the other trick was because we were building into The Force Awakens, there were issues there with secrecy about what they could tell and what they couldn't tell. For instance, we had the character of Temmin Wexley in Aftermath who eventually becomes Snap Wexley – Snap being a nickname – in The Force Awakens.  It was sort of like playing chess with someone that you can't see. So, you're always trying to figure out what you're allowed to do and what you're not allowed to do, so it's kind of a neat process of discovery.
KR: What made you want to take on the Cantina Bartender for A Certain Point of View?
CW: I was always fascinated because we didn't really get a good sense of why droids were a problem until the "Clone Wars" – you know the films and the "Clone Wars" show. This guy seem to hate them; he was very mad at droids. So, I thought this is a good opportunity to connect those two eras, but obviously there is some grave distrust with droids that has been sewn across the galaxy and this guy is real salty about it.
KR: So you've been crazy busy since the debut of your first novel. Between novels, comics, your blog, sandwich making …
CW: Yeah, sandwich making, that's really taking over [laughs].
KR: How do you balance everything?
CW: I am fortunate in that this is my full time job, so all of my time is there to devote. I mean, outside of like my son and my wife and whisk(e)y, and also sandwiches. I have a lot of time to devote to doing this stuff. Mostly it's just trying to strategize going forward, having a long plan forward and a long tail behind that sort of keeps me going.
KR: So mostly it's just …
CW: Having time to strategize, going forward, and having a long plan forward and a long tail behind me and that sort of keeps me going.
KR: Okay, so I have ask how did the Wendigo come about?
CW: There was an article in the New York Times that I think was just like "bleh."  You know the New York Times will do things like "Wow, let's make guacamole out of peas," and everyone's like "bleh." And I'm on board with the "bleh," but I also feel like you should keep an open mind about things. They were like "a new, cool sandwich is this old sandwich with peanut butter and pickles."  I mean, my grandmother used to eat this sandwich. And then I was like "that sounds sort of disgusting." But, then I thought, "well, maybe it's not, though."  When you think about Thai food it has that sort of sourness and then the peanut sauce. Eh, yeah, I thought it could kind of work. So, I try it and it was delicious. Then I was discussing it with other people, and they were asking "what if mayo was involved" because mayo is food lube. Really its only function is helping food slide down your gullet.  Peanut butter can be a little forbidding, so I added the mayo.  Then I was like, "well, this does need bacon because why not." It really becomes almost like a Thai sandwich. You got all these taste factors going into it. Really, you know, that's where it was. I put it out there and people were like "you're disgusting" and I'm like "well, try it" and they're like "well, that's disgustingly delicious!" Yep.
Check out Chuck Wendig's Wanderers, out in July 2019!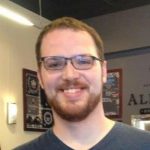 Keith Rice is a West Virginia native and a freelance writer residing in Philadelphia with his lovely, if oft exasperated wife and three cats. Keith fosters an enthusiastic appreciation for beer and scotch, collects comics, and most importantly is an avid reader and movie lover. Oh, he's a pretty big fan of sci-fi and fantasy as well. Drop him a line @Keith_Rice1.
I frequently say that the most predictable part of my writing process is how unpredictable it is. As a writer, I'm a "pantser" — someone who drafts without plotting a great deal. Instead of utilizing an outline as I write, I favor following where the story takes me with a general idea of the book's conclusion. The journey is different for each book I write, and I frequently find surprises along the way. However, as unpredictable as penning the first draft of my novel is, my revision process never varies, and that reliable system is a source of great comfort as I hone my novel.
Once I've finished the first draft of my manuscript, I implement my tried and true system. I always start with a revision pass on my computer. Since I often take months to write the initial draft, I read through the entire manuscript with the aim of getting a holistic view of the book. I'll frequently discover that something I wrote when I started the book needs to be tweaked to fall in line with where the story took me later on. This revision pass helps me gain a better sense of how the overall story is working and whether any plot holes exist or character development is needed. I'm also fixing obvious flaws that jump out at me.
After I've reacquainted myself with the book and tweaked the plot and characters as necessary, I print out a hard copy and pull out my red pen. For me, this is where the magic happens. There's something about editing your work in print that really helps you polish your writing. I spend a lot of time at this stage working on sentence structure, word choice, and adding layers and depth to the story.
When I've finished this second pass, I email the updated manuscript to my e-reader. I've found that I am much more likely to catch typos, mistakes, and awkward phrasing when I change the medium with which I view my book. If I'm used to looking at it a certain way, it's easy to skip over things, but with variety, it feels fresh each time I revise. At this level, I'm mainly doing the never-ending typo search as well as cleaning up any awkward phrasing. I'll also look for any formatting issues that jump out at me that make the manuscript less readable in a digital format, like unwieldy paragraphs.
Following these three revision passes, I usually take a step back and decide if I'm happy with the book, or if it needs more tweaking. The digital pass really informs that decision, because it's the draft when I truly read the book as a reader would. If there are still things that are pulling me out of the story, or something isn't working for me, I'll restart the revision process and go through each step again. Some books only need three revision passes before I'm comfortable sending them to my editor (and then we start the editorial process); others need nine or more revision passes. The goal is to reach the point where I'm not making significant changes at the e-reader stage.
Because I often start writing a book with a skeleton of an idea and I love the freedom of being able to explore the direction in which my characters and plot take me, the structure of my revision process really works as a safety net. Whenever I feel stuck in the drafting process or realize something isn't working in the book, I push through with the knowledge that the revision process will provide an opportunity to make the book shine. Whether you're a plotter or a pantser like me, I recommend taking the time to revise your work across different mediums. It offers a fresh perspective — and you'll be surprised what you find!
Check out Chanel's books here:
Who better to give book recommendations than the bookish experts? Penguin Random House employees are sharing their favorite reads every month. Browse below!
Raleigh is a Sales Coordinator for the Online and Digital Sales team. He likes when a book can surprise him, frighten him, or change how he thinks.
Check out the books he's excited for that will be published in early 2019:
To kick off the season of giving while also celebrating National Family Literacy Month in November, zulily, the online retailer obsessed with bringing special finds to its customers every day, is teaming up with Penguin Random House to help provide books to children in need across the U.S. 
Zulily is leading its third annual holiday giving campaign, launched November 1 and planned through December 12, 2018. Special sales events during the campaign will feature a curated selection of children's books and each Penguin Random House book purchased labeled with the "BUY 1, GIVE 1" badge will trigger a new children's book donation, up to 100,000 books, from Penguin Random House to First Book, a nonprofit social enterprise that provides new books and other essentials to children in need nationwide.
Visit here for full campaign details.
Who better to give book recommendations than the bookish experts? Penguin Random House employees are sharing their favorite reads every month. Browse below!
Leigh Marchant is SVP, Director of Marketing and Business Development at Random House.
Amazon.com announced its selections for the Best Books of 2018, naming Tara Westover's Educated (Random House) the #1 pick for best book of 2018 and Kekla Magoon's The Season of Styx Malone (Wendy Lamb Books) the editor's pick for best book in the children's category. 
Amazon's annual list features the Top 100 books of the year plus Top 20 lists across various categories ranging from biography, literary fiction, and mystery to children's and young adult. All lists are hand-selected by Amazon's team of editors—first by choosing the best books of every month and then, finally, the best books of the year. To see the full lists of Amazon's Best Books of 2018, click here.
The Amazon Editorial Team's Top 10 Picks of 2018 list also includes  Esi Edugyan's Washington Black (Knopf), Francisco Cantú's The Line Becomes a River (Riverhead), and Tommy Orange's There There (Knopf).
See the winners below:
This interview was done at New York Comic Con 2018.
We caught up with Sylvain Neuvel to discuss the Themis Trilogy, alien languages, and a bit of cosplay.
Keith Rice:  All right, so Only Human came out in May and it closes out the Themis Files trilogy.  How does it feel to be done?
Sylvain Neuvel:  Weird.  It's very weird.  Finishing that book was an emotional moment.  There was  a lot of crying involved in the last chapters, just knowing that I might never see these characters again. And it's kind of stupid, because they were there, they will always be there.  They're in the books, they exist.  But it was strange, and also Sleeping Giants was my first novel, so I've spent my entire writing career in that universe.  Getting out of it is a scary thing, though it's also exciting.
KR:  Did you envision the story as trilogy when you started or did that come about – –
SN:  Well, originally, I thought it might be more of an open series, but It's a rarer thing in publishing nowadays to have just a like a real open-ended series like, say, James Bond.
KR:  Sure.
SN:  And so, well, quickly I figured out it would be a trilogy and I kind of knew how I wanted it to end, so I went for it.
KR:  Given that do you plan to go back into the world of Themis Files at any point? Is that something you've thought about?
SN:  I would love to someday.  There are other things I want to do.  I'm working on something now and so it's nice to take a break and just let the story do its thing.  I'm not there [on revisiting Themis Files].  But if people want it, if there's a demand for it, I'd love to come back to it someday.
KR:  How would you describe the Themis Files to readers that haven't had a chance to pick it up yet?
SN:  It's a strange one to describe.  It's science fiction but it's also very grounded, it happens here, and the format is, I think, as important to the experience as the story itself.  It's told in the form of interviews, between a mysterious interviewer and the main characters of the book.  So, it's pretty much three books of nothing but dialogue. It's a very different reading experience than what most people would be used to.  In terms of story it's like everything I do, it is grounded in science fiction. Book one is a search for giant metal body parts buried underground by an unknown civilization thousands of years ago.  And it has a lot to do with first contact, but it's also an exploration of what it means to be human.  Human nature in general, or what makes you you and not me, and identity, and other themes that are very human.  So, even though there is alien life involved, it's very much about us and not them.
KR:  Your take on aliens was one of the more fascinating aspects for me.  They aren't that different from us.
SN:  No.
KR:  What led you to that?
SN:  Well, there's advantages in making aliens closer to us, there's a reason why, you know, every alien on a TV show, you know has at least two arms and legs, because we can hire an actor to do it.  This particular case I wanted them to be among us.  So, they had to be hiding in plain sight, it's kind of difficult if you're a giant amoeba or big blob of goo.
KR:  And I know you're a linguist as well.  Do you have any plans to dive into a language for any of your books?
SN:  Well, Only Human does have some alien language bits in there.
KR:  True, but I meant on a larger, or I guess more Tolkien-esque scale?
SN:  Actually, I did write grammar and a lexicon.
KR:  Oh?
SN:  Well, I know that I'm a freak and I couldn't just improvise those like ten lines [laughs].  So, I pretty much wrote the whole language just so I could put those two lines in the book.  Someday I'd like to share that lexicon and grammar with the world. For example, they could read the dedication at the end of the trilogy, which is in the language.
KR:  I know you're a big cosplay fan and we are at NYCC.
SN:  Yeah.
KR:  What's your favorite or your best costume?  One that you've put together?
SN:  That I made? I will say my Grandizer robot costume.  It was super fun.
KR:  I imagine the proportions were a bit tricky on that one.
SN:  Yeah, I mean, I made a Vader costume that I spent about a year on, but with Vader you have a costuming group, you can go with references online, you can know which actual parts of what were used to make it.  It gets tons of references, so you know things basically down to the millimeter. With Grandizer you're looking at an anime made in the 70's.  If you look at the show, in one scene, you'll have say, seven spikes on his fist, and in another scene you'll have nine and in another there'll be three.  Because the guys drawing it, they're just going super-fast. Plus there were a lot of technical challenges.  He has a tiny head, so, I managed to get the proportions better.  I realized that with a head so little my costume shoulders are about at my chin level, and I see through the mouth of the robot so the head can be higher, and it makes it more proportional, plus I have to build it from scratch.  There's no references, no nothing. So, it was a lot molding, and sculpting, and fiberglass.  It was a lot of fun to make.
KR:  Sounds like it.
SN:  Yeah.
KR: I'm going to put you on the spot just a little bit.  If you had to recommend three novels , three books, for fans of the Themis Files what would they be?
SN:  Well if you're in it for the giant robots, Mecha Samurai Empire by Peter Teiryas just came out and it's actually pretty fantastic.  It's book two of a series, but it's more of a standalone novel. If you're in it for the science, because there's a lot of it in the Themis Files, I really like the The Flicker Men by Ted Kosmatka. It's based on a simple sci-fi premise, but I really wish I'd come up with it.  I was jealous of the idea.  It's a great, great book.  Similarly, Quantum Night by Robert Sawyer is another book with tons of science. Sawyer sort of researches everything.  He has a bibliography at the end if you want further reading on brainwaves and all sorts of interesting things.   The Gone World, by Tom Sweterlitsch, it's a great book. It's really a great book.  I was kind of wary at first because it involves time travel and it's not usually my favorite, but it's so well done, I think everyone should read it.
Check out Sylvain Neuvel's Only Human!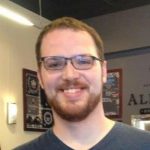 Keith Rice is a West Virginia native and a freelance writer residing in Philadelphia with his lovely, if oft exasperated wife and three cats. Keith fosters an enthusiastic appreciation for beer and scotch, collects comics, and most importantly is an avid reader and movie lover. Oh, he's a pretty big fan of sci-fi and fantasy as well. Drop him a line @Keith_Rice1.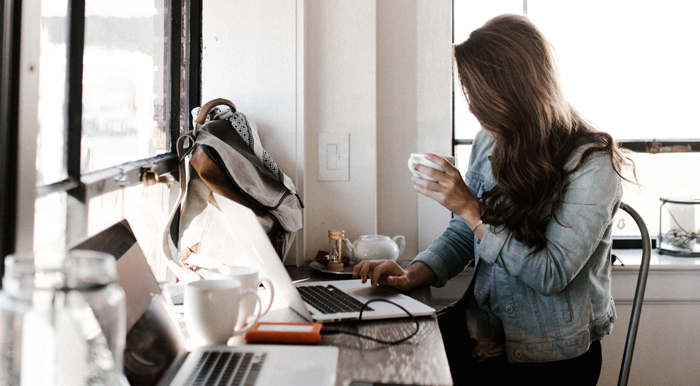 This article was written by Lorraine Berry and originally appeared on Signature Reads.
As writers, we can be our own worst enemies. We may have dozens of reasons why we are not writing.  Sometimes, these barriers may feel insurmountable, but James Clear argues in Atomic Habits that those barriers can be breached through a series of one percent changes to our habits. "The most practical way to change who you are is to change what you do," he says, and he offers a series of small steps to developing a writing habit.
Clear provides methods that help pinpoint those habits that are ineffective, and a large variety of tactics to create effective habits that will change what we do. His book contains clear instructions on how to develop writing as a habit, one that will feel as automatic as brushing your teeth or that first cup of coffee in the morning.
Here are five effective habits.
Habit #1: In order to encourage inspiration to strike, set up a time to meet with it.
James Clear cites a British study that showed that those who write down specific times when they will practice their new habit have the highest success rate. For writers, creating such an "implementation intention" would involve writing down a sentence that looks like this: "I will write for (period of time) at (time of day) at (location)." So, for example, "I will write for 30 minutes at 3 p.m. at the kitchen table." By sitting down each day at 3, you accustom your brain to this new habit. Once your brain can count on you to keep your new habit, you may find that new ideas and inspiration are waiting for you.
Habit #2: If writing is important to you, create an environment that encourages you to write.
Our environment can create barriers to practicing our new habits. If your habit is to sit on the sofa to watch TV, and you had intended to write while sitting on the sofa, then the TV may prove to be too big a temptation. Instead, choose a place to write that isn't associated with another habit. If you live in a tiny space with few options, then designate a specific place to write. It doesn't have to be a different room. In a studio apartment, you may decide to use a different chair or to set up a small writing corner. You will attach writing to that particular place, so if you're in that space, your brain will expect you to write. Environmental clues can be used to help reinforce your new habit.
Habit #3: Create temptations that reward you for your new habit of writing.
Habits are developed because our brain has a dopamine-driven feedback loop. It is the anticipation of the reward that causes the release of dopamine that makes us feel good. In fact, anticipation releases more dopamine than actually doing the thing we craved or wanted. You can use a habit you already have (getting up early, taking the dogs for a walk, drinking coffee in the morning) to attach the habit you are trying to develop to a reward that your brain anticipates. In this way, the habit you are developing is sandwiched between a daily habit you do anyway, and is followed by something you want. Clear provides readers with methods for identifying both the already established habits and also the things that individuals consider to be rewards. His system might look something like this:
After (current habit), I will (habit I need to develop).
After (habit I need to develop), I will (habit I want).
So, if you walk your dog every day after breakfast, and you need to write, but you also want to spend time on social media, you could do this:
After I walk the dog, I will write for 30 minutes.
After I write for 30 minutes, I will go on social media.
If going on social media has kept you from writing, this creates a system where social media is the reward you use to encourage yourself to write.
Habit #4: Make it easy to practice the habit of writing.
Wasting time is easy: we carry distractions in our pocket or give it pride of place in our living rooms. If we want to develop the practice of writing, we have to remove barriers to our practice. One way is to prime your environment with cues to your habit. So, if your intention is to write in the morning at the kitchen table, before you go to bed at night, lay out your writing implements —laptop or pen and paper. I take it further by making writing easier all the time: I carry a small notebook in my purse, have one in my car's glove box, and leave several throughout my house. This way, it's as easy to write as it is to pick up the phone.
Habit #5: Start with the Two-Minute Rule for new habits and continue from there.
Maybe you're afraid that you'll fail in some way because your committed writing time is too long. Clear suggests creating a ritual and following the Two Minute Rule as a way to prime yourself for your new habit. If your goal is to write at night, you can help to cement the habit into your head by attaching it to a ritual of your choosing, whether that's a cup of herbal tea or changing into comfy clothes.  Each evening, as you engage in the ritual, your brain will anticipate that you are about to sit down and write. Your ritual primes your habit. Next, write for two minutes. If you feel done, stop. Clear argues that two minutes is usually enough to get past any initial resistance.
Clear has filled Atomic Habits with hints like these that enable us to change the habits we dislike and replace them with habits that show who we are. In order to be a writer, you must develop the habit of writing, even if it's one word at a time. As Margaret Atwood reminds us, "A word after a word after a word is power."
Writing at the table © Andrew Neel/Unsplash.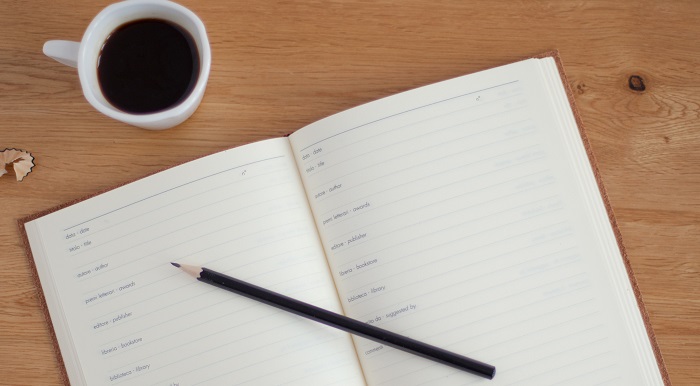 This article was written by Ryder Carroll and originally appeared on Signature Reads.
When I was young, I loved looking at ancient astrological maps that seemed more like celestial bestiaries than effective means of navigation. The skies were teeming with terrifying ancient creatures ranging from giant scorpions, to centaurs, to beasts whose names have been long forgotten. Each born from man's attempt to make sense of the breathtaking chaos of light that revealed itself on the darkest nights. Most cultures developed long elaborate stories that buried their heroes and demons in the stars, all to make some sense of the world around them.
If you've ever stared up at a night sky, clear of clouds or city lights, you can't help but architect your own existential explanations just to cope with the shimmering abyss. It's estimated that each year, 100 billion stars are born and die in the observable universe. That's 247 million a day! Yet, even in this age of Google Maps, stars continue to serve as a fundamental way to understand our place.
Stars have safely guided explorers across the hungry depths of alien oceans for centuries. But how? It all started by jotting down what we saw, one star at a time until it began to make sense. We found patterns, and identified relationships. From centaurs to quasars, each generation refined their knowledge and understanding to better help contextualize the stars as they related to us.
Writing can feel very much like setting out on a journey into the unknown. But rather than stars, we're reliant on the glittering constellation of ideas scattered across the vast darkness of our minds. Buried somewhere up there are parts of all the stories we will ever tell. It's important that we figure out a way to makes sense of our thoughts, and it starts with cataloging them, one thought at a time.
Be it for the next story, or the last, journaling can serve as a form of mental cartography. Your journal can be a mental atlas, which can be referenced as you set sail or when you get lost at sea. Like stars, thoughts can be used as waypoints. Stories are simply sequences of curated thoughts, which are plotted out to guide your audience safely through your tale. Without them, there are only dark shoreless oceans. 
The beauty of keeping some kind of journal is that it can live in a vacuum. It simply serves as a repository for ideas, waiting to be used. Some are hesitant to journal because they're only aware of long-form journaling, which can seem time consuming. True, but the process of drawing your ideas out by hand can be an incredibly effective practice to capture and refine your thoughts. 
If you're not convinced it's worth the effort, short-form journaling is a perfect alternative – or addition to – long-form journaling. In both cases, the point is to cultivate a map of your thoughts and insights. Isn't there an app for that? Sure, but writing your ideas out by hand will make them seem far more tangible and real. This practice also allows you to capture ideas in all their many forms. A nascent idea could begin as an image or a shape. 
Notebooks have stood the test of time as the ultimate traps for capturing thoughts, no matter how exotic. Over time, they become maps. Like stars, ideas without maps, no matter how bright, remain meaningless. And, like stars, ideas fade. There really is nothing more frustrating than losing a brilliant thought before you had the chance to find its purpose. Each thought has the promise of functioning as your north star, so be sure you keep track of it. 
Photo by Hope House Press – Leather Diary Studio on Unsplash