The thought of making New Year's Resolutions is both thrilling and terrifying. It can be a fresh start, but simultaneously extra pressure to make resolutions stick.
Books for Better Living is offering you a chance to win an entire library of 52 wellness books—one for every week of the year! Whether you're trying to lose weight, improve your marriage, heal from a bad breakup, find your true calling, or learn to live in the present moment, they have books, including many bestsellers, on a huge range of topics and themes to help get you started, and stay on track.
Enter here for a chance to win Books for Better Living's A Year of Resolutions Giveaway between January 2 and January 15.
The publishing world lost a legend and friend, Sue Grafton, #1 New York Times, USA Today and Wall Street Journal– bestselling author of the ground-breaking Alphabet Mystery series featuring beloved Private Investigator Kinsey Millhone, died on Thursday, December 28 in Santa Barbara after a two-year battle with cancer of the appendiceil. She was 77.
Ivan Held, President of G.P. Putnam's Sons said, "Everyone who worked with Sue admired her, flipped for the books, and were in awe of her 25-book creation, Kinsey Milhone.  But on top of that — we also all LOVED her.  With her wry, Kentucky accent she inspired a really deep and genuine love from everyone who worked with her in house."
Thirty-five years ago, Grafton launched one of the most acclaimed and celebrated mystery series of all time with A is for Alibi, and with it created the model of the modern female detective with Kinsey Millhone, a feisty, whip-smart woman who is not above breaking the rules to solve a case or save a life. Grafton's books have sold untold millions and are published in twenty-eight countries and in twenty-six languages—including Estonian, Bulgarian, and Indonesian. Her most recent novel, Y is for Yesterday, which published in August 2017, received with tremendous praise and debuted at #1 in the New York Times-bestseller list.
News of her passing ran in outlets throughout the country (and world) including in the New York Times, NPR's Fresh Air, Associated Press,  USA Today, Entertainment Weekly, Vanity Fair, Vulture, NPR's All Things Considered, and CNN.  The Washington Post wrote, "[Kinsey Millhone is] one of the most endearing, vivid and memorable characters in modern crime fiction … Ms. Grafton examines human character as deeply as any clues that might solve a crime. Critics noted that the stories often had an undercurrent of tender observation seldom found in the hard-boiled fiction of male writers."
 There has been an outpouring of love on social media from fans including former president Bill Clinton who tweeted, "RIP Sue Grafton. Hillary and I loved all your novels from A is for Alibi to Y is for Yesterday. We'll miss Kinsey and you. Godspeed."
Fellow authors shared their fond remembrances of Sue including Louise Penny who said, "Kinsey was a brilliant creation and a companion for many of us, for years. Thank you, Sue, for leading the way. And for always being so gracious to those of us who followed." David Baldacci wrote, "To know Sue Grafton was an honor. To call her a friend was a thrill. She was a great writer, one of our absolute best in any genre, but she was an even greater person. 2018 will be far emptier without her." And James Lee Burke who said, "Everyone liked Sue. She had a great wit and knew how to bring the house down, without ever being grandiose. Her passing is a big loss. Sue was a real trooper, one of those who sets the standard. I think her greatest gift to others is the dignity and composure and confidence and perseverance that characterized her career. I think that's a pretty good legacy to leave behind. Anyway, here's to you, Sue. You're the best." More remembrances came from the likes of  C.J. Box, Robert Crais, Daniel Silva, Eric Jerome Dickey, Harlan Coben, Lisa Scottoline, Ruth Ware. Sandra Brown, Sara Paretsky, Jeff Abbott, Laura Lippman, Faye Kellerman, Debbie Macomber, Alafair Burke, and Meg Gardiner to name a few.
Sue and Kinsey will be remembered as international icons (both adored a peanut butter and pickle sandwich and a timeless black wrap dress) and treasured by millions of readers across lines of gender, geography, age, race, and creed. As Grafton's daughter, Jamie, said in a statement on the author's Facebook Page, "the alphabet now ends at Y."
Browse more of Sue Grafton's works here.
Penguin Random House mourns the loss of author, William H. Gass, who died on Wednesday at his home in Missouri. He was 93. Gass won numerous awards for his writings, including several Pushcart Prize awards, the 1997 Lannan Lifetime Achievement Award, and the PEN/Nabokov Lifetime Achievement Award. Knopf will publish The William H. Gass Reader in June, which includes his essays, stories, and more.
Gass was a leading experimental writer, known for abandoning traditional narrative, and whose style influenced other writers such as Jonathan Safran Foer and David Foster Wallace. His first novel, Omensetter's Luck, published in 1966, is now a classic in American Literature.
Browse more of Gass' works here.
Looking for a book to give to a loved one this season? We have a few suggestions for your friend with the travel bug, your aunt who loves knitting, and anyone else on your list.
Below is the complete list of all our holiday book guides for 2017:
Masha Gessen was honored Wednesday night with the National Book Award for Nonfiction for her book, The Future is History. 
This is the fifth consecutive year in which Penguin Random House authors have won at least one National Book Award as recognized by the respective panels of judges in each of the four categories.
Read more about our other finalists for the 2017 National Book Awards.
There are some cookbooks you reach for again and again. These vegetarian and vegan essentials are oldies but goodies – get inspired for a delicious plant-based life!
There's no denying that books and wine make a great pair (looking at you #bookstagram 👀). And what better way to enjoy both than with friends? We've teamed up with Winc to remind you just how easy it is to kick off that book club you've been meaning to start:
Step 1: Have a book club brainstorm. Think about what kind of books you'd like to read and how often you'd like your book club to meet.
Step 2: Once you've hammered out the details, invite some friends! Give your friends an overview of what they can expect –monthly meetups, discussion questions, and plenty of snacks and wine, of course!
Step 3: Select a book! Whatever book you select, make sure it's long enough to encourage a good discussion, but short enough for people to finish on time.
Step 4: Get busy reading! Reading a chapter or two] a night before bed is not only be a great way to wind down, but will also help you chip away at the book in time.
Step 5: Gather! As the founder of a book club, you may enjoy hosting the first meeting. But, though you might have started the club, you don't have to host every meetup. Change locations and take turns hosting amongst members.
Step 6: Let the discussion flow. There are no rules once everyone gathers, but it can be helpful to have a discussion guide to spark conversation. Come up with your own focus questions as a group or use a reading group guide. And don't forget the wine to fuel conversation!
Check out Winc.com for a complete guide on how to start a book club and, of course, for plenty of wine delivery recommendations! 🍷
George Saunders, famed short story writer, has won the Man Booker Prize for his first full-length novel, Lincoln in the Bardo.
From The Man Booker Prize website:
The 58-year-old New York resident, born in Texas, is the second American author to win the prize in its 49-year history. He was in contention for the prize with two British, one British-Pakistani and two American writers.
Lola, Baroness Young, 2017 Chair of judges, comments:
'The form and style of this utterly original novel, reveals a witty, intelligent, and deeply moving narrative. This tale of the haunting and haunted souls in the afterlife of Abraham Lincoln's young son paradoxically creates a vivid and lively evocation of the characters that populate this other world. Lincoln in the Bardo is both rooted in, and plays with history, and explores the meaning and experience of empathy.'
Lincoln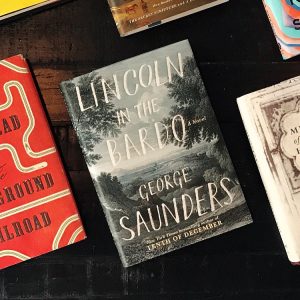 in the Bardo focuses on a single night in the life of Abraham Lincoln: an actual moment in 1862 when the body of his 11-year-old son was laid to rest in a Washington cemetery. Strangely and brilliantly, Saunders activates this graveyard with the spirits of its dead. The Independent described the novel as 'completely beguiling', praising Saunders for concocting a 'narrative like no other: a magical, mystery tour of the bardo – the "intermediate" or transitional state between one's death and one's next birth, according to Tibetan Buddhism.' Meanwhile, the Guardian wrote that, 'the short story master's first novel is a tale of great formal daring…[it] stands head and shoulders above most contemporary fiction, showing a writer who is expanding his universe outwards, and who clearly has many more pleasures to offer his readers.'
-Read the rest here.
Browse below for Saunders' rightfully beloved works:
The 2017 Nobel Prize for Literature has been bestowed upon our author Kazuo Ishiguro. His beloved fiction, which includes The Remains of the Day, Never Let Me Go, and The Buried Giant, has been published in the U.S. by Knopf, Vintage, and Random House Audio since 1989. Ishiguro is among more than 60 of our authors to receive the Nobel Prize.
See below for a few of his novels.
So many wonderful books were published this year, and we're honored to celebrate the finalists for 2017's National Book Awards. Browse below to see these must-read books!