The Pursuit of Alice Thrift Reader's Guide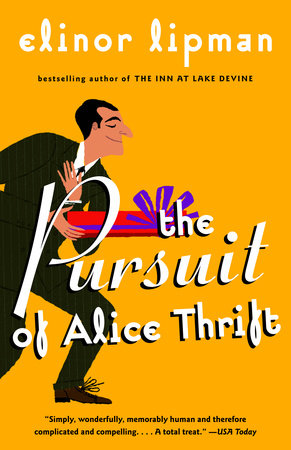 The Pursuit of Alice Thrift Reader's Guide
READERS GUIDE
From the Bestselling Author of THE INN AT LAKE DEVINE
"Simply, wonderfully, memorably human and therefore complicated and compelling. . . . A total treat." —USA Today
The introduction, discussion questions, suggested reading list, and author biography that follow are designed to enhance your group's reading of
The Pursuit of Alice Thrift
, Elinor Lipman's hilarious, delightfully off-beat look at modern romance.
Introduction
Alice Thrift, a brilliant, Harvard-educated intern at a Boston hospital, is well aware of her shortcomings: "I wasn't one of those attractive doctors with a stethoscope draped around her shoulders and a red silk blouse under her lab coat. I was an unhappy intern, plain and no-nonsense at best" [p. 5]. But Ray Russo, an itinerant fudge salesman who comes to consult her about a nose job, sees something that Alice—along with her parents and most of her colleagues—apparently miss, and with a self-confidence at once appealing and appalling, he sets his sights on winning her heart.
Against the backdrop of Alice's grueling, humiliating tenure as the hospital's least-likely-to-succeed young doctor, Elinor Lipman creates a comedy of manners as rich in the manipulations and delusions of courtship as Jane Austen's classic novels. From the ultra-popular male nurse who befriends Alice to the smart-talking resident who takes her under her wing, to a mother with perfect social reflexes and grand nuptial dreams for her daughter, Alice is treated to a wealth of advice. Ray's campaign to make her his wife, however, is what captures Alice's attention until she discovers that his intentions are not quite what they seem.
Questions and Topics for Discussion
1. Why do you think Lipman begins by giving away the ending of her story? What aspects of Alice's comments about the "Vows" column entice the reader to learn more about her ill-fated marriage? When you read the column (or marriage announcements in other newspapers), do you, like Alice, long for some no-holds-barred updates on the "interesting developments that reveal the truth about brides and grooms" [p. 6]?
2. Alice and Ray's first date [pp. 6–15] establishes the educational and social gap that separates them. Are Ray's attempts to bridge the gap more embarrassing and inept than most "getting to know you" conversations? Do Alice's amusingly blunt reactions make you more or less sympathetic to Ray? What does the incident with the waitress [p. 12] illustrate about Alice and Ray and their assumptions about social interactions?
3. Throughout his courtship of Alice, Ray sprinkles "facts" about himself and his dead wife [pp. 69–78, for example]. Do you think they are meant only to expose Ray's calculated deceptiveness and Alice's naiveté? To what extent do these details seduce not only Alice, but the reader as well?
4. Popular, good-looking, kind, and compassionate Leo Frawley is a nearly perfect man. How does Lipman make him an individual, rather than a stereotype? What does the dinner at his mother's house [pp. 57–66] add to the overall picture of Leo?
5. Are Joyce Thrift's concerns about Alice's social graces—or lack thereof [p. 49]—meant to show her essential superficiality? What emotions and expectations shape the way she treats Alice? How do her attitudes and impulses differ from those of Leo's mother? Is Alice herself aware of her mother's positive side?
6. The story of Alice's professional tribulations runs parallel to the story of her romance. How do the humiliations she suffers as a doctor influence her reactions to Ray? If she had been a star intern, do you think she would have fallen for his schemes?
7. When Alice asks him about his relationship with Meredith, Leo says, "Guys don't like to label things" [p. 95]. Is this true of Ray?
8. In what ways does Meredith serve as a counterpoint to Alice? At what point do Alice's feelings about the smug, seemingly serene midwife begin to change? What do the two women learn about each other when they deliver a baby together [pp. 227–233]? What does the event represent in terms of Alice's social awareness?
9. Sylvie is also very different from Alice on the surface. Why is she able to break down Alice's defenses more successfully than Leo?
10. Ray explains Alice's decision to marry him as "pure animal magnetism"; Alice attributes it to Ray's sensitivity to her loneliness [p. 243]. Which element do you think was more important?
11. After escaping from her brief, disastrous marriage to Ray, Alice sets up a household with Leo and Sylvie. How does this arrangement reflect Alice's new acceptance of herself? In what ways have the friends formed what might be considered a family?
12. What role does the class difference between Alice and Ray play the novel? In what ways does each defy or exemplify class stereotypes? Does Lipman's portrait of Ray counteract some of your own assumptions (or prejudices) about a man "without a bachelor's degree, let alone an MD or a CPA after [his] name" [p. 53]? Is it likely that an upper middle-class, highly educated doctor like Alice would become involved with a man like Ray in real life?
13. Alice's self-deprecating humor is one of the delights of the narrative. Would the story be the same if told by an omniscient narrator? What might be different?
14. Fast-paced, witty, and enlivened by a wonderful cast of secondary characters, The Pursuit of Alice Thrift is reminiscent of classic screwball comedies. If you were going to make a movie of the novel, whom would you cast?
About this Author
Elinor Lipman is the author of
The Dearly Departed
,
The Ladies' Man
,
The Inn at Lake Devine
,
Isabel's Bed
,
The Way Men Act
,
Then She Found Me
, and
Into Love and Out Again
. Her work has appeared in
The New York Times
,
The
Boston Globe
,
The Chicago Tribune
,
Gourmet
,
Salon
,
Self
,
More
, and
Yankee
Magazine
. She has taught writing at Simmons, Hampshire, and Smith colleges and won the 2001 New England Book Award for fiction. She lives in Massachusetts.
Suggested Reading
Jane Austen,
Mansfield Park
and
Pride and Prejudic
e; Elizabeth Berg,
Say When
; Laurie Colwin,
Happy All the Time
; Tim Farrington,
The Monk Downstairs
; Helen Fielding,
Bridget Jones's Diary
; Haven Kimmel,
The Solace of Leaving Early
; Perri Klass,
A Not Entirely Benign Procedure
; Anita Shreve,
All He Ever Wanted
; Meg Wolitzer,
The Wife
.
Back to Top