Friends, Lovers, Chocolate Reader's Guide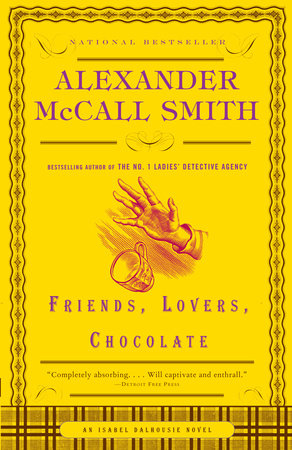 Friends, Lovers, Chocolate Reader's Guide
READERS GUIDE
INTERNATIONAL BESTSELLER
"Enchanting. . . . Delicious mental and comfort food. . . . The 'intimate' city of Edinburgh is an appealing character in its own right." —
Los Angeles Times
The introduction, discussion questions, suggestions for further reading, and author biography that follow are intended to enhance your group's conversation about
Friends, Lovers, Chocolate
, the second episode in the adventures of Isabel Dalhousie.
Introduction
Isabel Dalhousie, editor of the
Review of Applied Ethics
and occasional sleuth, agrees to run her niece Cat's delicatessen while Cat goes to a wedding in Italy. One day a customer named Ian tells her something strange about himself: since his heart transplant, he has had a recurring vision of the face of a person he doesn't know, accompanied by an overwhelming sense of sadness and anxiety. Isabel can't help getting involved, and in spite of the fact that the heart donation was anonymous, she discovers through a bit of amateur research that the young man whose heart Ian received died under mysterious circumstances. She vows not to get involved further, but on impulse she visits the mother and stepfather of a young deceased man, whose features match those Ian has seen in his vision. As Isabel is being drawn into the mystery surrounding Ian's heart, her own heart is in some confusion: she finds herself in love with Cat's ex-boyfriend Jamie, and also attracted to Tomasso, an attractive, wealthy Italian visiting Edinburgh to pursue Cat. Once deflected, he turns his attentions to Isabel and asks her to accompany him to Glencoe in his Bugatti.
When circumstances take some surprising turns, Isabel is enmeshed in two very different mysteries of the heart, which together make for a reading experience that is sometimes moving, often amusing, and always thoroughly enjoyable.
Questions and Topics for Discussion
1. Isabel again notices Cat's "inability to tell good men from bad" [p. 14] when Cat describes her friend Kirsty's fiancé, Salvatore, who won't disclose what he does for a living. Is Isabel correct about Cat's weakness for inappropriate men? If she is, is it likely that Cat will ever resume her relationship with Jamie?
2. "You could never be me," says Isabel to Cat. "And I could never be you. We never know enough about another person to be him or her. We think we do, but we can never be sure" [p. 12]. What are the implications of this statement on Isabel's efforts to solve the mystery that Ian's heart transplant presents?
3. Isabel is forty-two. Jamie tells Isabel that Louise, the married woman he is seeing, "is about your age, actually" [p. 48]. Cat tells Isabel that she's not interested in Tomasso because of his age, which she says is "About your age. . . . Early forties" [p. 106]. Why is Isabel's age mentioned so often? Is it because she thinks her chances for love are diminishing as time passes? Are her chances for love diminishing because of her age? Does Isabel have an exaggerated sense of her age?
4. How likely does a love affair between Jamie and Isabel seem? If Jamie is in his late twenties, is it likely that he would be romantically interested in Isabel, whom he calls "perhaps my closest friend" [p. 47]? Do you assume that this romance will be developed in upcoming volumes?
5. The question Isabel raises on page 54, of whether our possessions in some sense remain ours, is very much related to the feelings and visions Ian experiences after his heart transplant. Ian believes that he may be experiencing the memories of the man whose heart he received. What do you think of the idea that memory might exist at the cellular level [pp. 89–90, 92–93]? What is most interesting about the situation that Ian describes?
6. What is unusual about the way Isabel's mind works? What, for instance, does she mean by saying, "There was a lot that one might say about chocolate, if one thought about it" [p. 67]? Does Isabel think like a writer of fiction, embroidering stories about people and their motivations? In what ways is fiction like moral philosophy?
7. Ian says he's heard that Isabel has a "reputation for discreetly looking into things," which she herself rephrases as "indecent curiosity. Nosiness, even" [p. 83]. Given Jamie's and Cat's disapproval of Isabel's curiosity, is her need to get involved in such matters as Ian's "indecent," or the opposite?
8. What questions does the plot raise about the ethics of organ transplants and the rights of families and recipients to know about the person with whom they are engaged in this intimate form of charity? Why does Ian feel the need for contact with the family of his donor?
9. Isabel gets into awkward trouble when she assumes too readily that she has discovered the identity of Ian's donor. How do you view her split-second decision to describe herself as a medium when she meets with the mother of Rory Macleod [pp. 125–31]? Does she make a serious moral error in this situation? Do you agree with her views on "moral proximity," as she defines it on page 122?
10. Grace and Isabel, housekeeper and employer, have a conversation regarding Isabel's romantic prospects. Grace tells Isabel, "You're kind. Men like you. . . . They love talking to you," and Isabel replies, "Men don't like women who think too much. They want to do the thinking" [p. 170]. How true is this observation? Is Isabel too intelligent to be thought of as desirable by the majority of men?
11. Where, and in what kinds of situations, are the moments of comedy in the story? Does the comedy result from a farcical mishap, or a wry observation, or the way people speak to each other? How would you describe McCall Smith's sense of humor?
12. Are Grace and Isabel friends, despite their differences in social class and education? What kind of a person is Grace, and what does she bring to Isabel's life? Is it surprising that a pragmatist like Grace would believe in spiritualism?
13. Isabel isn't perfect, and she sometimes makes social errors in a moment of impulse. When she recommends kindness and honesty to Tomasso in the restaurant, she is reacting to her own uncertainty about Tomasso and his motives [p. 178]. Is he being dishonest with her and with Cat? Why is Isabel attracted to Tomasso? What are the subtle things that happen in Isabel's mind during their conversation in the restaurant [pp. 176–84]?
14. Ian and Isabel have a conversation about Scottish poets in which Ian reflects on William Dunbar's phrase "taken out of the country."* How does McCall Smith's prose style, as well as Isabel's musings, reflect the importance of "clear good language" [p. 197]?

*For complete text of Dunbar's poem, "Lament for the Mahers," see http://www.bartleby.com/101/21.html
15. Jamie tells Isabel that he won't take the job with the London Symphony because of Cat, and Isabel angers him by saying, "She won't come back to you, Jamie. You can't spend your life hoping for something that is never going to happen" [p. 225]. Is she right or wrong to say this? Does it seem that Jamie needs to understand what Isabel is trying to tell him?
16. What traits make Isabel a likeable character? What does her character tell readers about the ways in which ethical thinking can enter into the circumstances of everyday life?
17. Why is Brother Fox in the novel [pp. 100, 216–17, 261]? What does he represent? What is the effect of the novel's ending?
About this Author
Alexander McCall Smith was born in Rhodesia (now Zimbabwe) in southern Africa, and attended university in Edinburgh. He has been a professor of medical law in Botswana and in Edinburgh. He has also been an advisor to UNESCO and to the British government on bioethics. In addition to his internationally bestselling series, The No. 1 Ladies Detective Agency and the Isabel Dalhousie series, he has created the 44 Scotland Street series and the von Igelfeld series. He lives in Edinburgh, where he plays the bassoon in the RTO (Really Terrible Orchestra).
Suggested Reading
W. H. Auden,
Collected Poems
; John Berger,
Ways of Seeing
; James Boswell,
The Journal of a Tour of the Hebrides
; Anita Brookner,
Hotel du Lac
; A. S. Byatt,
Possession
; Donald Campbell,
Edinburgh: A Cultural and Literary History
; Agatha Christie,
Ten Little Indians
; Kazuo Ishiguro,
Never Let Me Go
; William James,
The Principles of Psychology
; Barbara Pym,
The Sweet Dove Died
; Ruth Rendell,
A Judgement in Stone
; Norman Rush,
Mating
; Evelyn Waugh,
The Loved One
.
Back to Top