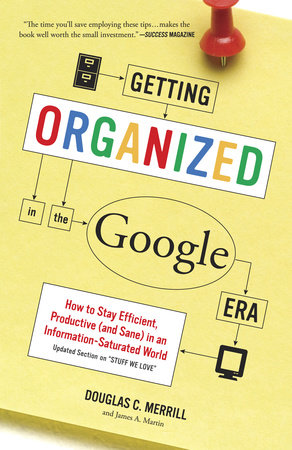 Getting Organized in the Google Era
How to Stay Efficient, Productive (and Sane) in an Information-Saturated World
How to Get Stuff out of Your Head, Find It When You Need It, and Get It Done Right
How to Get Stuff out of Your Head, Find It When You Need It, and Get It Done Right
By Douglas Merrill and James A. Martin

By
Douglas Merrill

and

James A. Martin



By Douglas Merrill and James A. Martin

By
Douglas Merrill

and

James A. Martin



By Douglas Merrill and James A. Martin
Read by
Douglas Merrill
By
Douglas Merrill

and

James A. Martin


Read by

Douglas Merrill




Best Seller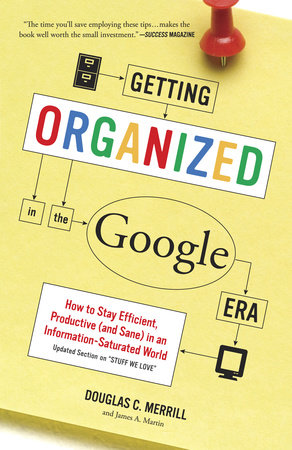 May 03, 2011
|
ISBN 9780385528184
Buy the Audiobook Download:
Inspired by Your Browsing History
Buy other books like Getting Organized in the Google Era
Praise
Getting Organized in the Google Era breaks new ground…guiding you to solutions that honor your unique personality.   Smart, non-judgmental and filled with practical advice.
-Julie Morgenstern, NY Times bestselling author of Organizing from the Inside Out and Never Check Email in the Morning.
 
"Douglas Merrill has worked a near-miracle: In short, simple steps, he shows how to become powerful and confident in a world of too much info and too little time. This isn't just the book I wished I'd written, it's the book I need to give to people I care about."
-Quentin Hardy, Forbes Magazine.
 
This book has been a terrific resource for a messy-desked, attention-challenged thinker of random thoughts like me!  Thanks to Douglas Merrill, I now use digital tools to find almost everything and my transition from paper to digital is no longer awkward.  This is a marvelous book, with tremendous ideas on every page. 
-Susan Scott, NY Times bestselling author of Fierce Conversations, Achieving Success at Work & in Life – One Conversation at a Time, and Fierce Leadership, A Bold Alternative to the Worst "Best" Practices of Business Today.
 
"Perhaps only Douglas Merrill could take us from Frederick Winslow Taylor to cloud computing to getting organized in one helpful read. This is the book to help you stay ahead of your own avalanche of information so that it's always accessible and useful to you." 
– Dave Girouard, President of Enterprise Group, Google, Inc.
Back to Top