The World Below Reader's Guide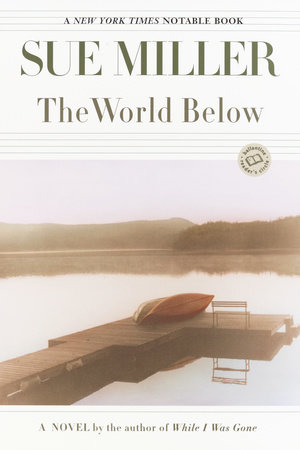 The World Below Reader's Guide
READERS GUIDE
The questions, discussion topics, and suggestions for further reading that follow are designed to enhance your group's reading of Sue Miller's
The World Below
, a moving, often surprising exploration of the things people keep hidden from those closest to them. At its heart are two women: Catherine, a twice-divorced mother of three grown children who faces new possibilities and choices as she enters her fifties, and Georgia, Catherine's grandmother, the devoted wife of a country doctor who raised Catherine and her brother after the suicide of their mentally ill mother.
Introduction
When Catherine inherits her grandparents' house in Vermont, she takes a sabbatical from her teaching job in San Francisco and returns to the place she has always thought of as home. There, amid papers packed away in the attic, Catherine finds her grandmother's diaries–a careful, almost impersonal record of Georgia's role in keeping her family together as the oldest child in a motherless home, the bout with tuberculosis that sent her to a sanatorium at age nineteen, and her long, placid marriage to Dr. John Holbrooke, a man twenty-years her senior. It is the period of Georgia's stay at Bryce Sanatorium and the early years of her marriage that most engages Catherine, for it seems to hold answers to puzzles–including the mystery of her own mother's illness–hinted at in the stories Catherine heard from an embittered aunt and in conversations with Georgia. Piecing together diary entries, letters, and other papers, Catherine learns of Georgia's intimate relationship with a fellow patient at Bryce, where the rules of the "real" world disappear in the face of the needs and hopes of the sick and dying, and of the compromises Georgia and John make to accommodate their private desires and society's expectations.
As she uncovers the world below the loving surface of her grandparents' life together, Catherine comes to understand the impact of their secrets and of her mother's illness on the child she was and the woman she has become. Her discoveries transform her view not only of the past but of her future. When the friendship she forms with an older, retired professor in town takes a romantic turn, Catherine finds herself contemplating Georgia's sacrifices and regrets as she tries to decide whether to return to the familiar world of San Francisco or start anew in Vermont.
Questions and Topics for Discussion
1. 1
2. What is the significance of Samuel and Catherine's discussion about the "central invisible fact" of people's life [p. 137]? What "invisible fact" underlies the lives of Georgia, of John, and of Catherine herself?
About this Author
Sue Miller is the best-selling author of
While I Was Gone
,
The Distinguished Guest
,
For Love
,
Family Pictures
,
Inventing the Abbotts
, and
The Good Mother
. She lives in the Boston area.
From the Hardcover edition.
Back to Top