The Last Dickens Reader's Guide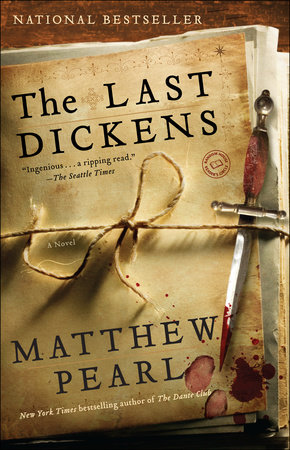 The Last Dickens Reader's Guide
READERS GUIDE
Questions and Topics for Discussion
1. James Osgood must find more information about The Mystery of Edwin Drood to try to save his struggling publishing firm. Do you believe Osgood has additional motivations, whether personal or professional, for his quest?

 2. The character of Rebecca Sand is a young working woman in Boston during the latter half of the nineteenth century. What are some of the interesting and surprising challenges facing her in that time and place that struck you? Do you think she is properly appreciated by Osgood and the firm? 

3. Dickens's death in 1870 and the incomplete status of his final novel, The Mystery of Edwin Drood, is at the heart of this book's story. For those who have read The Mystery of Edwin Drood, how did your knowledge of that novel influence your reading of The Last Dickens? For those who haven't read it, what did you learn about that final Dickens novel, and would you now go out and read The Mystery of Edwin Drood? 

4. The Last Dickens refers to the last novel Charles Dickens wrote. Does the title have any other meaning or significance for you? If Fields, Osgood & Co. were publishing Matthew Pearl's novel and called you into their offices at 124 Tremont Street demanding a title change, what might you suggest? 

5. The novel's depiction of Charles Dickens is based closely on history. What are some of the facts of Dickens's life that most interested you that you may not have known before? 

6. There is much consternation and excitement over The Mystery of Edwin Drood's incomplete status among the characters in this novel, propelling various actions. Other books by famous authors that were never finished include The Aeneid by Virgil, The Last Tycoon by F. Scott Fitzgerald, The Buccaneers by Edith Wharton, A Moveable Feast by Ernest Hemingway, Septimius Felton by Nathaniel Hawthorne, and Lesley Castle by Jane Austen. Some of these have undergone attempts to be "completed" by other writers or family members, as some of the characters in The Last Dickens wish to do with The Mystery of Edwin Drood. Should unfinished books like these have new endings written, or should they be left as fragments? 

7. The novel depicts a dramatically different period in the publishing world. What were some of the things that surprised you about book publishing in the nineteenth century? 

8. In our age of increasingly digital media, how relevant are books today? Discuss whether you think there will be a time when physical books no longer exist. What would be the implications of this? 

9. In the novel, there is a stalker who shadows Charles Dickens's reading tour in America, which was based on actual incidents. Think of some modern examples of celebrity stalking and discuss the unique characteristics of this type of obsession in and out of this novel. 
Back to Top