The Imperfectionists Reader's Guide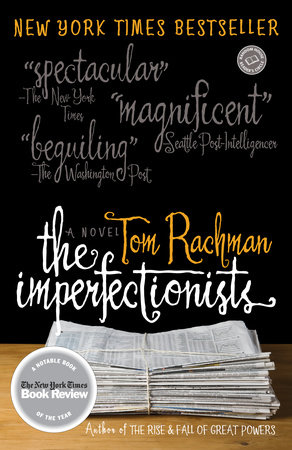 The Imperfectionists Reader's Guide
READERS GUIDE
Questions and Topics for Discussion
1. How did you feel when you encountered a protagonist from one chapter in a different key somewhere else?  Did these moments ever catch you by surprise?
 
2. Why do you think Cyrus Ott started his newspaper?  Why do you think his family kept it going?  
 
3. Do you think Hardy Benjamin made the right decision to ignore the theft she uncovered? And which is more important in a relationship: love or honesty?
 
4. Is there a lesson to be learned in the story of Arthur Gopal's rise through the ranks?
 
5. What do you think kept Ruby Zaga in her job all those years?  Is her persistence admirable?  
 
6. At one point Herman Cohen muses: ""All this had been a most extraordinary surprise; he had expected an unhappy life, yet ended up with the opposite."  What do you think accounts for his happy fate?  Is it luck, or something else?
 
7. Do you think someone like the war correspondent Rich Snyder might gain fame and recognition despite his bad behavior — or because of how he behaves? Would you rather be Snyder or Winston Cheung? 

8. Do you see traits of any of the characters in people you've worked with?
  
9. How did the Roman setting inform the reading experience of The Imperfectionists?  What do you think it would be like to be an expatriate?  
 
10. What do you think the future holds for the newspaper?  How has the way you receive news day to day changed in recent years?  
 
Back to Top