Kabul Beauty School Reader's Guide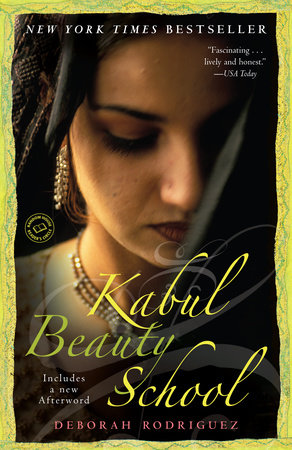 Kabul Beauty School Reader's Guide
READERS GUIDE
Questions and Topics for Discussion
1. We so often think of ourselves as more socially advanced than Middle Eastern nations. What does it say about this assumption that the author was treated by a preacher husband in the US the same way that Nahhida, wife of a Taliban member, is treated in Afghanistan?
2. Did Debbie take a chance of repeating her abusive history by marrying a relatively unknown man from a culture with a reputation for mistreating women?
3. Were you shocked when she revealed that her husband had another wife?
4. Why do you think Debbie was so emotional upon meeting Sam's father? Would you have been eager to meet him or preferred not to? Were you surprised at his reaction?
5. As a mother of two, was Debbie irresponsible in taking risks like crossing the Khyber pass and confronting her neighbors? Should she have gone to Afghanistan at all, knowing the conditions in the country?
6. Debbie's "bad" neighbors were potentially dangerous. What would you have done in her situation? How would the ineffectiveness of the local police make you feel?
7. Was it foolish for Debbie to continue running the beauty school in the face of government interference and hostility?
8. Debbie goes to Afghanistan in order to change the lives of women there and give them greater power in their personal lives, a mission that she has fulfilled for many women. How have these women changed her?
9. Does the example of a strong self-sufficient woman Debbie sets for the Afghan women provide them with helpful inspiration or does it set a dangerous precedent, encouraging them to model behaviors and aspirations that might be dangerous to them in their environment?
10. Would you have let a known Taliban member, and opium addict at that, stay under your roof in order to help his wife? How dangerous do you think this decision really was?
11. Why do you think Hama was unable to follow through and accept the generous offer of a place to live and a new life in the US?
12. How would you have reacted if your son offered to marry Hama? Would you have encouraged him? Argued against it?
13. How do you think American women are similar to and, at the same time, different from the Afghan women Debbie befriended and works with?
14. Did it surprise you to read about some of the frank discussions and depictions of sex among the Afghan women at the beauty salon and the wedding that Debbie attended?
15. Do you think it was wise for Debbie to help Roshanna escape detection as a non-virgin on her wedding night? Would you have chosen to interfere? Why or why not?
Back to Top