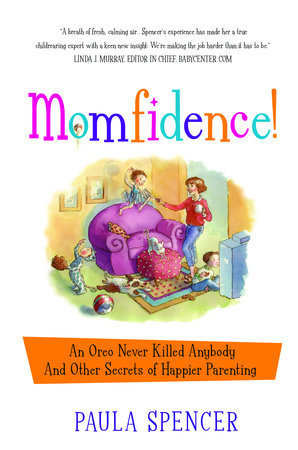 Inspired by Your Browsing History
Praise
"A breath of fresh, calming air. Spencer's experience has made her a true childrearing expert with a keen new insight: We're making the job harder than it has to be." —Linda Murray, Editor-in-Chief, Babycenter.com

"Paula Spencer has written the ultimate insider's guide to life on Planet Mom–a book that is guaranteed to boost your 'momfidence' by the day. If you're convinced that you've blown your nomination for Mother of the Year because your six year old has been wearing mismatched socks to school all week; your ten year old keeps sneaking contraband snack foods to school in his lunch bag; and the clutter in your house is breeding faster than the items on your 'to do' list, take note: Momfidence is your book." —Ann Douglas, author, The Mother of All Pregnancy Books and The Mother of All Parenting Books

 "Finally! A mom who parents from her gut, not her guilt! Paula Spencer dares to trust her instincts and her common sense, while humorously inspiring readers to do the same. Advice as sensible as it is entertaining." —John Rosemond, syndicated parenting columnist and author

"Being informed is one thing. Being overwhelmed is another. Written with warmth, humor and real-world wisdom, Momfidence reminds parents to keep the advice that works, leave what doesn't, and cue in to those all-important instincts that help families grow, thrive and enjoy the ride." —Debbie Glasser, Ph.D. Licensed Clinical Psychologist and Founder of NewsForParents.org  

"Paula Spencer leads by example and does so hysterically.  I only wish I had a copy of this book when my children were younger.  Momfidence is a book every mother should keep close by for those inevitable "have I totally screwed up" moments. Momfidence is a great gift for every mom who needs some perspective. I love this book." —Mimi Doe, award-winning author of Busy but Balanced and founder of SpiritualParenting.com.
Back to Top