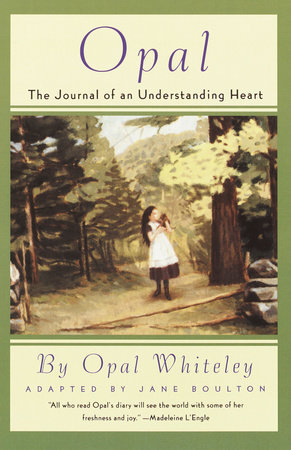 TEACHING GUIDE
NOTE TO TEACHERSOpal
is the magical diary of a six-year-old orphan girl written at the turn of the century. In this compelling true-life story, she re-creates the bonds of kin and friendship lost with her parents' death by befriending the plants and animals surrounding her Oregon foster home. With her woodrat, Thomas Chatterton Jupiter Zeus; her dog, Brave Horatius; her pig, Peter Paul Rubens; and her favorite mouse, Felix Mendelssohn, Opal explores the bounds of her environment while trying to preserve her identity in the face of unsympathetic foster parents. An astute observer even at the age of six, her story provides a keen insight into the inner life of this particularly precocious young girl. Much more than simply a personal memoir, however, this is also a vivid and moving portrait of the lives of children, and orphans, at the turn of the century.
From the heart-rending revelation of her parents' death on the first page to her inventory of her meager personal belongings at the conclusion, this diary follows a year in Opal's life. It is a year in which she clings to the memories and mementos of her lost family, including the words and songs they taught her, and the books her "Angel Mother and Angel Father did write in." Meanwhile, she spreads her love and affection on her ever-increasing menagerie and the few like-minded adults she is able to find.
In the course of this year, Opal learns to cherish those who support her in her love of all God's creations. Her friend Sadie McKibben makes gifts of ribbons for the christening gowns of her beloved animals, and her friend Dear Love helps her set up an animal "hospital" for her injured pets. And "the man that wears grey neckties and is kind to mice" leaves her gifts of colored pencils in a special hiding place in the woods, pencils that allow her to keep this singular and affecting diary. These are the friends who comfort and support her as she adjusts to her new life.
But Opal also learns to accept those who increase her suffering and the vicissitudes of life on the frontier. Her foster mother, "the mama," bridles at her love of animals and forces her to grind sausage out of her beloved pig, Peter Paul Rubens. The "chore boy" dumps slop on her head and shoots her pet crow, Lars Porsena. She suffers through the death of a number of her animal friends and also the tragic death of a blind friend, whom Opal calls "the girl with no seeing." We also watch as Opal begins to make moral judgments about the world around her. From two encounters with the indigent she learns the difference between those who are thankful for her help and those who will abuse her good intentions. Through all of this, the girl's resilience, compassion, and unflagging optimism fill this story with hope and make this a most endearing tale.
Written at the beginning of the twentieth century, Opal's diary was torn to shreds in a childish fit by a foster sister. Years later, Opal spent over nine months reconstructing it from the remaining fragments. It was first published in 1920 to much acclaim. The poet Jane Boulton has edited this new text and has broken out the diary into verse to accentuate its lyrical quality. She has, however, maintained the original sentence structure and many of the spelling mistakes committed by the young girl, preserving both its allure as an American primitive and the evidence it provides that Opal was probably descended from French nobility.
In
Opal: The Journal of an Understanding Heart
we are able to watch as a uniquely talented and observant young girl begins to form a relationship with the world around her under adverse circumstances. Despite her trials, her desires reflect the hopes and aspirations of children everywhere and show how one particularly resourceful young girl strives to find some sort of emotional attachment in the face of neglect from her foster parents. An enduring American classic, this wonderful tale of frontier life was a sensation when first published and still resonates for its insight into a lost way of life and for the pure pathos of Opal's story.
ABOUT THIS BOOK
"Enchanting….
Opal
transforms bleak and loveless circumstances into a life-affirming fable."—
The San Francisco Chronicle


"This turn-of-the-century six-year-old's diary presents a vivid portrait of the girl's life: it became a sensation upon its discovery in 1920 and today offers new YA readers a classic. The poetic-appearing structure of the lines may throw readers who take one look and expect verse; but the special presentation shouldn't detract from its strong message."—
Midwest Book Review


"An authentic quirky American masterpiece. There are few books in American literature with a more curious or intriguing genesis than this."—
The Washington Post
TEACHING IDEAS
The following questions are designed to help readers draw the most from this nuanced yet accessible text. They are broken out into "Questions of comprehension" that are also intended to steer the discussion toward some of the more challenging and illuminating aspects of the work. "Questions that further understanding" will help students to assess this as a piece of literature and understand the role of journals and diaries in literature. Students should be encouraged to keep a diary while reading
Opal
; it will allow them to realize more fully the greater implications of this work, and to appreciate how skillful Opal is in creating a sympathetic and moving portrait of herself; much can be made of our emotional responses to Opal and the people she interacts with. It is also helpful to concentrate on the stylistic elements of this narrative, particularly Jane Boulton's decision to present this material in verse. A book that students are certain to enjoy, it is also ideal for helping students discuss their own lives and relate them to the text.
DISCUSSION AND WRITINGI. Opal's Life

1. What do we learn about Opal on the first page of her diary? [p. 3]
2. Within the narrative what gives us some clues as to the age of the narrator? [pp. 8-9]
3. How would you characterize Opal's personality? [pp. 7-9]
4. How is she treated by those around her? [pp. 10-11] How does she treat those around her? [pp. 28-29]
5. Opal appears to have some misunderstandings about children. What are they? [p. 17]
6. What is the significance of the two songs Opal sings on pages 34-35?
7. What can we surmise about her early education? [p. 43]
8. What was Opal's given name? [p. 45]
9. It is believed that Opal may actually have been of french ancestry. Can you find any evidence to support this? [pp. 26-27, 58, 77]
10. How do people respond to her use of french words? [pp. 26-27, 51]
11. Discuss the passage on pages 41-42. What is the lesson here for Opal?
II. Emotions

1. How does Opal respond to adversity? [pp. 11, 32-33, 47] How is she affected by the scolding of "the mama"?
2. How does she describe her emotions?
3. Opal rarely expresses certain emotions, what are they? What do we think about "the mama"? [pp. 14-15] What about "the chore boy"? [p. 50] Do we know what Opal thinks of them?
4. Does Opal find ways to express her emotions? [pp. 14, 19, 37]
5. What is her relationship to her natural parents, whom she refers to as "Angel Mother" and "Angel Father"? [pp. 84, 86, 100]
6. What is "the mama's" reaction to Opal's explorations? [p. 104]
7. How does Opal handle the death of "the girl who has no seeing"? [pp. 124-25] Compare and contrast this to her reaction to the death of Lola. [p. 138] What might explain this discrepancy?
III. Nature—the animals and plants around her

1. What is the nature of Opal's relationship with her animal friends?
2. Are there any animals that Opal is not fond of? [p. 12]
3. What are some of the names of Opal's pets? [pp. 7, 96, 107, 108, 110, 118] What do they have in common?
4. What about the people with whom Opal associates? What attributes do they share? [pp. 9, 12, 78]
5. How does Opal attribute human qualities and emotions to her animal and plant friends? [pp. 19, 32-33, 37, 108]
6. What is Opal's view of nature and the world around her? [p. 6] Discuss the final passage on page 45. What about her emotional attributions to the road on page 74?
7. How does Opal handle the death of her animal friends? What do you think of the passage on page 56?
8. What function do you think her animal friends play in her life? [pp. 123-124]
IV. Style

1. Jane Boulton, the editor, has corrected many of the words Opal misspelled. What are some of the misspellings that she left in this edition? Why do you think she chose to let these remain misspelled?: new sance [p. 3], new [p. 9], invest tag ashuns [p. 21], screwtineyes [p. 72], in tent shuns [p. 81], cal lamb of tea [pp. 88, 149], pit tea [p. 127], con chus [p. 127].
2. What are "the books that Angel Mother and Angel Father did write in"? [pp. 7, 53, 63]
3. Discuss the passage on page 34 and on pages 154-156. What do they indicate about Opal's descriptive powers?
4. What are the five words Opal's mother said to her over and over again? [p. 171] What might her mother have been trying to accomplish?
5. What was Opal's diary originally recorded on? What does the introduction say? What does the text itself say? [p. 159] Is it possible Opal's diary was affected by how it was recorded? If so, how?
6. Jane Boulton says, "Since the lines seemed like poetry, that is the form I gave them." What does she mean by "seemed like?" How does the fact that they are presented as poetry affect our reading of the material?
Questions that further understanding

1. How would you imagine the lives of orphans of the time period to be? What is your impression of Opal's life?
2. Do you believe that Opal's orphan status affects her life and the way she is treated by those around her? Do you suppose that children living with their natural parents might have been treated differently?
3. Would Opal's life be different if she grew up in your town, today? If so, how?
4. What did Opal lose with the loss of her family?
5. How does Opal's diary differ from more modern diaries like the diary someone in this class might keep?
6. What do we think of Opal as a narrator? Is she reliable? In other words, can we believe her portrait of herself and her portrait of the people she interacts with?
7. The subtitle of this book is The Journal of an Understanding Heart. Why do you think that is? Is it appropriate? Look at the use of the word "understanding" on pages 10 and 12. Does this shed light?
8. Does Opal mature during the course of the year? In what ways does Opal seem older at the conclusion of this important formative year?
9. This diary was written shortly after the turn of the century. Does it reflect the time period in which it was written? If so, how?
10. Keep a journal over the next week. Record the same material in prose and verse. How does it affect the communication of thoughts?
SUGGESTED ACTIVITIES
Given your knowledge of Opal, and the material in the postscript and afterword, what do you imagine Opal's later life was like? Write a fictitious series of journal entries as written by Opal at the age of eighty.
OTHER TITLES OF INTERESTOpal
is a perfect text to compare not only with other diaries or journals but also with first-person narratives about children. Some possibilities include
The Diary of Anne Frank
,
The Diary of Latoya Hunter
,
Little House on the Prairie
, and
Anne of Green Gables
Teaching poetry to children
Rose, Where Did You Get That Red?
by Kenneth Koch (Vintage Books, 1974)
The Random House Book of Poetry for Children
, selected by Jack Prelutsky (Random House, 1983)
ABOUT THIS GUIDE
This Teacher's Guide was written by J. Edward Kastenmeier, a Senior Editor at Vintage Books.
COPYRIGHT
Copyright © 1996
Back to Top