Corduroy Mansions Reader's Guide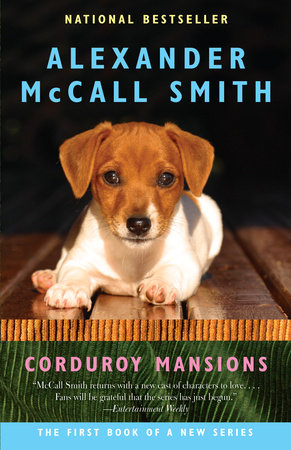 Corduroy Mansions Reader's Guide
READERS GUIDE
The debut novel in a new series first published online as chapters in
The Daily Telegraph,
Corduroy Mansions
sees Alexander McCall Smith leave Botswana and Edinburgh behind, and alight in a delightful London setting with a fresh cast of characters.
Corduroy Mansions is the affectionate nickname given a genteel, crumbling mansion block in London's vibrant Pimlico neighborhood. Among the colorful characters who call the aging building home is wine merchant William, who is trying to convince his reluctant twenty-four-year-old son, Eddie, to leave the nest. William (along with Eddie) is getting more than enough encouragement from Marcia, the boutique caterer who has set her sights on the father. But William's heart goes to his new part-time pet, Freddie de la Hay, a terrier who insists on wearing a seat belt and is almost certainly the only vegetarian canine in London.
In the flat below William live four young women, one of whom, Caroline, is studying for a master's degree at Sotheby's Institute of Art. Caroline is fond of her classmate James, who likes Caroline a great deal, but is unsure as to what his real proclivities are. Caroline's roommate, Dee, runs a vitamin and health food shop, and is convinced of the virtues of colonic irrigation.
A third roommate, Jenny, works for the loathed Member of Parliament Oedipus Snark. Snark is so despicable that his own mother, Berthea, is writing a scathing unauthorized biography of him—that is when she is not busy watching out for her eccentric brother Terence, who is currently studying a type of mystical Bulgarian sacred dance.
In the bottom flat of Corduroy Mansions, Jenny befriends Mr. Basil Wickramsinghe, the polite but mysterious tenant who may or may not be into something illicit with the anemic Miss Oiseau.
As the story goes on, we meet more residents and the people with whom they are connected. Together they fill
Corduroy Mansions
with Alexander McCall Smith's specific brand of wit and humor.
Questions and Topics for Discussion
1. This book was originally published online in serialized chapters. Do you find it flows differently than other novels by Alexander McCall Smith? If so, how?
2. Alexander McCall Smith said of Corduroy Mansions: "These stories are character-based: what interests me is what makes the characters tick rather than intricate and potentially confusing plots." Pick your favorite character and explain what you think makes him or her tick.
3. Freddie de la Hay is given as much personality as the humans in this story, yet his previous owner only refers to him as a social experiment. What do you think about training a dog to wear a seat belt and be a vegetarian?
4. Which of the characters do you most identify with? Is this also your favorite character?
5. Marcia seems to be manipulating William's living situation to fit her needs. Is this because she is lonely? Does she have William's best interest at heart?
6. Eddie is not a positive character in this story. How much of Eddie's behavior appears to be typical of an early-twenty-something? Are William's opinions guided too much by Marcia? What is your opinion of Eddie by the end of the book?
7. The problem of the Poussin painting garners different reactions from the characters involved with it. William sees a moral quandary in dealing with his son. Marcia doesn't even think of the moral implications. What would you do if you were William?
8. Caroline wishes to help James discover the truth behind his proclivities, but she also wants to date him. Do you think Caroline is more self-interested or more altruistic?
9. As Jenny leaves Basil Wickramsinghe's apartment, she overhears his visitor asking if Jenny is "a sympathiser." What could this mean? Do you think he is involved in an illegal activity?
10. Jenny works for the odious Oedipus Snark. The MP clearly does not treat her well, nor any other woman with whom he interacts. Why do you think Jenny works for him? Why does Barbara Ragg stay with Snark?
11. Oedipus seems a little too interested in Barbara's new book. What would he do with the tale of a Yeti? How would public reaction to the announcement of finding a Yeti help his career?
12. Berthea Snark is writing a distinctly non-hagiography of her son. What does this say about her as a mother? Why do you think she's doing it? Why do you think she named him Oedipus?
13. Terence Moongrove is a bit absentminded. Does his sister, Berthea, overreact to his eccentricities, or is she simply protecting him? What could they learn from each other?
14. Barbara Ragg's new beau seems too good to be true. Do you trust Hugh? How is your opinion of Hugh influenced by Barbara's previous poor instincts with men?
15. Many of the characters in this book have feelings of loneliness. Name one and explain what his or her loneliness has driven that person to do. Who finds a way to dispel the feeling, and how is it done?

(For a complete list of available reading group guides, and to sign up for the Reading Group Center enewsletter, visit: www.readinggroupcenter.com.)
About this Author
Alexander McCall Smith is also the author of the No. 1 Ladies' Detective Agency series, the Isabel Dalhousie series, the Portuguese Irregular Verbs series and the 44 Scotland Street series. He is professor emeritus of medical law at the University of Edinburgh and has served on many national and international bodies concerned with bioethics. He lives in Scotland.
Back to Top